Ancient Magus Bride Season 2 Part 2 Announced + Trailer And Release Date Revealed
Ancient Magus Bride Season 2 Part 2 gets its first look and premiere date!
Once in a while, we come across an anime whose premise isn't impressive and sounds boring, to say the least. Still, first impressions aren't everything in anime, as the story takes time to develop before it can be fully appreciated.
With studio's anime adaption of Kore Yamazaki s' manga series The Ancient Magus Bride is just another case of not judging a book by its cover.
The story follows a 15-year-old depressed orphan girl Chise Hatori who is on the verge of committing suicide.
Just as she is about to jump off of her school building, she is approached by a man who convinces her to sell herself to slavery so that someone else can at least make use of her body.
Chise agrees and allows it to be bought by any buyer for the price of having a place called home. She is bought by an ancient demonic-looking monster Elias Ainsworth who, despite his appearance, is smart and kind to Chise.
Elias explains that he picked Chise because of her high affinity for magical power and wants her to work as an apprentice. He also proposes marriage, but Chise has no response as she is just glad to feel wanted.
Elias doesn't understand emotions and doesn't share many things about himself, but he will do everything in his power to keep Chise.
The series covers plenty of challenging topics like fairness, suffering, desperation, trauma, technology versus magic or nature, and immortality versus mortality.
Ancient Magus Bride Season One and Two had a positive reception, and many fans were wondering when will Ancient Magus Bride Season 2 Part 2 come out?
Well, the answer to that question has finally been revealed, so keep scrolling to find out more on all the latest news and updates about Ancient Magus Bride Season 2 Part 2.
Ancient Magus Bride is rated 8/10 and ranked #492 with 818k members on MyAnimeList
WHAT IS THE ANCIENT MAGUS BRIDE SEASON 2 RELEASE DATE?
Ancient Magus Bride Season 1 aired from 7th October 2017 to 24th March 2018 for 24 episodes.
On 5th September 2022, the show s' official account announced the series renewal for a second season and confirmed the Ancient Magus Bride Season 2 release date as April 2023.
Following the conclusion of season one, Ancient Magus Bride Season 2 Part 2 was announced, and the Ancient Magus Bride Season 2 Part 2 release date was confirmed as 5th October 2023.
| | |
| --- | --- |
| SEASON | RELEASE DATE |
| Ancient Magus Bride Season 1 | 7th October 2017 |
| Ancient Magus Bride Season 2 Part 1 | 6th April 2023 |
| Ancient Magus Bride Season 2 Part 2 | 5th October 2023 |
In addition to the announcement of the second part, the Ancient Magus Bride Season 2 Part 2 trailer was also shared; check out below:
ANCIENT MAGUS BRIDE MANGA CATCHUP
Ancient Magus Bride manga is written and illustrated by Kore Yamazaki. It began serialization in Monthly Comic Blade on 30th November 2013.
The manga has been collected into 18 volumes, with the latest issue released on 9th September 2022, while Volume 19 is scheduled to release on 10th March 2023.
As of September 2022, The Ancient Magus Bride" by Kore Yamazaki has 10 million copies (including the two spin-offs) in circulation for vols 1-18.
Ancient Magus Bride manga is rated 8.3/10 and ranked #223 with 84k members on MyAnimeList.
ANCIENT MAGUS BRIDE SEASON 2 PART 2 PLOT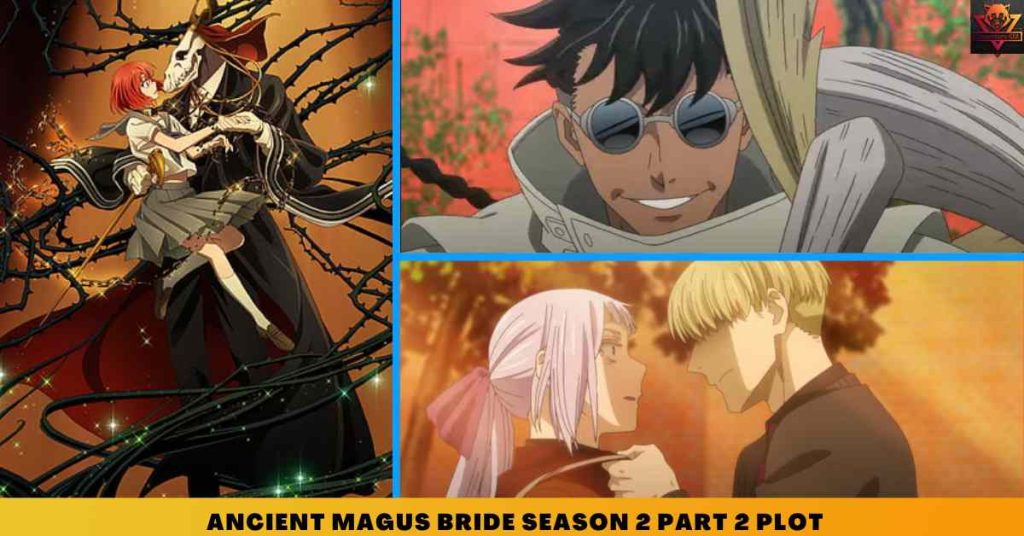 In the finale of Ancient Magus Bride Season 2 Part 1, "A small leak will sink a great ship II," Fabio shows a unique plan which is invisible to Zoe and Issac.
Philomena is indifferent about revealing the secret behind the plant s' invisibility, to which Rian demands to know why she fears her grandmother.
Zoe is confronted by a dangerous sorceress known as Undergrounders; however he escapes.
Fabio, disguised as an Undergrounder called Zacheroni, tries to kidnap Chise for her Sleigh Beggy abilities but is fended off by her Cartaphilus fragment.
Liza refuses unless it is what Philomena wants. Lisbeth insults Philomena, who is surprised when Isaac steps in and pulls her to safety.
By herself, Chise searches for Zoe and soon runs into Fabio, who recognizes her as the newest student, Sleigh Beggy. Alerted by this, Chise knocks away Fabio as someone that's not a teacher.
Amused by the accusation, Fabio claims that he never said he was a teacher and exposed several bone tendrils from his body.
However, when Fabio touches her, an apparition of Joseph scares Fabio away from Chise. Although shocked, Fabio tries negotiating with Chise to allow him to replace Elias, but she rejects the offer.
Not upset by the refusal, Fabio understands and explains that the plants she's been collecting can only be seen if she's killed someone. Just then, Zoe appears out of one of the tunnels nearby, and Fabio regroups with him, leaving Chise perplexed by what he had told him.
Liza smugly warns Lizbeth the college is sealed due to the recent attacks and has the owl familiar banished by the dormitory mothers, revealed to be Cat-sìth's. Alcyone ends up stuck inside the now-sealed college. Lizbeth decides to accelerate her plans.
Ancient Magus Bride Season 2 Part 1 covered the first half of the College Arc, which means Ancient Magus Bride Season 2 Part 2 will begin by adapting the remaining half of the College Arc.
ANCIENT MAGUS BRIDE CAST, CHARACTER, AND CREW
Ancient Magus Bride anime is directed by Norihiro Naganuma and scripted by Aya Takaha. Characters are designed by Hirotaka Kato, and music is composed by Junichi Matsumoto.
The first season was developed by Wit Studios, but Ancient Magus Bride Season 2 has been produced by Studio Kafka.
You can find the list of Ancient Magus Bride characters and voice cast below:
| | |
| --- | --- |
| CHARACTER | VOICED BY |
| Chise Hatori | Atsumi Tanezaki |
| Elias Ainsworth | Ryōta Takeuchi |
| Silky | Aya Endo |
| Joseph/Cartaphilus | Ayumu Murase |
| Lindel | Daisuke Namikawa |
| Ashen Eye | Jouji Nakata |
| Seth Noel | Junichi Suwabe |
| Oberon | Kappei Yamaguchi |
| Adolf Stroud | Kenichi Suzumura |
| Ruth | Kouki Uchiyama |
| Mariel | Maaya Sakamoto |
| Alice | Mutsumi Tamura |
| Redcurrant | Saori Hayami |
| Mikhail Renfred | Satoshi Hino |
| Titania | Sayaka Ohara |
| Simon Kalm | Toshiyuki Morikawa |
| Angelica Varley | Yuko Kaida |
CONCLUSION
Ancient Magus Bride Season 2 Part 2 is greenlit to release in 5th October 2023.