Ezra Miller Kidnaps Teenager & Flees From Police Before He Could Be Arrested
A new headline has come to light: Ezra Miller kidnaps teenagers; they fled from the law after the allegations came afloat against them.
A breaking news story reveals that Ezra Miller, aka Flash, has reportedly run away and is nowhere to be found. Recently many news stories covered the allegations being put on Ezra Miller for brainwashing and kidnapping a minor girl.
The recent revelations about Ezra Miller Kidnaps teenager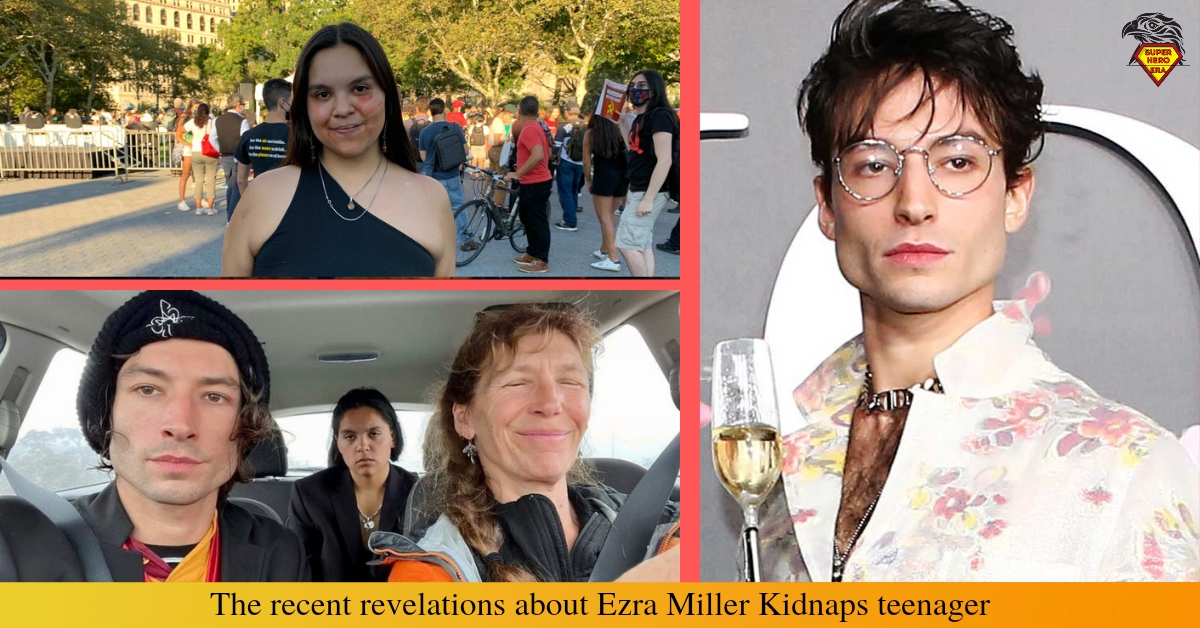 The story of Ezra Miller and their potential kidnapping came to light last week, and since then, their career, personal life, and criminal history have been in the news. It was published that they have been grooming a minor girl named Tokata Iron Eyes since she was 12 years old.
Recently Tokata Iron's parents- Sara Jumping Eagle and Chase Iron Eyes, are putting all they have to receive protection from Ezra Miller. The girl's parents are alleging Ezra Miller for exploiting their daughter Tokata since they met in 2016 at Standing Rock Reservation in North Dakota.
At the time when they met, the girl was 12 years old, and Miller was an adult of 23 years. Tokata is now 18. Tokata Iron Eyes' parents are now blaming Miller for the physical and emotional abuse and grooming of their 18-year-old child.
Also Read: Ezra Miller No Longer Part of DCEU: Reports suggest a change for Flash
Ezra Miller on the run from police
According to The LA Times, Tokata's parents have reported that actor Ezra Miller and their daughter, Tokata, "remain on the run." In the light of the events the news headlines are currently writing- Ezra Miller kidnaps teenager.
Miller cannot be brought to justice as they are on the run from the police, even though a judge provided a protective order in Standing Rock Sioux Tribal Court earlier this week against Ezra Miller.
Although the order cannot be served to the actor because he 'cannot be located,' as per the legal records, their current location seems to be unknown.
The parents claim that Ezra Miller has been controlling her life's every aspect and interfering in her education. Tokata has been traveling with Ezra Miller since she ran away from her house earlier this year, and hence Miller is being accused of kidnapping.
As per Sportskeeda.com, Tokata's parents have said the statement below and have tried to express their grief,
"Ezra uses violence, intimidation, the threat of violence, fear, paranoia, delusions, and drugs to hold sway over a young adolescent Tokata."
Whereas, Tokata continues to post on Instagram a statement like,
"I'd like to make a statement acknowledging the tragedy that's the narrative of the general public and the assumption made on my behalf by my family and friends regarding my stability and otherwise."
She regarded Ezra Miller as her comrade and said she needed a break as she grieved the loss of a dear friend. Not only this, she accuses her father of being 'transphobic.'
Click on the link to see Tokata's Instagram post, and look at the screenshots attached below:
Conclusion
Tokata's father's Attorney Chase Iron Eyes, and her mother, Sarah Jumping Eagle, have claimed in court that Ezra Miller aka Flash, was- "psychologically manipulating, physically intimidating, and endangering the safety and welfare of Tokata Iron Eyes."
The statement from Tokata and her parents' claims do not seem to collide under any circumstances; one of them is certainly lying. Could this be a case of teenage rebellion? Or is Tokata seeking the company of a 'friend' as she needs space from her reality?
At this point, we cannot say anything about either party; her parents cannot prove the claims made on Ezra Miller unless they are brought into custody and served with a legal notice for court proceedings.
PS- The facts of this news story have been confirmed from various news websites, and no international mistake has been added from the writer's side.