GOLDEN KAMUY SEASON 4: RELEASE DATE CONFIRMED + STUDIO CHANGE AND NEW CAST ANNOUNCED
Golden Kamuy season 4 is set for its premiere with a new cast and studio!
Historical fiction is an underrated genre in anime that isn't fully reached its potential, of war and survival anchored with a treasure hunt makes Golden Kamuy a benchmark in this category.
Golden Kamuy is a historical-adventure anime based on the manga writings of Satoru Noda.
The story's backdrop is set in the period after the Russian-Japan war on the island of Hokkaido and its surrounding regions. The plot follows a former war veteran Saichi Sugimoto working gold panner providing for his dead comrade s' widow.
A drunkard tips Sugimoto on a gold stash which can be found by following the map tattooed on twenty-four escaped convicts and criminals. Still, Sugimoto laughs off the story, assuming it's nothing but dubious.
The following day, the drunkard, now sobered up, has Sugimoto pointed with a gun and realizes, that many details of the gold stash were out. Sugimoto fights him off and runs away before a bear kills the old man and its shows a map tattooed on his body.
Before the bear can maul him, an Ainu girl named Asirpa strikes the bear with a poised arrow. Sugimoto thanks the girl and tells her the story and suggests to join him on the hunt, promising her a split of the stash.
Asirpa has no interest but wants to avenge her father s' death, who was betrayed by gold miners, and thus, begins a quest for the treasure chest.
Can Sugimoto find the gold to fulfill his dying friend s' wish, and will Asirpa avenge her father's death is the central plot of the show?
Golden Kamuy has been one of the most popular adventure animes in the last few years and fans of the show are eagerly waiting for Golden Kamuy season 4. If you are one of them wondering when it will drop, stick around as we bring you all the latest details and updates for Golden Kamuy season 4.
Golden Kamuy is rated 7.8/10 and ranked #771 with 318k members on MyAnimeList.
WHAT IS THE GOLDEN KAMUY SEASON 4 RELEASE DATE?
The first season of Golden Kamuy ran from 9th April 2018 to 25th June 2018 for 12 episodes. Golden Kamuy season 2 aired from 8th October 2018 to 24th December 2018. The third season of Golden Kamuy ran from 5th October 2020 to 21st December 2020.
On 5th December 2021, a special event renewed the series for a fourth season. Finally, on 2nd September 2021, a Golden Kamuy Season 4 trailer was revealed, which confirmed the Golden Kamuy Season 4 release date as 3rd October 2022.
| | |
| --- | --- |
| GOLDEN KAMUY SEASON | RELEASE DATE |
| Season 1 | 9th April 2018 |
| Season 2 | 8th October 2018 |
| Season 3 | 5th October 2020 |
| Season 4 | 3rd October 2022 |
There is no official confirmation on the episode count, but if the fourth season follows suit, Golden Kamuy will run for 12 episodes.
Additionally, Kamuy season 4 will also see a change in the studio as the series will now be taken over from Geno studio by Brain's Base.
Rumors suggest the change in a studio is due to Geno studios s' time compatibility as they are working on another big project. But fans should not be disappointed with Brain's base as they have created iconic animes like Durarara, Blood Lad, and Duel Masters.
GOLDEN KAMUY MANGA CATCHUP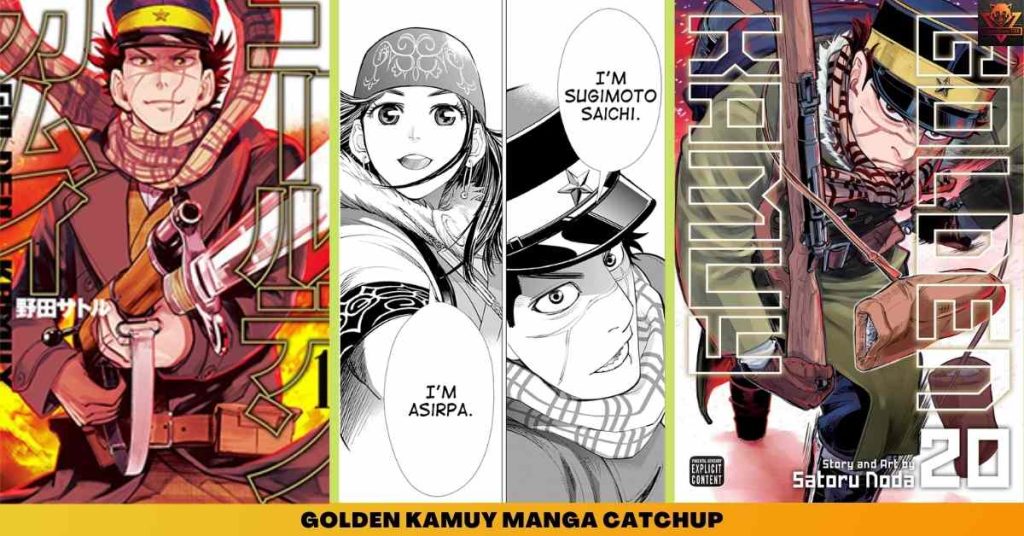 Golden Kamuy manga was written and illustrated by Satoru Noda, and it began serialization in Weekly Young Jump on 21st August 2014. The manga has been collected into 31 volumes with 314 chapters, and Volume 31 released on 19th July 2022.
Sadly, for the Golden Kamuy manga fans, the series has reached its conclusion, and on the 28th of April, writer Satoru Noda tweeted confirmed the end of the manga journey.
As of June 2022, the manga has sold over 22 million copies and has been the recipient of many awards.
The anime hasn't been the most faithful in adapting the manga, but the skipped parts have been turned into OVAs. The first three seasons have used up roughly 200 chapters of the manga, with season three ending on Akou Prison break arc.
With more than 100 chapters remaining, lack of source material should not be a problem.
Golden Kamuy manga is rated 8.6/10 and ranked #78 with 73k members on MyAnimeList.
GOLDEN KAMUY SEASON 4 PLOT
In the final episode of season three, "To Live," we see Asirpa s' father's intentions being revealed as she recovers her memories. Kironake dies, and the duo decides to return to Hokkaido to find a doctor for Ogata and Tsukishima s' injuries.
Asirpa believes the gold would be safe in Toshizou s' hands, but she knows Tsurumi won't accept the proposition. Secretly, Asirpa is trained by Nooperbaou to lead the Ainu people, as Sugimoto wants Asirpa to be freed from the treasure hunt.
Golden Kamuy season four will pick up from where the third season left see Sugimoto wanting to kill Ogata rather than treat them, and joined the chase because of greed.
Despite the dangers of a Japanese in Russian territory, the duo is brought to a doctor who informs Ogata will need treatment at the Russian hospital. Ogata escapes but is shot on horseback by Sugimoto, who wants to kill Ogata as he fully recovers.
Golden Kamuy season 4 will also introduce Baer Man and Botaro Pirate as the dangers of the hunt will only increase.
GOLDEN KAMUY CHARACTERS, CAST, AND CREW
The change in the studio will be a change in direction as Shizutaka Sugahara will be the chief director. Takumi Yamakawa will design the characters, and Noboru Takagi will script the series.
Yyou can find the list of Golden Kamuy characters and voice actors below:
| | |
| --- | --- |
| CHARACTERS | VOICED BY |
| Saichi Sugimoto | Chikahiro Kobayashi |
| Asirpa | Haruka Shiraishi |
| Tetsuzō Nihei | Akio Ohtsuka |
| Narration | Fumihiko Tachiki |
| First Lieutenant Tsurumi | Houchu Ohtsuka |
| Toshizō Hijikata | Jouji Nakata |
| Tatsūma Ushiyama | Kenji Nomura |
| Hyakunosuke Ogata | Kenjiro Tsuda |
| Yoshitake Shiraishi | Kentaro Ito |
| Shinpachi Nagakura | Takayuki Sugo |
| Warrant Officer Kikuta | Kenyu Horiuchi |
| Rikimatsu Ariko | Masaaki Mizunaka |
| Botaro Pirate | Tomokazu Seki |
CONCLUSION
The chase for the treasure just got bigger as Golden Kamuy Season 4 awaits many new adventures filled with mysteries.