Hunter X Hunter Season 7: What Happens To Hunter X Hunter Hisoka? Hunter X Hunter Season 7 release date and all updates till now
First arisen in 1998 Shueisha's Weekly Shonen Jump magazine, Hunter x Hunter is a well written and depicted series by Yoshihiro Togashi. Soon after, the series became pretty famous. Although it went on many breaks since 2006, its popularity didn't lessen even a bit. After the last season, fans are now desperately waiting for Hunter x Hunter Season 7.
Everything you need to know till Hunter X Hunter Season 7
Also, the series was published in a shoshuhen edition as well. Though this edition had the same print as the original manga, the only difference was the coloured pages rather than the classic black and white ones.
The English version license for the series was amassed by Viz Media for North America. Moreover, they published the manga in their Weekly Shonen Jump Alpha English manga magazine. The said magazine is totally digital and readers can have a free preview on the official website of Viz Media.
Kurapika's Memories, a spin-off series was also translated by Viz Media and included in their weekly English manga magazine. Not only in this magazine but the spin-off was also published in a German shonen jump magazine called Banzai.
How many anime series are made for the franchise?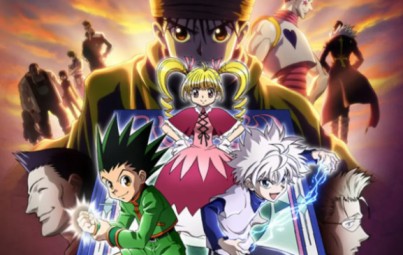 The popularity of the manga alone is proof that the anime was made with great confidence and dedication. Hunter x Hunter franchise has two anime adaptations – one started in 1999 and the second one started in 2011.
Produced by Nippon Animations, the first anime series was quite a bang in its time. Though the lack of technological advancement slowed it down and the series could only reach big streaming sites like Funimation in 2009.
Created and produced by Madhouse, the second series was released in October 2011. It ran all the way until September 2014. The series finished after its 6th season consisting of 148 episodes. Ever since season 6 ended, fans have been demanding to get a 7th season. However, some of the sources claim that there is not enough source material left for making a new season, while others claim that hints regarding Hunter x Hunter Season 7 have been dropped.
Hunter X Hunter Hisoka: Story so far
As you can guess by the name of the series, the story revolves around Hunters. Hunters are humans who are officially allowed to hunt down anything including rare species, animals, treasures and even human beings. They are officially labelled as an elite class of society and have the privilege of doing whatever they please something that regular humans don't have.
However, becoming a Hunter isn't easy, they have to qualify in the very tough Hunter examination, which has a very low success rate. The story focuses on Gon, a boy who was lied to about the death of his parents who were alive all along. Eventually, he learns that his father is alive and is now an acclaimed Hunter.
Insisted on finding his father, Gon chooses to take part in the annual Hunter examinations. He meets three new people – Kurapika, Killua and Leorio. Killua belongs to a family of assassins who left everything behind to become a Hunter. Kurapika is the last living member of a family after the grave-robbing thieves stole the eyes from his family members' dead bodies and he swore to avenge his family. On the other hand, Leorio is only taking the exam because of the financial benefits of the job so that he can pursue his medical studies. The group then have a clash with Hunter x Hunter Hisoka, the main villain of the show. He's a permuting clown-like creature who seems to have a thing for Gon.
The last episode of the season was all about closures as all the characters finally get what they want. Gon finally meets with his father and have an emotional conversation with him. Ging meets Gon on the top of the World Tree and tells Gon how he wished to become a Hunter to amble outside of the map they live by. He wanted to discover the lineage of the Chimera ant find out where he came from.
After loaning his Hunter license to Kite, Gon returns his hunter license to Ging. Meanwhile, Kurapika was successful in getting the remains of his clan back. After completing the last rituals of the eyes of his family, he finally receives his closure.
Currently, the anime as well as the manga is on a break. From everything we know, it is safe to say that we have enough source material for another season and there are chances that we can get Hunter x Hunter Season 7 in 2022. Fans are hopelessly waiting for Hunter × Hunter Season 7.
However, it is hard to ignore that the story is almost complete with all the characters having accomplished their purposes in the last episode which reduces the chance for the makers to give in to another season as they are already busy with several other projects. Thus, there is only one option left and that is to wait for an official statement from the makers.