8 MCU Actors Bodies Before & After Their Roles As Superheroes
Today we will look into the efforts MCU Actors have put in to make their role exciting. We will share 8 MCU Actors Bodies before & after their roles.
Marvel Cinematic Universe, an American media franchise, includes shared universes centered on a series of superhero films produced by Marvel Studios. The superhero films are based on Marvel Comics, which introduced all the superheroes to the whole world.
The first MCU film was released in the year 2008, starring Robert Downey Jr. as Tony Stark in the film 'Iron Man. Since 2008, MCU has given the world a lot of content by which everyone is amazed. The last film, Spider-Man: No Way Home, released in the year 2021, was the 27th film of MCU.
The Marvels fans not just have amazing adventures of comics displayed on the big screen, but also really hard-working actors who transformed themselves. A rare and difficult task is to transform one's body, which is common in the acting business. With the entry of MCU into the cinematic world, the revolution of Superheroes began, in which the best actors are supposed to look similar to the comic-book character. Let's check out some Marvel abs, the actors and their bodies before and after the role they've played.
1. Robert Downey Jr., Aka Iron Man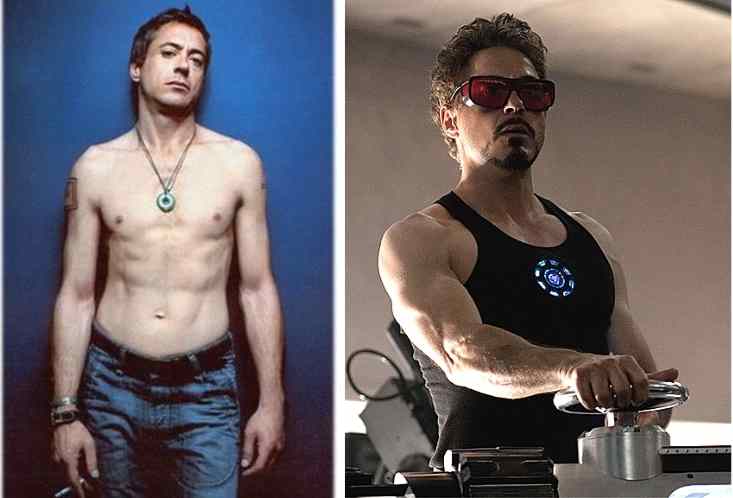 The popular American actor and producer Robert Downey Jr. has struggled with drug abuse and legal trouble. He faced a lot of setbacks in his career, but he proved himself with his efforts and gained the trust of Hollywood.
Robert's debut in acting from his father's film named 'Pound' was released in the year 1970. With a good grip on his acting career, he worked in the films World Science in 1985 and Less Than Zero in 1987. However, in the years 2000 and 2001, he was fired because of the drug charges and went into the drug-treatment as ordered by the court.
One of his good friends and a director, Jon Favreau, entrusted Robert with a role of a superhero, Iron Man. Jon stated that Robert should get committed to the role and perform his best, and as a result, he is loved by all in that movie.
A lot of people didn't notice the efforts Robert Downey Junior has put in getting into shape for this particular character. The final product we all witnessed on the screen has been mesmerized by some of his colleagues.
2. Chris Evans, Aka Captain America
A famous American Actor, Christopher Roberts Evans, began his career in 2000 through a television series' Opposite Sex'. And now, because of the opportunity from MCU, he is known as Captain America, who has saved the world many times.
Chris Evans is one of the few people who got the opportunity to play the role of two superheroes during the peak of his career. One is the character of Human Torch; he played in the movie 'Fantastic Four' released in the year 2005, along with its sequel, Fantastic Four: The Rise of the Silver Surfer, in the year 2007.
As stated in MCU, 'with great power comes responsibility; Chris Evans, with his two superheroes roles, needed to stay in shape throughout. In the Fantastic Four movie, Chris had a very lean body. Still, for the movie Captain America: The First Avenger, Chris Evans took aesthetics to become the role, Steve Rogers, aka Captain America.
3. Chris Hemsworth, Aka Thor
An Australian actor, Christopher 'Chris' Hemsworth, has never been out of shape, another Chris Evans. Before starting his career, he became famous for the role of Kim Hyde in an Australian T.V. Series' Home and Away' in the year 2004.
Chris Hemsworth debuted in MCU with the film 'Thor' released in the year 2011. He didn't have muscle mass then, but he impressed the audience with his 'surfer body,' a lean yet impressive, which worked well with the role of Thor, the God of Thunder.
Chris Hemsworth, as Thor, with his long blond locks, picked up his hammer 'Mjölnir' worked really well with his majestic body. The majority of Marvel fans think of Thor as the actor with the best shape in the MCU, who managed to attain this for so long.
4. Chris Pratt, Aka Star-Lord
An American actor, Christopher Michael Pratt, started his career in acting through Television Series, along with animation and action movies. From the role of Andy Dwyer, from the series' Parks and Recreation', released in the year 2009, Chris Pratt became really popular.
With Marvel Studios, Chris Pratt entered the MCU with the leading role of Star-Lord in the movie 'Guardians of the Galaxy, released in the year 2014. A different Chris in MCU of all, Chris Pratt was nowhere near the shape for Marvel Studios before the premiere.
At the time of audition for the role Star-Lord, Chris Pratt weighed more than 100 kg had a swollen face and a beer belly. But look at the superhero abs on him in the movie Guardians of the Galaxy. The unbelievable transformation of Chris Pratt into Peter Quill's body startled everyone.
5. Chadwick Boseman, Aka Black Pather
The American Actor, Chadwick Aaron Boseman, is one of the greatest actors in MCU. Chadwick studied at Howard University and simultaneously worked in a stage drama. He won a Drama League Directing Fellowship and an acting A.U.D.E.L.C.O.
Chadwick had to transform his body to play the role of King T'Challa, aka the Black Panther. The fans find it quite impressive that Chadwick went through a lot of training, pain, and struggle during his battle with cancer.
Before the debut of Chadwick in MCU, in the movie Captain America: Civil War, he was a skinny human, but he transformed his body for his leading role in Black Panther. Unfortunately, Chadwick fell prey to an illness that deteriorated his health. He posted a video of himself on Instagram in which he is looking so thin, and a few months later, he died.
6. Paul Rudd, Aka Ant-Man
An American actor, Paul Stephen Rudd, started his career from the film 'Clueless' in the year 1995. Paul has starred in many movies of Hollywood like Romeo + Juliet (1996), Wet Hot American Summer (2001), and many more. Paul also entered the popular American series Friends with the role of Mike Hannigan.
Paul Rudd debuted in MCU with his own leading film, Ant-Man, in the year 2015. The actor was 42 years old when he played the role of Scott Lang, aka Ant-Man, but he doesn't look like he has aged since the Friends Series, which was over a decade ago.
Paul Rudd is the kind of person who has always been in good shape. However, not loaded with superhero abs or biceps but has a lean body that can run a mile on command.
7. Jeremy Renner, Aka Hawkeye
An American Actor, Jeremy Lee Renner, began his career in acting with independent movies like Dahmer in the year 2002. His work made him earn a lot of supporting roles in the big movies, for example, S.W.A.T. (2003) and 28 Weeks Later (2007).
Jeremy Renner entered the MCU as Clint Barton, aka Hawkeye, with the movie Thor (2011). And now, he has his own leading series, Hawkeye, released on Diseny+.
As a matter of fact, with or without Marvel Studios, Jeremy loved to be in shape always. Once Jeremy was fired from a job only because he 'looked young,' which he revealed on Twitter. And when he got the role of Hawkeye, he put on some muscle and superhero abs, and his arms looked bigger, which he did himself without even asking him to do so.
8. Mark Ruffalo, Aka Hulk
An American actor and producer, Mark Alan Ruffalo, started his career in the early 1990s. Mark gained recognition from his work in the play 'This Is Our Youth' written by Kenneth Lonergan in the year 1998. Mark Ruffalo got one of the biggest roles in MCU of Hulk, which gained him international recognition from the movie 'The Avengers' released in 2012.
When one is supposed to spend 90% of their role wearing a mocap suit with white spots painted all over your face, you don't have a lot of motivation to work out. The role of Hulk is taken care of by Marvel Studios with the visual effect artists making the Hulk look strong. Mark didn't need to transform himself for the role, as Bruce Banner was just a nerdy scientist, so he remained the same way he was, and the world loved him.