Oshi No Ko Season 2 Announced + Key Visual And Teaser Revealed
Oshi No Ko Season 2 renewal has been announced!
The entertainment world is filled with glamour and fame, but a scratch beneath the surface lies a hollowed façade of pretentious people who are worshipped as idols.
The saying "Don't peek behind the curtain and never meet your heroes" is a truthful amalgamation of the entertainment world.
Aka Akasaka s' massively popular manga series Oshi no Ko or Their Idol's Children portrays the realities of the idol and theatre industry in an open view.
The story follows a sixteen-year-old teen idol and sensation Ai Hoshino who gets pregnant with twins. This untimely incident forces her and jeopardizes her career as a young idol can't be seen bearing kids.
Despite her manager and company rebuking her, she decides to keep her kids and arrives at the hospital of Gorou to give birth.
Gorou Amemiya is a 30-year-old doctor who became a massive fan of Ai after a 12-year-old patient named Sarina who used to adore her but eventually died.
On a side note, we can see the glitter in Gorou s' eyes from the Oshi no Ko trailer on seeing her idol as Ai states, " You are hopelessly an idol, and I am hopelessly your captive."
Before Gorou can perform the operation, he is killed by an anonymous stalker and is reincarnated into Hoshino Aquamarine, the son of Ai.
He is born alongside his twin sister Ruby Hoshino who grows up to be a loudmouth and extrovert girl striving to be an idol like her mom.
From a thirty-year-old doctor to a baby in the lap of his idol and his mother Gorou, aka Hoshino Aquamarine s' life has turned upside down.
Will the cutthroat entertainment industry and the fans accept Ai s' kids? How will Aquamarine Hoshino, along with his sister Ruby Hoshino grow up and protect their mother while surviving the showbiz world is the central plot of the show?
After the conclusion of season one, fans were wondering if there would be a second installment or not.
Luckily, there is positive news to that question, so keep scrolling as we bring you all the latest news and updates on Oshi No Ko Season 2.
Oshi no Ko manga is rated 8.9/10 and ranked #14 with 536k members on MyAnimeList
WHAT IS THE OSHI NO KO SEASON 2 RELEASE DATE?
Oshi No Ko Season One aired from 12th April 2023 to 28th June 2023 for 11 episodes.
On 28th June 2023, the show s' official Twitter account greenlit the production for Oshi No Ko Season 2 with a new key visual.
Unfortunately, the announcement did not confirm an exact Oshi No Ko Season 2 release date.
| | |
| --- | --- |
| SEASON | RELEASE DATE |
| Oshi No Ko Season 1 | 12th April 2023 |
| Oshi No Ko Season 2 | Yet to be Announced |
In addition to the renewal, the Oshi No Ko Season 2 trailer was also shared. Check out the announcement for Oshi No Ko Season 2 below:
OSHI NO KO MANGA CATCHUP
Oshi no Ko manga is written by Aka Akasaka with illustrations by Mengo Yokoyari. It began serialization in Weekly Young Jump Magazine on 23rd April 2020.
As of writing, the manga has been collected into 9 volumes, with the latest issue released on 19th October 2022, while Volume 10 is scheduled to release on 19th January 2023.
You can find the list of Oshi no Ko manga volumes and their release dates below:
| | |
| --- | --- |
| VOLUME | RELEASE DATE |
| Oshi no Ko Volume 1 | 17th July 2020 |
| Oshi no Ko Volume 2 | 16th October 2020 |
| Oshi no Ko Volume 3 | 19th February 2021 |
| Oshi no Ko Volume 4 | 19th May 2021 |
| Oshi no Ko Volume 5 | 18th August 2021 |
| Oshi no Ko Volume 6 | 19th November 2021 |
| Oshi no Ko Volume 7 | 18th February 2022 |
| Oshi no Ko Volume 8 | 17th June 2022 |
| Oshi no Ko Volume 9 | 19th October 2022 |
| Oshi no Ko Volume 10 | 19th January 2023 |
The manga was nominated for the 67th Shogakukan Manga Award in the general category in 2021,26th Tezuka Osamu Cultural Prize in 2022, and the 46th Kodansha Manga Award in the general category in 2022.
The series ranked #5 on AnimeJapan's 5th "Most Wanted Anime Adaptation" poll in 2022.
On May 2022, the manga crossed 170 million views in Jump+, and as of October 2022, more than 3 million copies from volumes 1-7 have been sold.
Oshi no Ko manga is rated 8.5/10 and ranked #118 with 91k members on MyAnimeList
OSHI NO KO SEASON 2 PLOT
In the finale of Oshi No Ko Season One, "Idol," B Komachi starts their performance, and their most memorable tune works out in a good way.
In any case, Kana starts to lose self-confidence when she sees that most of the crowd is just there to see Ruby and MEM-cho.
Nonetheless, she observes Aqua among the group applauding them and abruptly tracks down the inspiration to outperform Ruby and MEM-cho as an idol.
The performance ends up being a success, Kana figures out that Aqua s' relationship with Akane is only a professional one.
Kana unwinds and gets back to connecting typically with Aqua, while MEM-cho faculties an approaching circle of drama among them and Akane.
Later, Lalalie is chosen to play out a phase variation of the famous manga Tokyo Sharp Edge, and Kaburagi is approached to give some external ability since Lalalie does not have youthful entertainers.
Kana and Akane are both given a role as characters in a circle of drama with Water's personality. Aqua finds that the two actresses have had an extraordinary contention with one another since their younger days.
With the casting complete, the crew for the Tokyo Blade play begins their preparations, Ruby heads off to visit Ai's grave, and Aqua swears once again to track down their father.
Oshi No Ko Season One covered the first 40 chapters of the manga, which means Oshi No Ko Season 2 will begin by adapting Chapter 41.
Twin brothers and sisters Aqua and Ruby are struggling in the entertainment world. T
The new "B Komachi," the group Ruby is in, has just finished their first live performance at Japan Idol Festival and is expected to do even better onwards!
On the other hand, the next job that came to Aqua is appearing on the "2.5-dimensional stage play."
Oshi No Ko Season 2 characters will also feature Akane Kurokawa, who became his "girlfriend" after the romance reality show "LoveNow" ends, and Kana Arima, who has a crush on Aqua. Conflicting feelings start to appear.
OSHI NO KO ANIME CAST, CHARACTER, AND CREW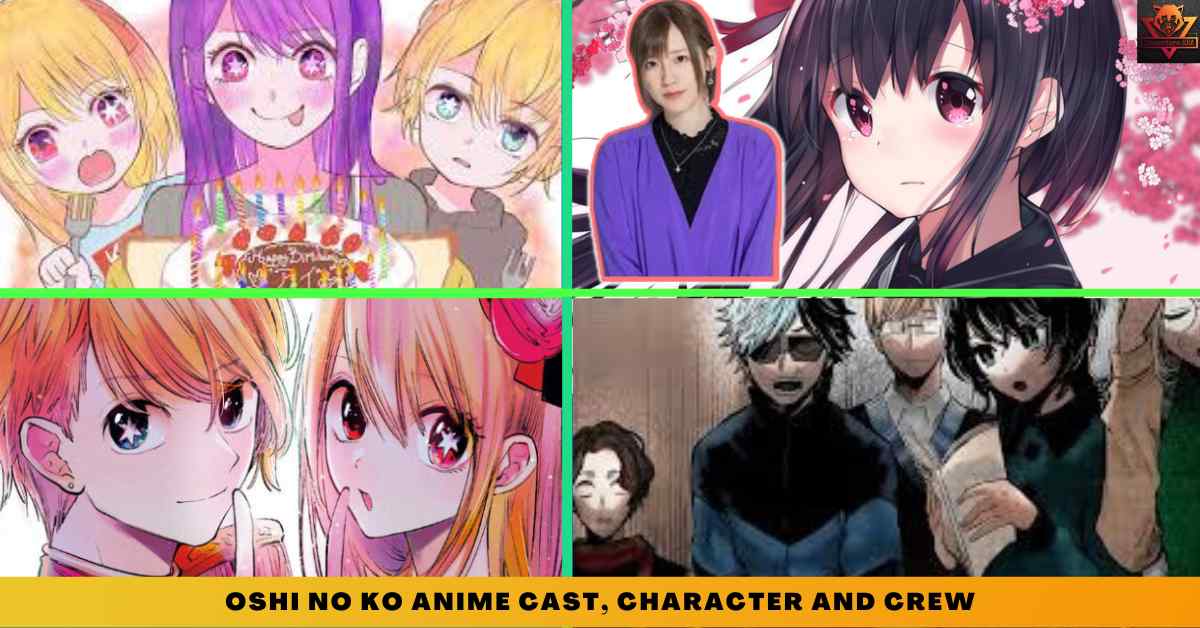 Oshi no Ko Anime is directed by Daisuke Hiramaki, with Chao Nekotomi as the assistant director. Characters are designed by Kanna Hirayama with a series composition by Jin Tanaka.
Animation is produced by Studio Doga Kobo, and Studio Sentai Filmworks has licensed the anime, while online streaming will be available on HIDIVE.
Rie Takashi, who has previously worked in popular shows like Wasteful Days of High School Girl, Stella Women's Academy, High School Division Class C3, and Re: ZERO – Starting Life in Another World – The Frozen Bond will be voicing the female series lead Ai Hosino.
Kenta Ito, who has worked in Mobile Suit Gundam Thunderbolt: December Sky, Toku Touken Ranbu: Hanamaru ~Setsugetsuka, and Uchū Senkan Yamato 2205: Aratanaru Tabidachi, will be voicing the male lead Amemiya Gorou.
You can find the list of Oshi no Ko Anime characters and voice cast below:
| | |
| --- | --- |
| CHARACTER | VOICED BY |
| Ai Hoshino | Rie Takahashi |
| Aquamarine Hoshino | Takeo Ōtsuka |
| Aquamarine Hoshino (young) | Yumi Uchiyama |
| Ruby Hoshino | Yurie Igoma |
| Amemiya Gorou | Kent Itō |
| Sarina | Tomoyo Takayanagi |
| Kana Arima | Megumi Han |
| Memcho | Rumi Okubo |
| Frill Shiranui | Asami Seto |
| Ryōsuke | Atsushi Tamaru |
| Lala | Ayano Shibuya |
CONCLUSION
Considering the popularity, it was only a matter of time before the renewal of Oshi No Ko Season 2.