Top 10 BEST ISEKAI ANIME TO WATCH: UPDATE July 2022
Ever wondered what the Best Isekai Anime could be; Well you came to the right place.
Isekai anime have become widely popular in the fandom with their unique story and impressive world-building. Before we go any further, let's first understand What is Isekai anime? Isekai means "another world," and this is the primary setting of any show in this genre.
Isekai anime usually begins with the protagonist being either transported, reincarnated, or portal away to a new world. Depending upon the storyline, this alternate reality can appear as a game or a whole kingdom.
The characters in this genre interact with this new world by developing exciting plots and subplots, which are usually fun to watch. The familiar Isekai tropes involve an Overpowered main character, Levelling up, Classes and Guilds, Long title names, etc.
There has been much Isekai anime released over the last few years, and some of them have become a must-watch. Today, we bring a concise list of Top 10 Best Isekai Anime (updated till June 2022), which have become classics in this genre.
10) How Not to Summon a Demon Lord
Episode Count: 12 Episodes from Season 1 & 12 Episodes from Season 2
Release Date:9th April 2021
Studio: Ajia-do Animation Works
Where to Watch: Crunchyroll
The story follows Takuma Sakamoto, a loner expert in the MMORPG game Cross Reverie. He is strangely transported into the game of his character, Demon Lord Diablo, aka @Diablo-13.
Upon arriving, he learns that two characters, pantherian Rem and Elf Shera, have summoned him to make him their servants. They cast a spell on Takuma, who has a magic rebounding ring, making them his servants with magical collars around their necks.
The introversion leads Takuma to continue playing the game, interact with the NPCs, and free Rem and Shera of the magical collars with his extensive knowledge of the game.
How not to summon Demon Lord is unmissable, and it's an automatic choice for a good Isekai anime to kick off the list.
9) KonoSuba God's Blessing on This Wonderful World!
Episode Count: 10 Episode from Season 1 & 10 Episode from Season 2
Release Date:13th January 2016
Studio: Studio Dean
Where to Watch: Crunchyroll
Kazuma Sato is a shut-in who meets Aqua, the goddess, after his death and gets transported to another world. He is offered superpowers to battle monsters with MMORPG features and become a Hero.
Instead, Kazuma chooses Aqua, but to his dismay, Aqua is useless, which only handicaps him. The trouble continues as this regrettable choice proves difficult in making ends meet and navigating through this magical world.
KonoSuba is a light watch that breezes by with its stunning character design and comical take on serious themes. Give this one a look for sure.
8) The World's Finest Assassin Gets Reincarnated as an Aristocrat
Episode Count: 12 Episodes from Season 1
Release Date:6th October 2021
Studio: Silverlink
Where to Watch: Crunchyroll
The world's finest assassin has retired after many conflicts with his old company. Suffering from Depression, the killer is visited by a Goddess who reincarnates him into another world filled with magic and weapons.
He is given a new name as Lugh Tuatha De and is born into a noble assassin family. His new father teaches him different assassination techniques, which are unusual from those he already knew.
Using these skills, Lugh Tuathe De must defeat the adversary called the Hero and live his newfound life to the fullest.
Written by Rui Tsukiyo, it is a must-watch for those who like their overpowered Assassins.
7)No Game, No Life
Episode Count: 12 Episodes from Season 1
Release Date:9th April 2014
Studio: Silverlink
Where to Watch: Crunchyroll
A massively popular anime follows step-siblings Sora and Shiro, who are undefeated online gamers. They are offered to live in a world where simple games decide all conflicts as the pair try to conquer the kingdom and defeat God itself.
A classic Isekai anime canvased by bright colors and an overpowered step-sibling relationship. The mind-bending games in which Sora and Shiro play are executed to perfection.
This is one of the few Isekai anime where the plot is the king, as everything else boosts the show's subtlety.
Created by Yuu Kamiya, No Game No life should not be passed if you like challenges and love solving them.
6) THAT TIME, I GOT REINCARNATED AS A SLIME
Episode Count: 12 Episodes from Season 1 & 12 Episodes from Season 2
Release Date: 5th January 2021
Studio: Eight Bit
Where to Watch: Crunchyroll
The story follows Satoru Mikami, who is satisfied with his monotonous life except that he is still single and can't find love. During a conversation with a co-worker, he is stabbed by an unknown figure.
As he dies, he hears voices and wakes up in a different world as a blob of slime. His newfound state grants him powers like mimicking and gobbling up anything. His life becomes interesting as, in this world, he embarks on a different journey, from freeing a 300-year-old monster to making friends.
Written by Fuse, the show is filled with Isekai tropes, and elements like political drama are prevalent. It starts as a parody, but as the series, you can see the intensity it gathers.
5)Overlord
Episode Count: 13 Episodes from Season 1, 13 Episodes from Season 2 & 13 Episodes Season 3
Release Date: 7th July 2015
Studio: Madhouse
Where to Watch: Crunchyroll
Overlord is an Isekai anime based on the MMORPG game YGGDRASIL which is famed for its life-like interactions. But the time has come for it to shut down as in game character Ainz Ooal Gown remembers all the memories of playing the game.
Ainz Ooal Gown is the strongest supreme being in the game, and he realizes the game, instead of ending, has turned into a reality. Ainz Ooal Gown asks his NPC characters to learn about the new world and how this current predicament will affect them.
Overlord, as the title suggests, is filled with mystery, overpowered MC, and humor. Stuck in the game is a popular Isekai trope, and a strong villain makes Overlord a definite pickup for any Isekai fan.
4) Log Horizon
Episode Count: 25 Episodes from Season 1, 25 Episodes from Season 2 & 12 Episodes Season 3
Release Date: 5th October 2013
Studio: Satelight
Where to Watch: Crunchyroll
Next up on our Top 10 Best Isekai Anime is another gaming Isekai in which thirty thousand gamers of the popular MMORPG game Elder Tale are transferred into it during a new expansion.
Log Horizon follows the protagonist Shiroe, who, with his friends Naotsuga and Akatsuki, form a guild called Log Horizon and find ways to live in this virtual reality. They must take on different roles and help each other survive in this world.
Log Horizon is a no-brainer watch if you are a fan of politics and tactics with magical powers. The writing and intelligent storylines separate Log Horizon separate it from a lot of other Isekai shows.
3) Mushoku Tensei: Jobless Reincarnation
Episode Count: 23 Episodes from Season 1
Release Date: 11th January 2021
Studio: Bind
Where to Watch: Crunchyroll
Number four on the ten best Isekai anime list is based on the light novel by Rifujin na Magonote. Mushoku Tensei tells the story of a 34-year-old shut-in who finds life tiresome and pointless to live. To change this situation, he jumps in front of a truck to save a group of teenagers and gets killed.
He is reincarnated as a baby in the magic world with a new name, Rudeus Greyrat. Soon, he develops a strong affinity for magic and starts training under the magical demon, Roxy Migurdia. Mushoku Tensei traces the journey of Rudeus from a man suffering from a midlife crisis to a supernatural hero.
Despite some considering it an Ecchi anime first, you can't miss out on Mushoku Tensei for its strong plot and colorful art. Rudeus is a relatable protagonist and carries the show beautifully.
2) Sword Art Online
Episode Count: 23 Episodes Season 1
Release Date: 11th January 2021
Studio: Bind
Where to Watch: Crunchyroll
Considered by many as the pioneer of Isekai anime, Sword Art Online is the runner-up on this list. For many, SAO, as it's popularly called, might be the first Isekai they watched.
The show follows the protagonist, Kirito, who, along with a thousand others, is selected for beta testing the VRMMORPG Sword Art Online. During the trial, they all are stuck in the game with no way out. Kirito quickly realizes the stakes are high as a death in the game will result in death in real life.
How Kirito manages to save people from this death trap and put an end to this sadistic game is what forms the central plot of the show. Asuna, the love interest of Kirito, is also one of the most popular female Isekai characters of all time.
Sword Art Online has everything you can wish for; Action, Romance, Adventure, and Comedy. You must not miss this masterpiece at any cost. Get watching.
1)Re: Zero − Starting Life in Another World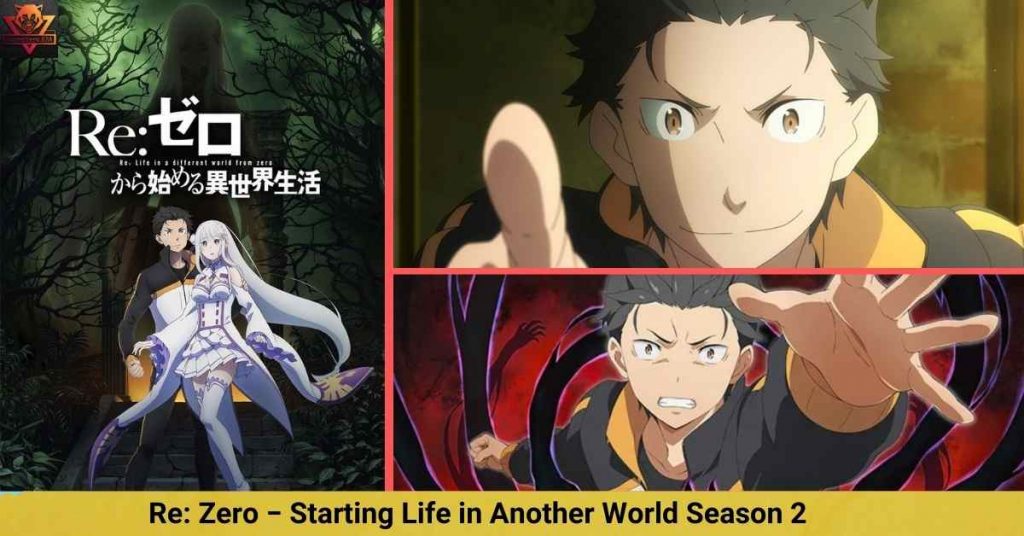 Episode Count: 25 Episodes from Season 1 & 25 Episodes from Season 2
Release Date: 8th July 2020
Studio: White Fox
Where to Watch: Crunchyroll
Finally, we reach the end of the list, and the best Isekai anime is the dark fantasy written by Tappei Nagatsuki, Re: Zero. The plot follows Subaru Natsuki, who is suddenly summoned into a fantasy world after shopping at a convenience store.
He meets Emilia, and in trying to help an elf regain her insignia from thieves, Subaru is killed. A few hours after his death, he is revived and realizes his power to return from the dead anytime. His abilities come at a cost, though, as every time he dies, he carries along with the memories from his previous life while everyone else forgets what happened.
He begins helping Emilia become the next queen of Lugunica, making new friends, and helping them using his newfound power.
Re: Zero is a must-watch for its innovative concept and serious tone despite being an Isekai anime. The animation is beautiful, and the characters are likable—a must-watch.
Conclusion
Either you are an old watcher or want to get into the Isekai genre, this Top 10 Best Isekai Anime list has you covered. Check it out and happy watching.