Top 10 Spring Anime 2023 Which You Can't Miss Ft. Demon Slayer, Oshi No Ko ,Hell s' Paradise
Top 10 Spring Anime 2023, which you must watch!
The spring anime season is in full blast as numerous series have been released, which are already contenders for anime of the year.
As we enter the final month of the spring anime season, it's a good time to countdown the animes that stood out from the rest and have impressed the fandom throughout their run.
To be clear, this countdown will only feature new animes rather than renewals. So with that out of the way, here is the list of Top 10 Spring Anime 2023 that is a must-watch.
10) THE DANGERS IN MY HEART
Studio: Shin-Ei Animation
Release Date: 2nd April 2023
Episodes: 12
Kicking off the Top 10 Spring Anime 2023 list is the rom-com series by studio Shin-Ei Animation, The Dangers in My Heart.
The plot follows Kyotaro Ichikawa, who is a disgruntled loner student and fantasizes about murdering his popular classmates.
He often reads murder encyclopedias and learns about human anatomy, with the beautiful class idol, Anna Yamada, being his prime target.
However, when he observes that Anna is somewhat quirky in her way, and when she becomes increasingly friendly towards Kyotaro, he gradually warms up to her and they start to become closer.
If you are a connoisseur of 'feel good' romance (similar to Komi Can't Communicate or Kubo Won't Let Me Be Invisible in particular), this will fit perfectly into your alley.
9) SKIP AND LOAFER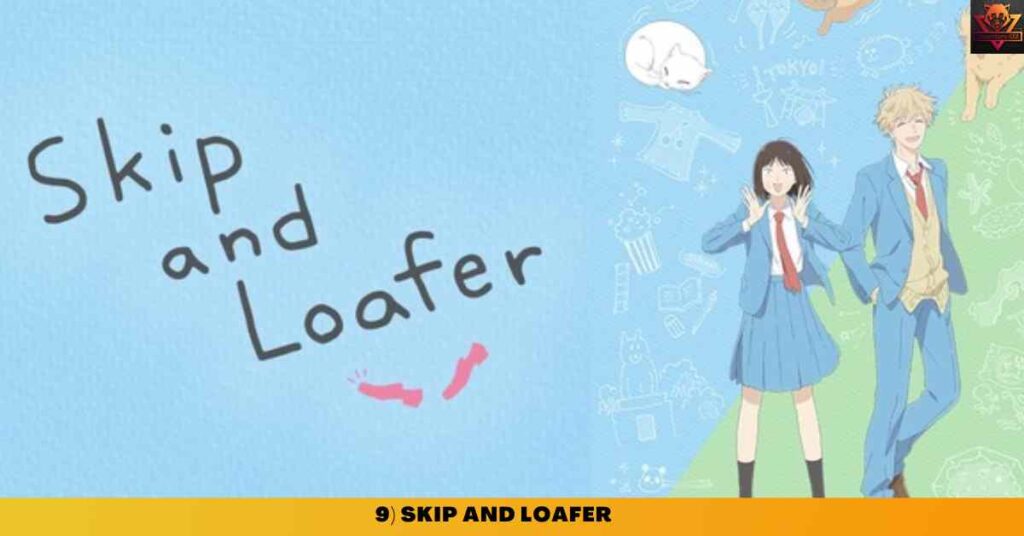 Studio: P.A. Works
Release Date: 4th April 2023
Episodes:12
Ever moved to a new school situated in a big city and experienced fright on your very first day?
If you did and want to recant that feeling, check out Studio P.A. Works s' slice of life anime based on Misaki Takamatsu s' manga series Skip and Loafer.
Mitsumi Iwakura is a sparkling high school student who moved from the outskirts of Ishikawa Prefecture to a high school in Tokyo after graduating from junior high school.
Mitsumi grew up in a depopulated area, with only eight students in her class. However, on the day of her entrance ceremony, she gets caught in the commuter rush and gets lost, and her life plan is quickly frustrated.
A tall and handsome boy who is worried about Mitsumi calls out to her and decides to go to school with her every day.
The endearing characters, coupled with wholesome relationships and heartfelt narratives, make this slice of the series highly engaging.
In short, Skip and Loafer give you that warm fuzzy feeling akin to having hot chocolate with butter cookies during a monsoon.
8) MY LOVE STORY WITH YAMADA-KUN AT LV999
Studio: Madhouse
Release Date: 2nd April 2023
Episodes: 13
Taking the ninth spot in this Top 10 Spring Anime 2023 list is the anime adaption of Mashiro s manga series by studio Madhouse, My Love Story With Yamada-Kun At Lv999.
The story follows the daily life of college student Akane Kinoshita. After getting dumped by her boyfriend, she continues the MMORPG they once played together and attended an offline game event.
There she encounters an emotionless and handsome high school student named Akito Yamada.
Yamada happens to belong to the same guild in the game as Akane, and after this encounter, Akane begins to get closer to other members of the guild, especially Yamada.
If you love gaming and anime, My Love Story With Yamada-Kun At Lv999 is a must-watch.
7) INSOMNIACS AFTER SCHOOL
Studio: Liden Films
Release Date: 11th April 2023
Episodes: 13
Sticking with the school theme, the seventh entry in the Top 11 Spring Anime 2023 list is the anime adaption by studio Liden Films of Makoto Ojiro s' manga series, Insomniacs After School.
In the small city of Nanao, insomniac Ganta Nakami tries to catch a nap in his school's abandoned astronomical observatory.
There he stumbles upon a sociable and carefree girl named Isaki Magari, who has the same problem.
The two form an awkward friendship and reestablish their school's defunct astronomy club.
Isaki and Ganta are both complex and nuanced because of their insomnia, with their own insecurities and struggles that make them feel incredibly real.
The romance of both is beautifully written, with moments of heartwarming tenderness and moments of heart-wrenching emotion.
6) DEAD MOUNT DEATH PLAY
Studio: Geek Toys
Release Date: 11th April 2023
Episodes: 13 episodes
It is hard to imagine an anime season without an isekai or, in the case of Dead Mount Death Play, reverse isekai
In another world, a hero named Sir Shagrua Edith Lugrid is about to finish off a powerful necromancer known as the Corpse God.
However, the Corpse God uses a unique magic skill to reincarnate themself into another world and ends up in modern-day Shinjuku, in the body of a boy named Polka Shinoyama, who has just had his throat slit by an assassin.
Thinking that this new world could provide the peaceful life he desired in the last one, the Corpse God takes on Polka's identity and soon ingratiates himself with the Shinjuku underworld under a woman named Clarissa and her underlings.
Check out Dead Mount Death Play if you enjoy mystery detective drama with unique characters and an intriguing world.
5)MY HOME HERO
Studio: Tezuka Productions
Release Date: 2nd April 2023
Episodes: 12
Breaking into the Top 5 in this list of Top 10 Spring Anime 2023 is a crime suspense thriller by studio Tezuka Productions, My Home Hero.
A normal salaryman, Tetsuo Tosu, discovers that his adult daughter Reika is being physically and emotionally abused by her new boyfriend, a young man named Nobuto.
Soon after discovering that Nobuto has a history of murdering other girls that he has dated in the past. is
Currently, he is trying to get money from Reika's grandparents before planning to dispose of her as well; however, Tetsuo murders Nobuto before he can hurt her daughter.
He then resolves to commit "the perfect crime" and hides the body with the help of his wife, Kasen.
However, Nobuto was the only son of Yoshitatsu Matori, who runs a powerful yakuza branch in the city.
While Tetsuo wishes to protect his family, he must now deal with Matori's men as they threaten his family to find out what happened to Nobuto.
My Home Hero, albeit a slow burn, is an extremely dark story that is realistic at certain points and also involves high stakes.
My Home Hero should be on your watch list if you like an intriguing cat-and-mouse game between yakuza and an overprotective father.
4) HEAVENLY DELUSION
Studio: Production I.G.
Release Date: 1st April 2023
Episodes: 13
Post Apocalyptic genre has gained notoriety in the last couple of years, and Spring 2023 was no different as studio Production I.G. s Heavenly Delusion hit the small screens.
The premise is set in a world wherein 5 years have passed since an unprecedented disaster destroyed modern civilization.
A group of children live in a facility isolated from the outside world. One day, one of them, a girl named Tokio, receives a message that says, "Do you want to go outside of the outside?"
Mimihime, another girl who lives in the same facility, has a prediction and tells the upset Tokio that two people will come from the outside to save her.
One of whom has the same face as her, while the director of the school tells her that the outside world is Hell.
Meanwhile, a boy named Maru, who looks just like Tokio, is traveling through this devastated Japan with a girl named Kiruko in search of Heaven.
Heavenly Delusion is well written and coupled with beautiful animation, which portrays the dark, eerie setting of this new world.
The chemistry between characters under difficult circumstances keeps you engaged as the story unfolds.
3) MASHLE: MAGIC AND MUSCLES
Studio: MAPPA
Release Date: 1st April 2023
Episodes: 13
Down to the final three in the Top 10 Spring Anime 2023 list, and we take a trip to the magical world with Mashle: Magic And Muscles
Set in a magical world in which an individual's position within society is defined by their power and skill with magic, Mash Burnedead is a young man without so much as an ounce of magic in his blood.
In order to live a peaceful life with his adoptive father, Regro, Mash will need to become a Divine Visionary, a title that is only given to exceptional students from the Easton Magic Academy.
Despite having no magic whatsoever, Mash goes to the magic school, determined to survive, and show the world that muscles can beat magic.
2) HELL'S PARADISE
Studio: MAPPA
Release Date: 1st April 2023
Episodes: 13
We are nearly at the end of this best Spring Anime 2023 list, and it doesn't get better than Hell s' Paradise.
Captured during an assassination mission, Gabimaru the Hollow is sentenced to be executed, but nothing seems to kill him due to his superhuman body.
Believing his love for his wife to be subconsciously keeping him alive, executioner Yamada Asaemon Sagiri offers him the chance to be pardoned of all crimes by the Shogunate if he finds the elixir of life on Shinsenkyo, a legendary realm recently discovered southwest of the Ryukyu Kingdom.
After losing five expedition teams sent to the island, this time, the Shogunate sends a group of death row convicts.
The convicts are each given a Yamada Asaemon executioner, who they must return with in order to obtain the pardon.
Unique and fascinating protagonist Gabimaru is the obvious shining light, but another catalog of characters makes Hell s' Paradise a fan favorite.
If that is not enough, the visceral, violent action scenes with beautiful animation done through vivid colors add a stunning visual experience.
Hell's Paradise has been the best shonen anime of Spring 2023 and has got lots right to deserve that acclamation.
1)OSHI NO KO
Studio: Doga Kobo
Release Date: 12th April 2023
Episodes: 11
Finally, topping the Top 10 Spring Anime 2023 list is the adaption of Aka Akasaka s' manga series, Oshi no Ko.
Goro Amemiya works as an OB-GYN in a small rural town and is a massive fan of upcoming idol Ai Hoshino.
After an unexpected meeting, Goro dies suddenly, only to be reborn as one of Ai's children, a boy named Aquamarine Hoshino.
Goro has been reincarnated and still has all his memories and life experience. Now he must hide his advanced experience and knowledge while covertly looking after his mom's career.
Until an unforeseen event changes the direction of Aqua's new life forever.
He and his twin sister Ruby then grows up as one of showbiz's biggest secrets.
Don't get fooled by the bright colors and cute characters with gleaming eyes; Oshi No Ko is a rare anime focusing on social commentary rather than raw amusement. t exposes the dark secrets of ideal culture and the entertainment industry.
Oshi No Ko does not shy from showing the cruel nature of celebrity life and highlights the emotional toll it takes on an individual.
Although the anime season has only just begun, do not be surprised if Oshi No Ko snaps a couple of awards by the end of it.
CONCLUSION
There you have it, a list of Top 10 Spring Anime 2023 wherein you can check out any of them based on your interest and preference.