The Witcher: Yennefer Actress Suffered Real-Life Back Injury During Filming
Today we will discuss "The Witcher: Yennefer Actress Suffered Real-Life Back Injury During Filming".
In this period of the pandemic, OTT platforms like Netflix have become the primary source of entertainment, which can be enjoyed even staying at our homes.  
And one of the most popular web series of Netflix, whose first season was released in 2019, was The Witcher. It was a web series adapted from the famous bestselling book series The Witcher by Andrzej Spakowski. The first season of The Wicher proved to be a great success, especially because of the artistic acting skills and exceptional cinematography by its cast and crew. And also, because of the storyline, which was a compilation of magic, action, emotion, and thrill.  
Even before its official release, the makers predicted that this web series would attain great success and love for the audience. And they started to work on the storyline of the second season. So, the Witcher focuses mainly on three main characters:
Titular Witcher – Geralt of Rivia, which is played by Henry Cavill, his character hunts monster. 

Yennefer of Vengerberg, which is played by actress Anya Chalotra, is an extremely powerful sorceress in the series. 

And the third one is Ciri, which is played by actress Freya Allan, she is the crown princess of Cintra in the web series. 
So, the acting of these three exceptionally talented actors along with great storyline and cinematography make this web series a perfect magic thriller.
But the most difficult task was for Yennefer of Vengerberg which was played by actress Anya Chalotra. According to the storyline, Yennefer was born with many disabilities like a twisted spine, hunched back, and also a twisted jaw. Because of which she was often abused and disowned by her father. So, to play this character required a brave character as it was quite challenging to act. But Anya Chalotra took this challenge, but to look like Yennefer she had to undergo many transformations. For that, the makers used prosthetics and makeup.
But to act as if someone has a spinal problem, she had to wear a backpiece for hours, this led to a real-life back injury. She also said in an interview that she had to get massaged after each shoot as she maintained the same posture for hours during the filming of the web series. But this problem of hunched back doesn't last long as later in the web series her character of Yennefer of Vengerberg transformed where her twisted jaw and spines were cure in return, she lost her fertility.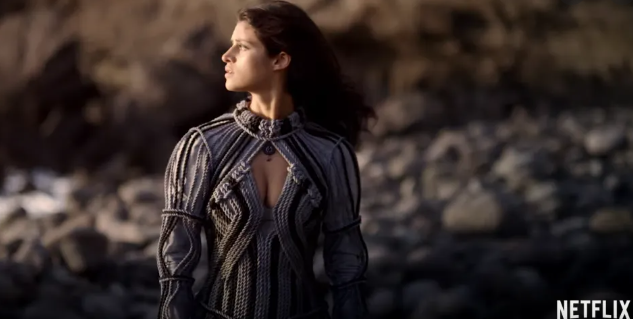 It was not at all easy for Anya Chalotra to play such a challenging character in the series, but through her hard work and persistent dedication, she managed to pull out this difficult task. She was able to bear the pain and discomfort caused while filming through her courage and also showing the never-give-up attitude. Now, due to the transformation of her character, she has to faceless challenges unless the makers decide to show some flashbacks in the upcoming season of this successful Netflix Web series.