Top 12 Best Isekai Anime Of 2021 Ranked: According to SuperHero ERA
Time to Rank the Best Isekai Anime of 2021; let's Go!
Isekai animes have been one of the most-watched genres in the fandom. No matter how old you are, Isekai anime must have been on your watched list at some point.
Isekai, by definition, is when the protagonist gets transported into another world and interacts with the people and environment in that world. It's also called portal fantasy, and many new animes have found success in this category.
The year 2021, like any other year, had much Isekai anime, which burst onto the scene. Some have become fan favorites, while others have been forgetful. To help you decide what to watch and which to skip, we have prepared an Isekai anime list,
Today we look into the best Isekai anime 2021 and rank them in a Top 12 list.
12) SEIREI GENSOUKI
Episode Count: 12 from Season 1
Release Date: 6th June 2021
Studio: TMS Entertainment
Where to Watch: Crunchyroll
We kick off the new Isekai anime 2021, with Seirei Gensouki, written by Yuri Kitayama, which follows Haruto Amakawa, who dies in an accident but wakes up in a new world within the body of Rio. Rio s' memories have altered his memories, and he decied to live in the Bertham Kingdom.
Rio, whose mother was killed when he was young, seeks revenge and wakes up with some newfound abilities. With the new spirit powers, he finds himself saving two princesses of the Bertham Kindom.
The King acknowledges Rio s' contribution and admits him into the magic school. Rio finds it tough to adapt as the school is filled with nobles and upper-class men.
11) HOW A REALIST HERO REBUILT THE KINGDOM
Episode Count: 26 from Season 1
Release Date: 4th July 2021
Studio: JC Staff
Where to Watch: Crunchyroll
Kazuya Souma is a young realist civil servant who the Elfriden Kingdom summons to help save its economy and be their Hero. The nation is up against a demon army that has destroyed their lives.
Kazuya isn't best pleased for being thrown into an unwinnable situation but decides to help the kingdom utilizing bureaucracy and not war. He is married to the princess and made the Hero of the empire.
The new King of Elfriden Kingdom must recruit intelligent people to win the battle and save his kingdom from peril.
10) Sonny Boy
Episode Count: 12 Episode from Season 1
Release Date:16th July 2021
Studio: Madhouse
Where to Watch: Funimation
This next one must have been a dream for many of us during our school days. Nagara and Nozomi are two school friends and are in between their summer vacation when they meet Mizuho. The whole class is mysteriously transferred into another Dimension called The World.
The world has different laws, and the students discover they have supernatural powers inside this place. The story describes how they return home while navigating arguments and adapting to strange revelations.
Sonny Boy is written by Shingo Natsume and is for those Isekai fans who love some mind-bending and survival anime.
9) THE DUNGEON AND BLACK COMPANY
Episode Count: 12 Episode from Season 1
Release Date: 9th June 2021
Studio: Silverlink
Where to Watch: Crunchyroll
Kenji Ninomiya has finally realized his dream of self-sustainability and is watching the ordinary people struggle from his penthouse after a typhoon hits. He is ready to start his jolly good life before a portal teleports him into another world.
Kenji is transferred into a mining company where he is forced to mine and make ends meet as his lavish lifestyle is taken away. The mining company works on profits and doesn't care about the welfare of its employees.
He forms a relationship with his two co-works and calls it the Black Company. He is ready to fight and rise to the company's ranks to get back to his previous life.
Writer Yōhei Yasumura portrays the stringent corporate life of Japan through this satirical Isekai.
8) The World's Finest Assassin Gets Reincarnated as an Aristocrat
Episode Count: 12 Episode from Season 1
Release Date:6th October 2021
Studio: Silverlink
Where to Watch: Crunchyroll
The world's finest assassin has retired after many conflicts with his old company. Suffering from Depression, the assassin is visited by a Goddess who reincarnates him into another world filled with magic and weapons.
He is given a new name as Lugh Tuatha De and is born into a noble assassin family.His new father teaches him different assassination techniques, which are unusual from those he already knew.
Using these skills, Lugh Tuathe De must defeat the adversary called the Hero and live his newfound life to the fullest.
Written by Rui Tsukiyo, it is a must-watch for those who liked their overpowered Assasins.
7) How Not to Summon a Demon Lord Season 2
Episode Count: 12 Episode from Season 1 & 10 Episode from Season 1
Release Date:9th April 2021
Studio: Ajia-do Animation Works
Where to Watch: Crunchyroll
The story follows Takuma Sakamoto, a loner expert in the MMORPG game Cross Reverie. He is strangely transported into the game of his character, Demon Lord Diablo, aka @Diablo-13.
Upon arriving, he learns that two characters, pantherian Rem and Elf Shera, have summoned him to make him their servants. They cast a spell on Takuma, who has a magic rebounding ring, making them his servants with magical collars around their necks.
The introversion leads Takuma to continue playing the game, interact with the NPCs, and free Rem and Shera of the magical collars with his extensive knowledge of the game.
Regarding the Isekai anime list, How not to summon Demon Lord is unmissable.
6) Tsukimichi: Moonlit Fantasy
Episode Count: 12 Episode from Season 1
Release Date:7th July 2021
Studio: C2C
Where to Watch: Crunchyroll
Makoto Misumi disappears into another world due to a contract between his parents and the Goddesses. Upon arriving, he has soon stripped of the titles of a Hero and deemed hideous by the deity of this world. He is banished to a faraway land with his human speech taken away.
Embarrassed by the goddess Makoto awakes his magical powers and begins the journey to go back home. But not before he closes the disparity between his world and the new world.
Kenta Ihara is the writer, and the world-building aspect is done beautifully in Tsukimichi: Moonlight Fantasy.
5) Link Click
Episode Count: 11 Episode from Season 1
Release Date:21th August 2021
Studio: Studio Lan
Where to Watch: Crunchyroll
Taking a break from Japanese anime, we go to Chinese donghua and bring you a new Isekai 2021, Link Up. Cheng Xiaoshi and Lu Guang run a Time Photo studio shop, which allows customers to jump into photos through the eyes of Cheng and Lu and relive the memories or solve secrets.
The superpower to relive the past is dangerous as it can change the customer's future if altered. Things take a drastic moment when Cheng and Lu get a customer request, which becomes personal.
Will they be successful in their client request and ignore their personal feelings is the crux of the show, Link up.
Highly recommend watching this masterpiece by Li HaoLing as the concept is unique, and the animation is oddly satisfying.
4) Faraway Paladin
Episode Count: 12 Episode from Season 1
Release Date: 9th October 2021
Studio: Children Playground Entertainment.
Where to Watch: Crunchyroll
Will is an orphan raised by three close people: bone warrior Blood, foster mother Mary, and mage Augustus. They teach him magic, fighting, and the meaning of having a family.
Will, albeit loved, questions his past and who he is. As he comes of age, his quest to find answers begins in a world unknown to him.
Kanata Yanagino authors Faraway Paladin takes us on a beautiful journey of Will, from leaving his foster family to becoming a Paladin.
3) THAT TIME I GOT REINCARNATED AS A SLIME Season 2
Episode Count: 24 Episode from Season 1 & 24 Episode from Season 2
Release Date: 5th January 2021
Studio: Eight Bit
Where to Watch: Crunchyroll
Coming number three on our list of best Isekai anime 2021 is season 2 of That Time I Got Reincarnated as a Slime. The story follows Satoru Mikami, who is satisfied with his monotonous life except that he is still single and can't find love. During a conversation with a co-worker, he is stabbed by an unknown figure.
As he dies, he hears voices and wakes up in a different world as a blob of slime. His newfound state grants him powers like mimicking and gobbling up anything. His life becomes interesting as, in this world, he embarks on a different journey, from freeing a 300-year-old monster to making friends.
If you liked season one, then season two is a must-watch. Written by Fuse, the show is filled with Isekai tropes, and elements like political drama are prevalent. It starts as a parody, but as the series, you can see the intensity it gathers.
2) Mushoku Tensei: Jobless Reincarnation
Episode Count: 23 Episode from Season 1
Release Date: 11th January 2021
Studio: Bind
Where to Watch: Crunchyroll
The runner up in our 12 Best Isekai anime list is based on the light novel written by Rifujin na Magonote. Mushoku Tensei tells the story of a 34-year-old shut in, who finds life tiresome and pointless to live. To change this situation, he jumps in front of a truck to save a group of teenagers and gets killed.
He is reincarnated as a baby in magic world with a new name, Rudeus Greyrat. Soon, he develops a strong affinity to magic and starts training under the magical demon,Roxy Migurdia. Mushoku Tensei traces the journey of Rudeus from a man suffering from midlife crisis to a magical hero.
Despite some considering it an Ecchi anime first, you can't miss out on Mushoku Tensei for its strong plot and colorful art. Rudeus is a relatable protagonist and carries the show beautifully.
1)Re: Zero − Starting Life in Another World Season 2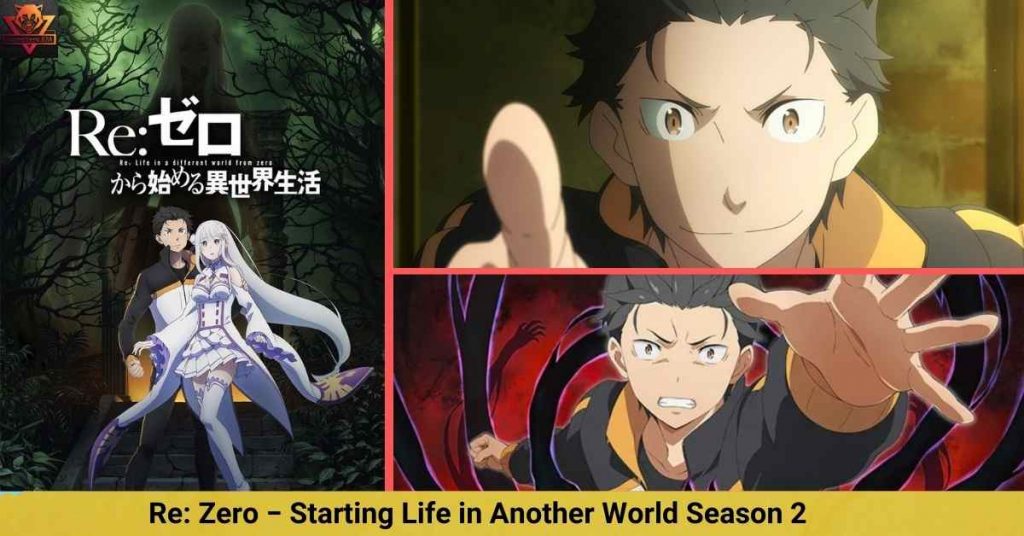 Episode Count: 25 Episode from Season 1 and 25 Episode from Season 2
Release Date: 8th July 2020
Studio: White Fox
Where to Watch: Crunchyroll
Finally, we reach the end of the list and the best Isekai anime 2021 is the dark fantasy written by Tappei Nagatsuki, Re: Zero. The plot follows Subaru Natsuki who is suddenly summoned into a fantasy world after shopping at a convenience store.
He meets Emilia and in trying to help an elf regain her insignia from thieves, Subaru is killed, few hours after his death he is revived and realizes his power to return from the dead any time. His abilities come at a cost though as every time he dies he carries along the memories from his previois life while everyone else forgets what happened.
He begins helping Emilia to become the next queen of Lugunica and makes new friends and helps them using his new found power.
Re: Zero is a must watch for its innovative concept and serious tone despite being an Isekai anime. The animation is beautiful and the characters are likeable. Definite a must watch.
CONCLUSION
Well, there you go to the top 10 Isekai anime list 2021, which includes a bit for everyone. Hopefully, monsters, Assassins, and Slimes, we covered it all as the Isekai fandom keeps growing.