World Trigger Season 4: Renewed Or Cancelled? + Release Date Predictions
World Trigger Season 4, when will it release?
Over the years, there has been one anime genre that has stood the test of time, managing to produce some of the best manga series and anime.
Yes, we're talking about the king itself, Shonen which has given us popular titles like Dragon Ball Z, Naruto, and One Piece that have transcended anime.
While Shonen remains a fan favorite, not all series under this genre become major hits. This was the case back in 2014 when the anime adaption of Daisuke Ashihara s' manga series World Trigger hit the small screen.
The story is set in Mikado city, which is frequently ravaged by attacks from mysterious invading monsters known as neighbors.
The main character of the series is called Osamu Mikumo, who is a member of the Border organization that is tasked to fight neighbors.
They use devices called triggers that save the user's body in a dormant and project the user's consciousness into a Trion.
Staying in that Trion body taking damage or using the customizable trigger's power consumes Trion, and when it's used up, the body faints.
Osamu meets Yuma Kuga, a boy from another dimension sent to Japan to meet an old friend of his father.
Yuma is the holder of a special type of black trigger that is brought into existence when a powertrain user sacrifices their life power by pouring all of their triumphs into an object.
In the case of Yuma, his father chose to give up his own life to preserve his son s' body.
Yuma is also a neighbor who is hiding from Border and doesn't know the way around Mikado city, and it's up to Mikumo to help the transfer student.
Will Yuma be accepted by Border, or is he a spy in disguise whose special back trigger could be used against him? It is the central plot of the show.
Upon its release World Trigger went under the radar as compared to other memorable favourites such as You Lie in April, Shirobako, Fate/Stay night Unlimited Blade Works, Parasyte and Akatsuki no Yona.
Despite the mixed reception from the fandom, World Trigger received three seasons and fans of the series are wondering whether a fourth installment is on the cards or not.
Keep scrolling to find the answer as we bring you all the latest news and updates on World Trigger Season 4.
World Trigger is rated 7.5/10 and ranked #1425 with 389k members on MyAnimeList
WHAT IS THE WORLD TRIGGER SEASON 4 RELEASE DATE?
World Trigger season 1 aired from 5th October 2014 to 3rd April 2016 for 73 episodes. The series was renewed for a second season which ran from 10th January 2021 to 4th April 2021 for 12 episodes, while season three aired from 10th October 2021 to 23rd January 2022 for 14 episodes.
As of writing, there is no update from studio Toei Animation on the renewal of World Trigger Season 4.
| | |
| --- | --- |
| SEASON | RELEASE DATE |
| World Trigger Season 1 | 5th October 2014 |
| World Trigger Season 2 | 10th January 2021 |
| World Trigger Season 3 | 10th October 2021 |
| World Trigger Season 4 | Yet to be Announced |
Production studios consider various consumer and financial metrics alongside source material before announcing a renewal.
While World Trigger might not have the same notoriety as other shonen animes like Demon Slayer, Attack on Titans, and Jujutsu Kaisen, World Trigger manga continue to be very popular in Japan.
Volume 24 of the manga was ranked #2 on Rakuten's Top manga volume sales chart in December 2021 while making Oricon's Top 3.
Another favorable point for a series renewal comes in the way of how World Trigger Season 3 concluded with a cliffhanger leaving just before the Expedition Selection Exam story arc.
The only factor against a renewal is the availability of source material, wherein 22 volumes have been adapted till season three, which leaves behind only three volumes for World Trigger Season 4.
Hence, once the manga finds a good stopping point for the story, we can assume World Trigger Season 4 trailer and World Trigger Season 4 release date will most likely be in the Fall of 2024.
WORLD TRIGGER MANGA CATCHUP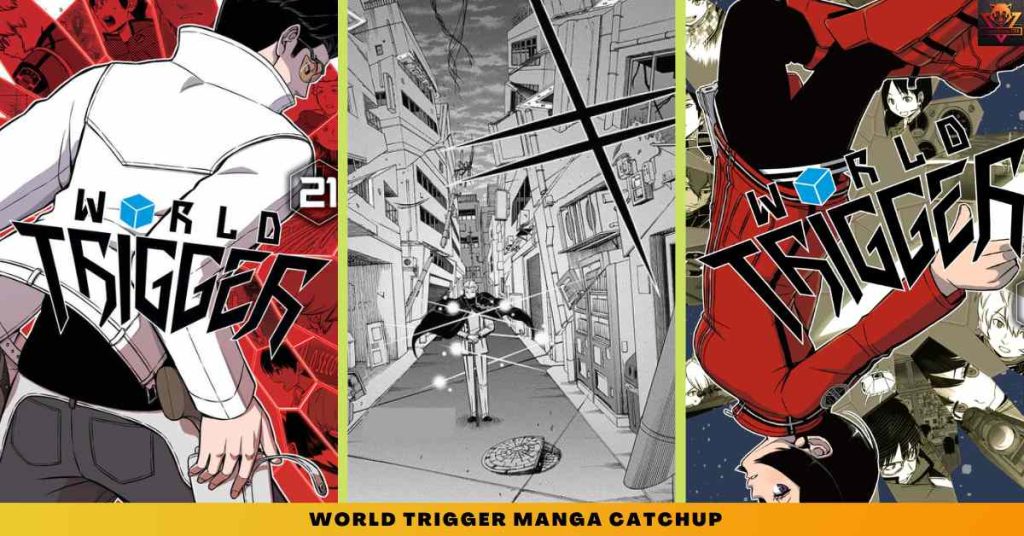 World Trigger manga is written and illustrated by Daisuke Ashihara. It began serialization in Weekly Shonen Jump on 9th February 2013 and was transferred to Jump Square in 2018 after a hiatus from 2016 due to the author s' ill health.
The manga has been collected into 25 volumes with the latest issue released on 2nd September 2022.
As of October 2021, World Trigger manga has 15 million copies in circulation and was ranked #18 in Oricon s' Top 50 Best-Selling Manga in 2021.
World Trigger manga is rated 7.8/10 and ranked #1116 with 42k members on MyAnimeList
Check out the World Trigger manga volumes sales evolution below:
WORLD TRIGGER SEASON 4 PLOT
In the finale of World Trigger Season 3, "Resolution," Hyuse draws back, which tests Chika s' resolve after failed strike involving a meteor.
Yuba squad fights the final B-Rank match to claim the top tier meanwhile, Chika takes a keen interest in Cityscape C battle and sniper Akane.
The third season covered till volume 22, which means World Trigger Season 4 will begin by adapting Volume 23 of the manga.
Jin s' ultimate dream is to bring Galopoula on their side which will be advantageous to Border as well. But the Aftokrator masters need something valuable to make the deal, what will Jin give?
Osamu and Jin admit the multi-phase mission test isn't a cakewalk and, in the process, could decide the future.
The complexity of the test wasn't enough, and Border has decided to use this opportunity to find the strongest member as well, which will serve in making new squads.
WORLD TRIGGER CAST, CHARACTER, AND CREW
World Trigger anime is directed by Mitsuru Hongo and scripted by Hiroyuki Yoshino. Characters are designed by Hitomi Tsuruta and Toshihisa Kaiya, while Kenji Kawai composes the music. Animation is produced by Toei Animation and CGI is directed by Yasuhiro Kato.
You can find the list of World Trigger anime characters and voice cast below:
| | |
| --- | --- |
| CHARACTERS | VOICED BY |
| Chika Amatori | Nao Tamura |
| Yūma Kuga | Tomo Muranaka |
| Yūichi Jin | Yūichi Nakamura |
| Osamu Mikumo | Yuuki Kaji |
| Akane Hiura | Chihiro Ikki |
| Shiori Usami | Eri Nakao |
| Replica | Hideyuki Tanaka |
| Sōya Kazama | Hikaru Midorikawa |
| Visa | Hiroshi Naka |
| Rei Nasu | Houko Kuwashima |
| Kyōsuke Karasuma | Jun Fukuyama |
| Lamvanein | Junichi Yanagita |
| Kōhei Izumi | Kaito Ishikawa |
| Ai Kitora | Kana Hanazawa |
| Takumi Rindō | Keiji Fujiwara |
| Shūji Miwa | Masakazu Morita |
| Yōtarō Rindō | Megumi Urawa |
| Jun Arashiyama | Nobuhiko Okamoto |
| Hus | Nobunaga Shimazaki |
| Hairein | Nozomu Sasaki |
| Kirie Konami | Rie Kugimiya |
| Masafumi Shinoda | Takeshi Kusao |
| Masamune Kido | Takuya Kirimoto |
| Reiji Kizaki | Tomoaki Maeno |
| Masato Kageura | Tomokazu Sugita |
CONCLUSION
Despite the lack of source material, World Trigger Season 4 is inevitable.