10 Actors who portrayed crucial roles in both Marvel and DC films
With new upcoming movies, it is natural to expect a lot of new faces in your favourite Marvels and DC movies. There's also a solid chance that you'll see some old faces as well who played a major role in both Marvel Cinematic Universe and DC extended universe films already. Marvel and DC fandoms have always been competitive, rooting for their favourite superheroes. But what happens when their favourite superheroes switch teams? So let's see some of the actors who have played a vital role in both Marvel and DC films.
Here's the list of 10 actors who played an important role in both Marvel and DC films
1. Russell Crowe
Russell Crowe will be joining the Marvel Cinematic Universe pretty soon with the upcoming fourth solo movie of the Marvel hero, Thor: Love and Thunder, along with the stars Chris Hemsworth, Chris Pratt, Natalie Portman, Tessa Thompson, and Christian Bale in the key roles.
The details of Crowe's role hasn't been disclosed yet, but we have seen the actor work with his role as Jor-El, the father of Superman, in the DC Extended Universe films and more recently in Zack Snyder's Justice League.
2. Tom hardy
Tom hardy played a major role in both Marvel and DC extended Universe films, and both of his roles were successful and loved by the audience. He portrayed the villain, Bane in the 2012 film, The Dark Knight Rises. Then he played Eddie Brock, the anti-hero "Venom", in 2018 which was another successful film.
3. Zachary Levi
Levi, who portrayed the DC superhero, Shazam in 2019, also played the role of Thor's friend Frandal in Thor: The Dark World. He was supposed to play the same role in the first Thor film as well but had to drop because of scheduling conflicts. Later, he returned in the second film. In Thor: Ragnarok, his role was relatively short, he was killed by Hela.
4. Ben Affleck
You might know Ben Affleck for his most popular role, The Batman. Before that, he played the role of Daredevil in a 2003 Marvel film in which his now ex-wife Jennifer Garner, played the role of Elektra. Daredevil was a moderate level hit, but it failed critically. However, Ben rose to success when he played Batman in the Batman Vs Superman: Dawn of Justice (2016), Justice League (2017) and Zack Snyder's Justice League (2021). Fans hope to see more of him shortly.
Another Quiz – Click to Play Quiz
5. Christian Bale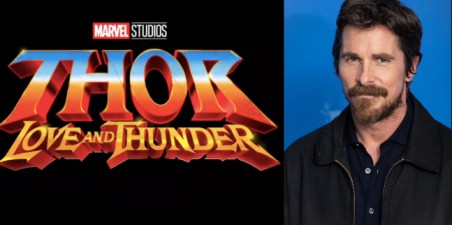 "You either die a hero or see yourself become a villain." This legendary dialogue by Harvey Kent is clearly for Christian Bale. He is one of the most celebrated Batmans. Bale is one of the most admired Batmans. He depicted Bruce Wayne, aka Batman in Christian Nolan's The Dark Knight Trilogy. Now he will be seen enacting the villain in the upcoming Marvel movie, Thor: Love and Thunder.
6. Halle Berry
Halle Berry, who played Storm in X-men and X-men united went on to play Cat-woman in the 2004 DC film. However, the movie was a total failure, but her performance as an actor was extremely well. Later on, she was seen in her Marvel role in X-Men: Last Stand and X-Men: Days of Future Past.
7. Michael Keaton
Batman played by Michael Keaton, has been one of the most loved and successful portrayals of the DC superhero till now. People loved his caped crusader's in the 1989's and 1992's. Later on, people opposed many actors for the role of Batman because they loved him as Batman so much. He also featured as Vulture, Spiderman's nemesis and Adrian Toomes in the 2017 film Spider-Man: Homecoming.
8. Danny Huston
Danny Huston has played the role of General William Stryker in X-Men Origins: Wolverine. He was seen hating mutants in the film as his son was one. Later on, he started doing experiments on others. He also played a role in the DC film, Wonder Woman, he played Erich Ludendorff in World War 1. He played the German leader with extreme precision.
Another Article – Click to Open
9. Tao Okamoto
In The Wolverine (2013), Tao Okamoto enacted Mariko Yashida, the sole successor of the Yashida Company of Japan, who faced life threat after her grandfather, billionaire Shingen Yashida died. In the movie, Wolverine tries to save her life and then starts developing romantic feelings for her. After playing the lead role in the blockbuster superhero film, she was also seen in a small role as Lex Luthor's secretary in the 2016 film Batman Vs Superman: The Dawn of Justice.
10. Willem Dafoe
You might know him as the famous comic character, Green Goblin. The actor played Spiderman's arch-nemesis in the early 2000s, Spiderman films. Lately, he has come off as Nuidis Vulko in DC extended universe's Aquaman. He was most recently seen in Zack Snyder's Justice League, which he took after his role in the theatrical version got cut off.
This was all you need to know about your favourite superheroes. There's going to be several other anticipated new entries in the Marvel Cinematic
Universe and DC Extended Universe productions. Hopefully, we'll see more Marvel and DC shuffles and collaborations in the future and we're sure that those are going to be mind-blowing.