Daredevil Show is Still Marvel's Best TV Show on Netflix
Despite the success of various Disney+ shows of Marvels, Daredevil Show is still one of the best TV shows on Netflix.
Marvel's Daredevil, an American TV series created by Drew Goddard, is based on Marvels Comics. Daredevil Show provided the fans with three seasons of amazing and thrilling adventures Daredevil. Season 1 of Daredevil was released in 2015 on Netflix, and the viewers have loved the series since.
However, many amazing shows of Marvels have been released on Disney+, like Loki Series, including the adventures of Loki throughout different timelines, Hawkeye, based on the Ronan side of Clint Barton and many more. Disney+ marvels show are getting various positive reviews, but still Daredevil Marvel Series is one of the Best TV Shows released on Netflix.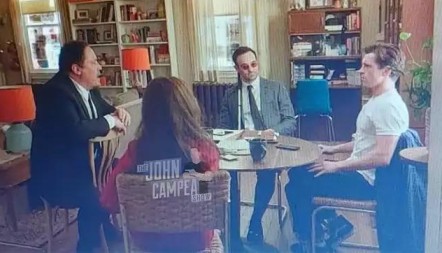 Daredevil Netflix's series include Charlie Cox playing the role of Matthew Murdock, aka Daredevil. Charlie has recently did a debut in Marvel Cinematic Universe, with Tom Holland in the movie of Spider Man: No Way Home.
In Spider Man: No Way Home, when Spider Man's identity got revealed, and Peter (Tom Holland) is blamed as the murderer of Mysterio, Matthew Murdock enters the screen. Happy, the head of Security of Stark Industries, had an affair with Peter's Aunt May, and when Peter was going through a lot as his identity is known to the whole world, he sought help from Matthew Murdock.
Daredevil Show – Best TV Show
Daredevil Netflix's series has an amazing level of strength in its characters which no other series has included so far. Charlie's role of Matthew Michael 'Matt' Murdock is a character who is a lawyer but blind. Matt got blind at a young age because of an accident; a radioactive substance got into his eye, making him blind but giving other heightened senses with superhuman strengths.
Despite the accidents he went through as a young boy, he still fights for others good with his advanced training and superhuman senses. Daredevils fights with one of the biggest villains, Wilson Fisk, aka Kingpin, a powerful businessman and crime lord in New York City.
Matt grew up in Hell's Kitchen in New York, and as he became Daredevil, he took over the place to remove crime at night and help the poor in daylight. Along with Matt, other characters important characters to Daredevil Netflix Series are Frankin 'Foggy' Nelson, played by Elden Henson, and Karen Page, played by Deborah Ann.
Foggy has been a best friend of Matt and later becomes his law partner too. Karen Page is an enigmatic young woman who enters Matt's life, and they have amazing chemistry together. The three of them has been the centre of the series and helped Daredevil in all of his endeavours.
Daredevil's numerous strengths are the interactions between hero and villain; the three seasons of the series covers the greater ground of Matt's everyday life in Hell's Kitchen. The Daredevil show is one of the first shows which led to a crossover miniseries called The Defenders.
If Daredevil becomes a part of the Marvel Cinematic Universe, it would be a risk making the show less successful, and the main part is that Daredevils' story is grounded. MCU often makes amazing displays, CGI fights and battles in space, and many more, but Daredevil success was because of the story viewers can relate to, dispersed in total 39 episodes.
The entry of Charlie Cox as Matthew Murdock triggered all the memories of him as Daredevil. So the thought of Daredevil in MCU comes to the mind of all the fans. However, MCU movies with anonymous heroes aren't successful as they are often torn between how much screen time is given to the hero and how much is given to the person. And Daredevil's story includes equal time to the hero and to the non-hero world.
Charlie Cox's return to MCU has diverted the topic of discussion from will he return? to is Daredevil's original ending still canon or Daredevil Season 4 will come? The Daredevil Show does stand above all the other Disney+ Marvel Shows, and it remains Marvels' Best Show till now.