Demon Slayer Season 3 Episode 3: Double Trouble As Hantengu And Gyokko Cause Mayhem 
Demon Slayer Season 3 Episode 3 sets up an epic battle!
Demon Slayer Season 3 Episode 3, titled "A Sword from 300 Years Ago," was filled with myriad emotions and action, but exactly what went down? Let's find out.
THE RUSTED ANCIENT BLADE
The episode starts with Tanjiro and Kotetsu confused about what to do with the mythical sword. Kotetsu believes Tanjiro should take it as he has broken his own, and the blade is of high steel quality from the Sengoku period.
When Tanjiro unsheathes the blades, it's severely rusted, which prompts Kotetsu to apologize for exciting him.
HOTARU TAKES AWAY THE SWORD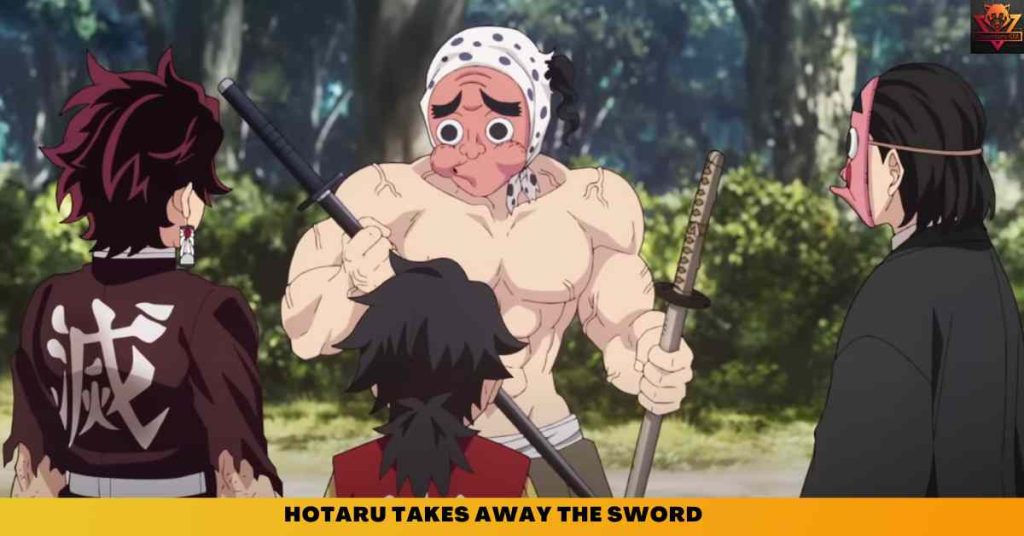 As Tanjiro and Kotetsu express their disappointment, Hotaru arrives out of nowhere and demands to hand over the rusty blade.
Confused by Hotaru s statement, the pair begin a tug-of-war contest with the swordsmith, who easily shoves them to the ground.
Kozo Kanamori appears at the scene and suggests to calm down Hotaru by ticking in his side.
With the erratic swordsmith's quiet, Kozo converses with Tanjiro and explains that Hotaru had isolated himself in the mountains to prepare to make a sword that would not break for him, astonishing the Demon Slayer.
He adds that Hotaru values Tanjiro for having faith in him to make a sword as other Demon Slayers disdain him, which Kotetsu credits to unfortunate social skills.
GYOKKO AND HANTENGU INFILTRATE THE VILLAGE
While returning from the hot springs, a swordsmith finds an ornate vase on the steps, and as he goes to touch it, he gets pulled in, crushing his body.
The vase splits open revealing Gyokko, who complains about the terrible taste of the swordsmith. At a rooftop, Hantengu, having joined Upper Five in the village, remembers Muzan's anger at the meeting and decides that killing everyone in the village will please him.
MUICHIRO TOKITO GETS AN IMPORTANT LIFE LESSON
Tanjiro is woken up by someone pinching his nose, and it's revealed to be Muichiro Tokito, who asks him about the whereabouts of Kozo Kanamori.
He mentions that Kozo might be with Hotaru and asks Muichiro if he would like to go and search for him. Muichiro is puzzled and asks why he cares about people so much. Tanjiro replies that helping people will always come around to help him.
HANTENGU ATTACK THE DEMON SLAYERS
Suddenly, the two hear a voice outside the room, and as the door opens, an anxious Hantengu appears and begins crawling toward them.
Despite the sudden appearance, they quickly conclude it's an Upper-Rank demon. The mist Hashira Muichiro Tokito attacks Hantengu with Fourth Form: Shifting Flow lash.
But Hantengu is incredibly quick and avoids the attack with only a small cut. Tanjiro uses Hinokami Kagura: Sunflower Thrust, but he also fails as the demon is back on the ground.
Despite Tanjiro's warning not to turn, Nezuko gets into a fight, and s stuns the demon with her kick, and at that moment, Muichiro beheads Hantengu.
HANTENGU BLOWS AWAY THE HASHIRSAS
Tanjiro warns Muichiro that cutting the head does not guarantee to kill the demon. As the head falls, it changes appearance and grows into a new body.
Tanjiro decides to attack the headless demon, but before he can reach it, the demon blasts him and Muichiro away with a powerful gust with a leaf-shaped uchiwa.
Nezuko holds the flying Tanjiro, and before the latter can attack, he is paralyzed by a bolt of electricity from a Khakkhara-wielding demon.
As Tanjiro loses consciousness, he sees Genya on the roof with a double-barrel shotgun. He fires Nichrin steel shots at the demons, beheading one and partially severing the other.
Genya beheads the demon, but it's too late as Tanjiro warns him that they are just multiplying. Two new opponents are revealed wherein a winged demon hits Tanjiro point blank with a sonic shriek which sends him flying.
In mid-flight, Tanjiro asks Nezuko to help Genya, who has been brutally impaled by the newly generated demon.
Despite cutting the demon s' leg with his Hinokami Kagura, Tanjiro suddenly realizes that the demon's leg is still holding and turns to see a new head about to unleash the sonic strike once again.
MUICHIRO TOKITO S' EPIPHANY
Muichiro lands safely but is still far from the battle scene and rushes back to help Tanjiro fight the demons.
While running back, he sees a small kid with no swordsmanship skills fighting a fish-like demon.
It is revealed the child is Kotetsu, who is about to be eaten, but Muichiro does not stray from his path as he sees the child as a low priority.
He even concludes that the cloning demon is not the main body, and it's paramount to find it as the life of the villagers is at stake.
Suddenly, the mist Hashira remembers Tanjiro s' words which state that helping others could eventually benefit him, and he stops in his tracks.
As the fish demon begins to gobble up Kotetsu, Muichiro saves him in the nick of time and asks him to run away as he will only be an interference in the fight.
HANTENGU POWERS REVEALED
The central focus of Demon Slayer Season 3 Episode 3 was Hantengu s' clones' abilities which is a manifestation of his emotions.
Through his Blood Demon Art, Hantengu can alter into four different forms, namely Sekido (Anger), Karaku (Relaxed), Urogi (Joy), and Aizetsu (Sorrow).
Sekido can summon lightning from his Khakkhara, Karaku can manipulate powerful gusts of wind using his flesh maple leaf-shaped Uchiwa, and Urogi can generate powerful sound waves from his mouth. Aizetsu can project the thrusting attack of his Yari over great distances.
The voice cast for each of Hantengu s' manifestation have been confirmed; check out below:
| | |
| --- | --- |
| CHARACTERS | VOICED BY |
| Yuichiro Umehara | Sekido (Anger) |
| Kaito Ishikawa | Karaku (Relaxed) |
| Shunsuke Takeuchi | Urogi (Joy) |
| Soma Saito | Aizetsu (Sorrow) |
CONCLUSION
Demon Slayer Season 3 Episode 3 was packed with comedy, surprise, and incredible action scenes. All in All, the demon slayers are in for another brutal showdown with Gyokko and Hantengu.