Don't Toy With Me Miss Nagatoro Anime: Here's everything on Nagatoro Anime Release Date and Plot
Don't toy with me, Miss Nagatoro is an upcoming Japanese anime series releasing in spring 2021. The series revolves around a cute, fun, and attractive Japanese girl who is close with her Senpai. We will see Nagatoro and her quirk being a harmless hassle to her Senpai in the upcoming series.
What is the upcoming Nagatoro anime series about?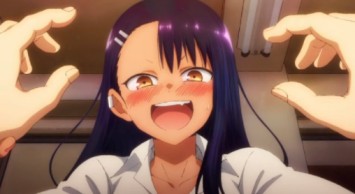 The anime's plot revolves around Hayase Nagatoro and her senior Naoto Hachioji. Nagatoro discovers that her Senpai has an artistic side, and she finds great pleasure in teasing him about it. She leaves no chance at making him uncomfortable.
Naoto Hachiouji is a timid personality who is afraid yet slightly aroused by Nagatoro's action. But slowly, both students start enjoying spending time with each other and develop a deeper relationship. The reason why this franchise was surrounded by controversy is its premise. However, whether the disputes hold some ground or not can be decided only after watching the series.
Release Date of Don't Toy With Me Miss Nagatoro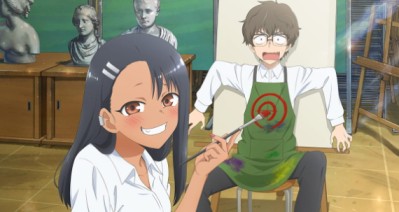 Directed by Hirokazu Hanai, the anime adaptation of Nagatoro manga was announced on July 2, 2020. Telecom Animation Films produce the Nagatoro anime. Don't toy with me Miss Nagatoro series is scheduled to release this year. Every Saturday in Japan, the anime series will air on multiple channels, including Tokyo MX, BS11, AT-X, and MBS.
Are there any visuals or trailers released for the Nagatoro Anime series?
So far, the production house has unveiled two main visuals for the don't toy with me Miss Nagatoro anime series. Both visual features Nagatoro with her mysterious smirk and her freaked out Senpai trying to avoid her advanced cues. Aside from this, two promotional videos have also been released confirming the arrival of the anime series and giving fans a better look into the plot of the show.
From the very beginning, it has been made clear that Nagatoro love teasing Senpai. She does everything she can to make him uncomfortable, including tickling him or fake kissing him. The series will feature many awkward moments for the show's leads, but the audience will receive only tons of laughter.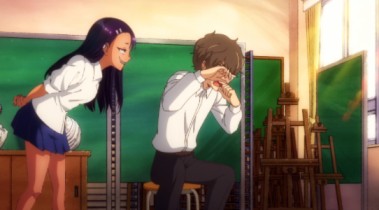 About don't toy with me, Miss Nagatoro
don't toy with me, Miss Nagatoro anime series is an upcoming Japanese high school drama adapted from the Nagatoro manga series. The story follows Senpai, an awkward and introverted high school student whose life is turned upside down when he meets Hayase Nagatoro.
Nagatoro observes how other girls behave with him and starts doing the same. After being bullied by her, Senpai is somewhat scared of her yet aroused by her. The story shows how Nagatoro entertains herself at Senpai's expense.
The anime series will be super entertaining, so we suggest you give it a watch to explore more about Nagatoro and her relationship with Senpai. For those who have already watched the anime series, tell us what you liked the most about it in the comment section.