10 thing You Need To Know Before Watching Spider-Man No Way Home
Just a few moments left, when you are all going to the cinema and witnessing the upcoming blockbuster hit of Spider-Man No Way Home.
You don't need to go through all the previous movies to get back on track with the upcoming Spider-Man No Way Home. The clock is ticking, and Marvel fans can't keep their eyes off the time remaining for the film. Undoubtedly, the movie will be the most amazing art to be witnessed by everyone. The clash of spidermen and the supervillains in the multiverse is becoming an iconic theme this year.
Yet, you should be fully prepared before entering the cinema halls. To make sure everyone is on the same page, we present all the things you need to remember before watching the premiere.
10. Mysterio Revealed the Identity of Spider-Man
In the last part of Spider-Man, Far From Home, after Spider-Man, aka Peter Parker, defeats Mysterio, the main villain of that movie. After that, in the post-credit scene, J. Jonah Jameson, a news reporter of the Daily Bugle, announces the face behind the masked Spiderman.
Not just that, the Daily Bugle blames Spider-Man for the Murder of Mysterio, and with one video clip shared by the villain, it proves Peter guilty for the murder. The drones which attacked New York and, in the end, were the reason for Mysterio's death were of Stark Industries.
And with Tony Stark gone and Spider-Man present there, Peter's identity is revealed, and he is responsible for Mysterio's Death. The Spider-Man No Way Home starts from there, Peter finding out a way to change his life has as it was.
9. MJ & Peter Parker: A Cute Couple
In Spiderman Far From Home, it was shown that in the end, with a lot of planning from Peter's side, MJ finally becomes his girlfriend. Apart from the identity revelation, this relationship has a different fan base.
In the Spider-Man No Way Home Trailers, MJ, Peter's best-friend slash girlfriend, has been seen with him all along. One noticeable detail from all the Spiderman movies is that Peter Parker's loved ones, especially their girlfriends, were always at risk in the end. However, they all play a special role in helping Spiderman fight the villains, yet their lives are at a huge risk. And maybe, the same will happen in No Way Home.
8. Marvel Studios: The Multi-verse Has Been Unfolding
The trailer of No Way Home shows that all chaos starts when Dr. Strange and Peter Parker get entangled with Multi-verse. But if we take a close look at over pieces of Marvel Studios, and we'll find that some hints were given in those parts too.
For example, let's take WandaVision, which shared the aspects of alternate realities. And in the series of Loki, too, he went into the various multiverse, called stages of timeline ramifications.
Hence, No Way Home will present the effects of the multiverse; at some point, Wanda Maximoff will appear in the movie. We can predict that all of these happenings might be a build-up for another premiere of Doctor Strange: Multiverse Madness, which might release in 2022.
7. Supervillains Are Alive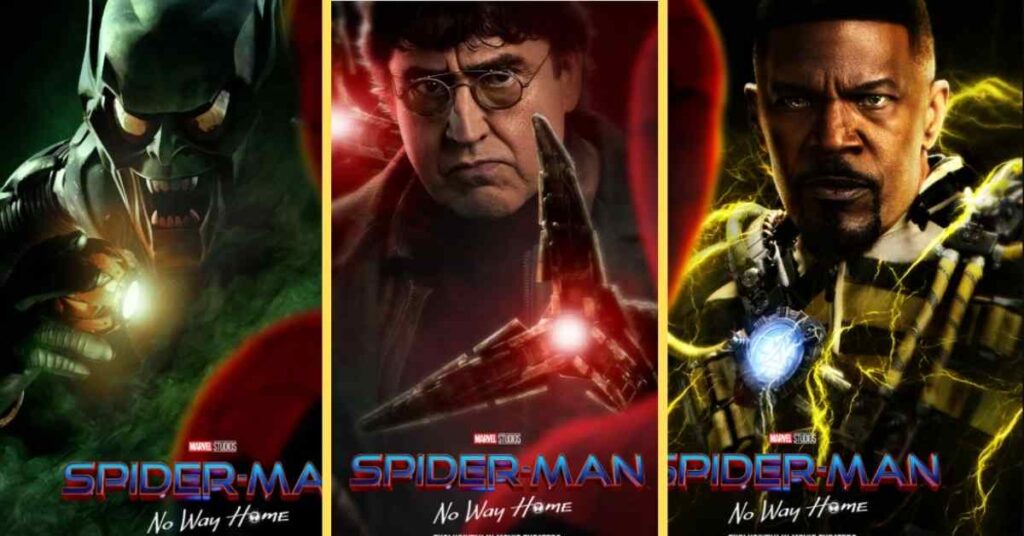 Doctor Strange and Peter Parker (Tom Holland) have entered into a multiverse in the Spider-Man No Way Home. In that particular universe, all the villains might not have died.
We all have witnessed the end of almost every villain in the history of Spider-Man. However, with Tom Holland as a Spider-Man, a new universe, they might not be dead.
Green Goblin, Doc Ock, Electro, Sandman, and the Lizard have been seen in the second trailer. With the encounter of all of them with Spider-Man, it will be mind-blowing.
6. Avengers Infinity War: Peter Parker & Doctor Strange
Officially, Peter Parker and Doctor Strange met in the Avengers Infinity War movie. When the team of Thanos showed up in New York to take Doctor Strange's time stone. Iron Man and Dr. Strange were fighting with the Thanos associates when Tom Holland traveled on a bus somewhere and got a sense of something bad happening.
Peter went to space with both of them during the fight and was a big help in fighting them off. However, both of them were gone when Thanos defeated Avengers and got all infinity stones.
After everything was solved, it is shown that their relationship has evolved as Peter came to Sanctum to ask help from Doctor Strange about his identity revealed.
5. The Sorcerer Level Magic by Doctor Strange
Marvel fans must be aware of Doctor Strange life and his capabilities. He was one of the most powerful characters in the Marvel Cinematic Universe. And we all can agree he is giving up time stone was a big plan to win over Thanos. Due to his plan, in Avengers End Game, avengers defeated Thanos, which was really difficult.
Another strange yet true trait of him is being a pacifist, and he doesn't believe in war and violence and prefers saving lives. This totally makes sense, as he was the best neurosurgeon who solved such complex cases other doctors gave up.
In the No Way Home trailer, too, he goes for helping Peter out without asking for anything and questioning anything.
4. MCU Aunt May Knows About Peter Parker's Identity as Spider-Man
In Tom Holland Spider Man's version, a different kind of Aunt May was shown. It rarely happens in the other series of Spider-Man, but in this, Aunt May gets to know about Peter Parker's identity as Spider-Man.
May not only accept him as Spider-Man but encourages his efforts to keep the neighborhood safe. In the Far From Home movie, in one scene, it was shown that Aunt May packed his suit in the suitcase, writing a not 'You might need it' when Peter wanted a vacation from being Spider-Man. Aunt May might cater to some Peter needs in the No Way Home.
3. Venom & Multiverse
There might be a possibility of connections between Sam Raimi's Spider-Man and The Amazing Spiderman movies. Another thrilling yet shocking scene was shown in one of the Marvel Studios premieres, named Venom: Let There Be Carnage.
In the scene, Venom and Eddie Rock (from the Tobey Maguire Spider-Man Series) were transported to a different multiverse and learned about the Spider Man's face behind the mask. It might have nothing to do with it in No Way Home, but, strangely, it was shown in the last premier of Marvel Studios, but it won't be related to No Way Home.
2. Tom Holland's version of Peter Parker Hasn't Killed Any Supervillains.
Until now, Tom Holland's version of Peter Parker hasn't actually killed any villains in his series. Besides the time he switched to instant kill mode in Avengers Endgame, he has a record of not killing any supervillains while fighting with them.
Peter's morality about killing is wrong has worked till now, even with the most dangerous and cruel villains. In the second trailer, he re-thinks Dr. Strange's plan to kill and says no to Dr. Srage about killing the supervillains. It's a possibility that his morality of 'no killing' might backfire him in the No Way Home Movie.
1. Three Different Spiderman Versions
In almost two decades, marvel fans have witnessed three different versions of Peter Parker, aka Spider-Man. Tobey Maguire and Andrew Garfield's versions have gone through similar stories. The point of Uncle Ben's death, becoming the superhero from a spider's bite, and many other things.
However, Tom Holland's version of Spider-Man had a different yet exciting storyline. And note that only his version became an Avenger. While all the Spider-Men is coming together and fighting with the Super-Villains in Multiverse, Tom Holland's version can be shown a similar yet different kind of role in the No Way Home.
We have to wait for a few hours to witness the most thrilling and blockbuster movie of 2022, Spider-Man No Way Home.