Fan Poster Released For Spider-Man 4: Perfect for Tom Holland's Next Movie
A new poster made by a fan has been released for Spider-Man 4, which has the perfect title for the next Tom Holland movie.
Tom Holland is an English actor who is popularly known for his role as Spider-Man in Marvel Cinematic Universe. Tom Holland's Spider-Man series started in the year 2017 with Spiderman: Homecoming. Although he debuts in MCU through the film Avengers: Civil War in the year 2016. With Spiderman: Homecoming, Tom Holland became the first youngest actor to play the title role in an MCU film. His role was appraised a lot, and the other two sequels were made following that. In the year 2019, Spider-Man: Far From Home was released, which introduced a new villain in MCU. Following the events of Far From Home, another sequel was released last year, Spider-Man: No Way Home.
Spider-Man: No Way Home became a blockbuster hit and is still being appraised a lot. This film connected all the previous Spider-Man storylines in one, and all the previous actors playing the role of Spider-Man came on one screen. Along with the Spider-Men, all the biggest villains were returned to one universe, too, Green Goblin, Doc Ock, Electro, Lizard, and Sandman. In this, because of some hurdles in a spell cast by Doctor Strange to help Peter Parker, the multiverse opened up and caused all this chaos.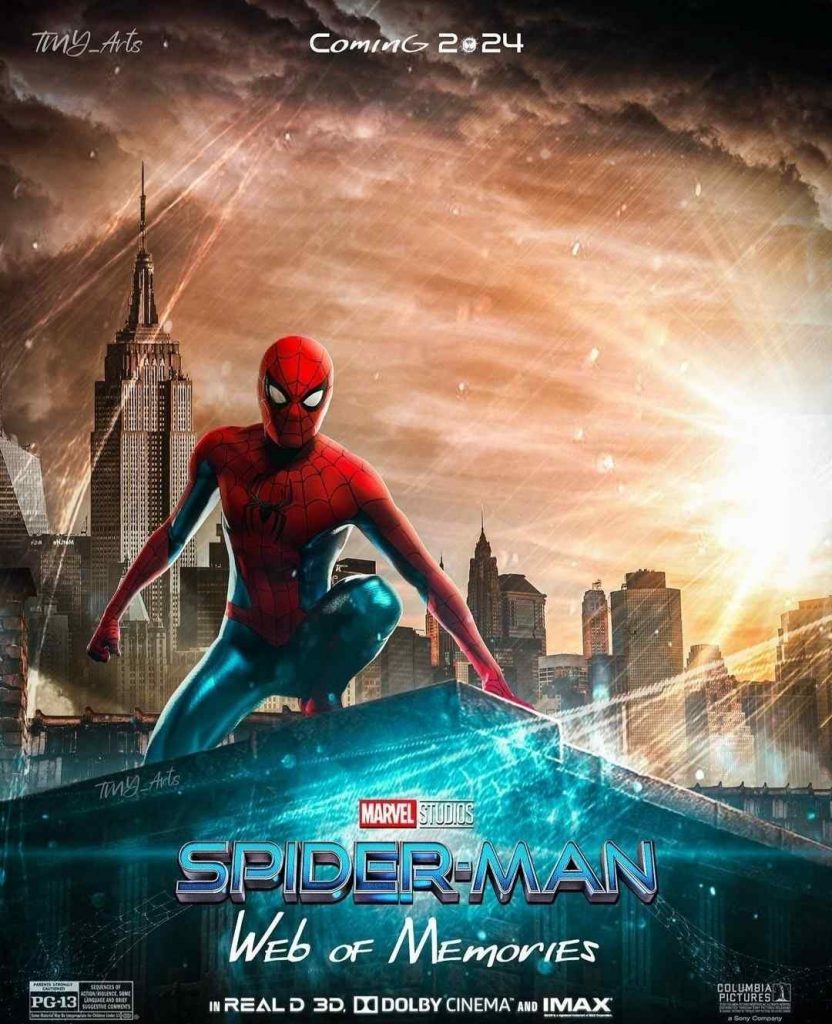 With the exciting events that happened in No Way Home, the fans are expecting another part leading Tom Holland as Spider-Man. However, at this point in time, there hasn't been any official update about Spider-Man 4. So the information about Tom Holland's Spider-Man 4 release date is not even in the discussion.
The Sony producer, Amy Pascal, mentioned previously about the new Spider-Man trilogy casting Tom Holland as the lead was under process in November 2021. However, later this month, she said, "If I have my way, we will", implying the future of MCU with Disney/Sony Collaborations. Moreover, Tom Holland is uncertain about his return as Spider-Man, as he stated earlier that he doesn't want to continue playing this role. Apart from this small information, nothing has been shared by Sony or Marvel Studios.
Until there's no news from Sony and Marvel Studios, the fans are exploring and creating artwork through their imaginary theories. One example is a poster from tmy_arts, in which Spider-Man 4 is given a new title of 'Web of Memories'. As the Homecoming trilogy of Spider-Man has ended, the creator of this poster thought of a new movie, which would include the events after Doctor Strange's spell.
Tom Holland's Spider-Man has learned a few things from Tobey Maguire and Andrew Garfield's Spider-Men while fighting in the same battle. The end indicates the beginning of the crime fight of Spider-Man, and without the shadow of Iron Man, there should be more adventures of him given to the world.
Many people are theorizing various ways Tom Holland's Spider-Man returning in Spider-Man 4, but whatever happens, the next movie will include the world where no one knows Peter Parker. The last movie of MCU, Morbius, a spin-off of Spider-Man, hinted at a Sinister Six team-up, but no information has been shared about which Spider-Man Universe will happen. We can only hope for the best, that Tom Holland return to MCU with another adventure of Spider-Man. Till then, stay tuned for the latest updates regarding Marvel Cinematic Universe.