Frame by frame analysis of The Witcher trailer of Season 2
Netflix published a short trailer showcasing Henry Cavill's Geralt of Rivia in The Witcher season two, following a quick peek at Ciri (Freya Allan) the week before. Despite the fact that it is only twelve seconds long, there is a lot to unpack. So there you have it. It's a little later than normal, but let's get started with a frame-by-frame breakdown after the jump.
The White Wolf is back
The witcher trailer starts off by a classic picture of Geralt doing what he does best, who lurks in a dark corridor and is his typical bully. Snowflakes softly float away from the glass pane. This appears to be a castle or mansion corridor to us. Perhaps Nivellen's house (played by veteran Kristofer Hivju Game of Thrones)?
We're going to see this, not wasting any time! The icy courtyard of Kaer Morhen must certainly be our first glimpse, Geralt (the dark, hooded man) and Ciri (the blonde girl white). We can see the powerful towers of the witch guard and the skeleton, what a huge animal looks like.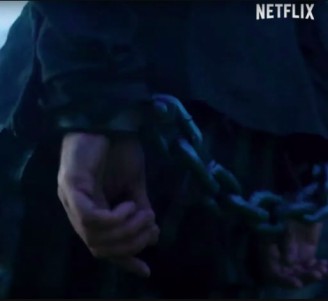 The following scene depicts a figure in iron chains with black garments and stretched jeans, which are part of Nilfga's typical costume in the first season as shown (the clothes not the chains). We believe it to be a favourite Vicovarian knight Cahir (Eamon Farren) who will probably find himself caught in the North Kingdom alliance following the battle of Sodden, and here is a perhaps spoiler warning.
Why do we believe that? Well, in season two, during the Fountains Abbey visit of The Witcher last November, we had the luck to have a peek at Cahir first. Below are the fellow actresses Anya Chalotra (Yennefer) and Therica Wilson-Read, together with Eamon Farren (Sabrina). It can be seen that he had not had a chance to shave or change clothing in quite a while, from his unkept beard and his general robust appearance. Mostly, he still has the stiffened trousers and wrinkled boots, not the bright new armour of the Nilfgayans. Thus we may infer there has been some time and Cahir is in some difficulty. Where is your journey going? It cannot be said. Later in the witcher trailer though, we receive a possible tiny indication.
There are several fast shots, including:
With his silver sword drawn, Geralt stands in an ice wood.
A pointy item, maybe a small spike on the ceiling. But it appears like it is a shallow lighted house, we are not sure where this action is happening.
Then in another dark passage we get an excellent look at Geralt and he's much more scary up near. He has the expression that makes monsters much more difficult to tremble in terror in his eyes.
There are a couple additional rapid pictures, starting with an apparently dropped lamp. In the icy backdrop a black form may be seen moving.
A hand with a Witcher Medallion (maybe Ciri's).
A soap-soaked bare foot. The individual in question looks to be ready to emerge from a bathtub, and any Witcher fan will attest to the fact that there are many bathtub scenes in the novels. Cleanliness and personal hygiene are highly prized among mages (though not so much among witchers), therefore we believe this is either a sorceress or Ciri after they've taken care of her.
Another set of feet, but this time with solid boots. Geralt appears to be standing in a snowy courtyard.
In a tomb or underground corridor, a long-haired guy in a black robe stands. It's difficult to tell who we're staring at, although he appears to be darker and shorter than Geralt.
A rat scurries away from the camera.
A sword is being sharpened by a guy.
And here we see Geralt, sword drawn, in what appears to be the same icy landscape as in previous pictures. It's only a hunch, but the entire arrangement appears to be a cold-open. Could we be witnessing the premiere of Season 2? Geralt will be pursuing a monster to a mansion in the first episode, according to a screenplay sheet provided by Netflix at last year's Witchmas. The snowy scenery corresponds to the description provided here. Those of you who have read A Grain of Truth will have a good idea of how the narrative will end.
The shadows of a pair of toys appear in the following picture, most likely the identical figurines (one male, one female) who appeared briefly in Ciri's teaser. It'll be fascinating to watch how the play tells the storey. Duny and Pavetta, who are they? Cregenan and Lara Doren? What is the storey of Nivellen? There are a number of chapters in the Witcher mythology that would make good subjects.
In the snow, there are blue flowers. This frame may appear little at first look, yet it might be quite important in terms of the series' deeper mythology. According to mythology, one specific flower initially blossomed at the site where the renowned elven sorceress Lara Doren (played by Niamh McCormack in season two) died, according to the texts. Since then, Feainnewedd flowers (elven for Child of the Sun) have only blossomed in Dol Blathanna Valley and areas where Elder Blood has been spilt. If you look closely at the image above, you'll see that the ground appears to be speckled with blood drops…
This lute has definitely seen better days. We don't know what happened to its owner, but knowing him, he'll find something out, or maybe someone else will… This lute has definitely seen better days. We don't know what happened to its owner, but knowing him, he'll find something out, or maybe someone else will…
Geralt with a stiletto, a close-quarters combat weapon.
Another glimpse of Kaer Morhen, this time from the interior. We see two witchers inspecting swords. Unfortunately, their faces are not visible.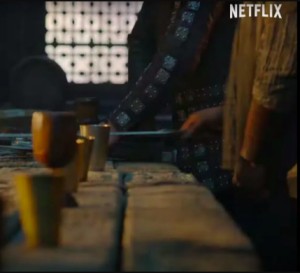 This aerial image was brightened a little for improved visibility. Two people, lighted by lamps, come from what we may say in a lofty stone chamber. One appears like a bald guy wearing dark clothes, while the other in a stone chair looks like a dark hairy woman. Our most favourite hypothesis is, perhaps, that this is our first sight at Redania's grey eminences: Sigismund Dijkstra spymaster (played with bald Graham McTavish) and Philippa Eilhart court sorcerress (Cassie Clare). Remember, it's only an estimate. It's hard to say for sure that we cannot see their faces.
The next one is a strange flashing fire shot. On the left you see a hand that appears like the fire is being manipulated. First we believed Lambert may be the witch (who has a similar scene in the book using the sign Aard). The clawlike look nevertheless shows that it is the hand of the animal Nivellen, who has, by the way, access to magic and can control it all within his house.
As in the last the witcher trailer, we get a lot of elves and an opportunity to decrypt code breakers and wannabe linguists. The sentence "A Ire" may be translated into "another one" with some help from twitter.
Geralt is accompanied by another witcher, who may or may not be uncle Vesemir (Kim Bodnia). Both look to be making a stand with their swords drawn in a room with chandeliers hanging from the ceiling.
Ciri first, Geralt now. One more to go until the family motif is complete. In line with the Friday releases, a Yennefer teaser should be available tomorrow. Let us cross our fingers!