MISSION: YOZAKURA FAMILY ANIME COULD BE THE NEXT SPY X FAMILY
Mission: Yozakura Family anime adaption in full color is much needed!
The Weekly Shonen Jump has been a catalog for masterpiece animes since 1968. The Longest running and best-selling magazine have given us the likes of Dragon Ball, One Piece, Hunter x Hunter, My Hero Academia, and many more.
The magazine has sold over 7.5 billion copies with a weekly estimated sale of 1.6 million, and many of the bestselling mangas of all time have found their start in Weekly Shonen Jump.
From the golden pages of Weekly Shonen Jump, a series that is making a fair bit of noise to receive an anime adaption is the highly popular Mission: Yozakura Family.
Yozakura-san Chi no Daisakusen or Mission: Yozakura Family is a spy-romance manga series written and illustrated by Hitsuji Gondaira. The manga has received wide acclamation over the last two years ; the support for an anime adaptation has grown stronger.
Recently, we have seen another spy manga series receive an anime adaption in the form of Spy x Family. Writer Tatsuya Endo s' Spy x Family was anime adapted by firstly Wit studio, then later CloverWorks, as it became one of the best summer releases of 2022.
The spy-thriller genre has remained popular, and with the introduction of Spy x Family, it is only grown in leaps and bounds.
Mission: Yozakura Family manga fans have been speculating about a likewise potential the series holds, which can come true through an anime adaption.
So, if you are one of those who want to see Mission: Yozakura Family receive an anime adaption, Keep reading as we discuss the like possibility of it happening.
MISSION: YOZAKURA FAMILY PLOT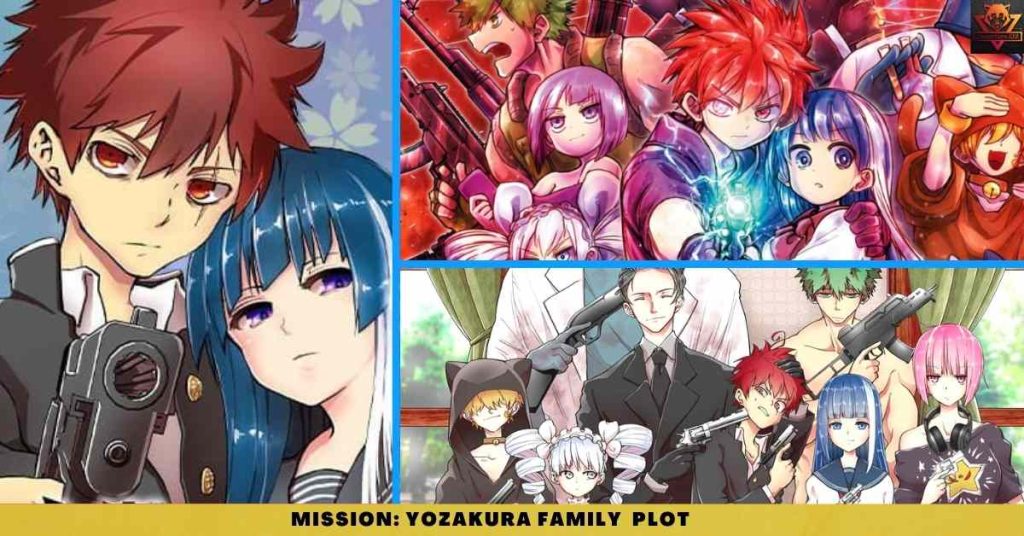 Mission: Yozakura Family follows the high school student Taiyou Asano who has resided in social obscurity since his family died in a car crash. The tragedy took a massive toll on Asano as he went from a cheerful young boy to a teenager unwilling to make any emotional connections.
The scarlet-eyed Taiyou Asano s' only human interaction is with his childhood friend Mutsumi Yozakura.
The Yozakuras are the strongest spy family since the Edo period, and Mutsumi is the tenth in line of her generation. Additionally, Mutsumi is the youngest and head of the Yozakura family.
The little figure of Mutsumi is kind and caring as she forms the only supportive pillar for Asano to stand upon. Unfortunately for Taiyou, his friendship with Mutsumi becomes a source of discomfort for her overprotective brother, Kyouichirou Yozakura, who has marked him as his target.
In order to avoid death, Taiyou marries her childhood friend and moves into her house as he is welcomed with traps. Taiyou finds out an organization named Tanpopo is responsible for his parent's death, and Makota Kawashita is the killer. The two names are synonymous with Mutsumi and Kyouichirou, too, as they also killed their mother.
The story revolves around Taiyou escaping his social solitude and uncovering the dark secrets of his past and Yozakura family.
MISSION: YOZAKURA FAMILY MANGA CATCHUP
Mission: Yozakura Family manga is written and illustrated by Hitsuji Gondaira. It began publication in Weekly Shonen Jump on 26th August 2019.
As of writing, the manga has been collected into 13 volumes and 144 chapters, with the latest issue coming out on 3rd June 2022. 27 Chapters are yet to be collected into a volume format, and volume 14 is set to be released on 2nd September 2022.
A promotional video was released for the manga series featuring the Yozakura Family after completing 12 volumes.
On November 2020, Mission: Yozakura Family manga was ranked fourth in Oricon weekly Shonen Jump sales. The sixth volume of the manga was ranked 46th, with 21,426 copies sold in Jan 2021.
On September 2021, the manga sold over a million copies with 100,000 average sales per volume. As of March 2022, the weekly Shonen Oricon ranks Mission: Yozakura Family manga sixth with 15,443 copies sold.
You can read the manga series on Shueisha Manga Plus Service by downloading the Manga Plus mobile app.
Mission: Yozakura Family manga is rated 7.6/10 and ranked #2037 with 22k members on MyAnimeList.
POSSIBILITY OF MISSION: YOZAKURA FAMILY ANIME AND STUDIO DETAILS
Before any studio adapts a manga series into an anime, they look at different factors such as popularity, average manga sales, and international viewership.
Manga has a solid fanbase, with the number of readers only increasing each week both domestically and internationally.
If we look at the manga, it has crossed 100 chapters, and it's rare for a series not to receive an anime adaption. Furthermore, studios tend to look at the main character to represent the series. Fortunately, Taiyou Asano is perfect for that role, as his journey from meek to mighty is highly relatable.
He starts as anti-social but grows into caring and protecting his family. He becomes less hesitant in expressing his feelings and even carries an electric gun as a weapon of choice.
Overall, the story is riveting, and even in a spy environment, it manages to take time for emotions and love. Mission: Yozakura Family characters are likable and keeps the readers hooked.
The art style of Hitsuji Gondaira has also improved over time, and fans would be hoping to see it in a complete color animation form. IN 2018, it was rumored that Gondaira had received offers for the anime adaption of his series, but the writer denied it due to the studio's credibility.
Speaking of studios, fans have been raging in discussions about different products that can be involved in the anime adaptation.
Mappa is a popular choice of many, but it's unlikely the studio will pick another project soon as they are busy with Attack on Titans and Jujitsu Kaisen.
Wit studio would be the obvious choice as they produced season one of Spy x Family. They have a niche for blending 2D and 3D animation, which could work perfectly with the Gondaira art style.
Studio Feel is known for its romantic comedy in shows like Dagashi Kashi and Kiss x Kiss. Mission. Other alternatives include TMS Entertainment, Pierrot, and Toei, all capable of producing long series.
WHAT IS THE MISSION: YOZAKURA FAMILY ANIME RELEASE DATE?
There is no update or announcement from any studio for the series to get an anime adaption.
Most likely, studios are waiting for Spy x Family to finish airing as launching another spy anime amidst an ongoing popular series would be counterproductive.
If and when a studio picks up the series for anime adaptation, we can speculate and expect an announcement in 2023.Furthermore, Mission: Yozakura Family trailer and Mission: Yozakura Family anime release date could drop in early-mid 2024.
Of course, our conjecture is based on the information currently available, but if there is any official announcement, we will update it accordingly.
CONCLUSION
The Mission: Yozakura Family anime has the potential to be an all-time best spy series; Let s' hope a studio realizes the same.