Orient Season 3: Renewal Status + Release Date Predictions
Orient Season 3, when will it happen?
Japan s' past is filled with a mystery that inspires numerous creators, and anime is littered with titles representing the form of historical fantasy.
Stories from various periods featuring civil wars and uprisings of heroes are a source for animators to bring the time gone by to the present.
One such series was privy to the Winter 202 slate as the anime adaption of Shinobu Ohtaka s manga series, Orient, hit the small screens.
The premise is set in the Sengoku period, wherein humanity was overpowered and made subservient to demi gods.
Humans fought tooth and nail against their overlords; however, as the demons' grew stronger, rebels known as bushi were vilified.
The story follows a fifteen-year-old boy named Muasashi who, along with his friend Kojiro Kanemaki wants to join the ranks of bushi.
However, Kojiro and some others are brainwashed into thinking that the demon is their savior and it's not worth fighting them. Furthermore, they also lie about the samurais, who are portrayed as evil.
Except Muasashi does not believe this to be the case as he knows the truth, and when he tells Kojiro about it, he seems too convinced to follow Muasashi after all.
The two boys will face many adventures experiencing hardships during their journey, including fighting against Onis while meeting new friends and foes to realize their dreams.
Can humanity become free of the demons s' rules and become unified once again is the central plot of the show.
Orient has completed two seasons and, compared to season one, has received much more positive reviews. However, fans are wondering if there will be a third installment or not.
To find the answer, keep scrolling as we bring you all the latest news and updates on Orient Season 3.
WHAT IS THE ORIENT SEASON 3 RELEASE DATE?
Orient season one aired from 6th January 2022 to 24th March 2022 for 12 episodes. The series for a second part ran from 12th July 2022 to 27th September 2022 for 12 episodes.
As of writing, there is no update from studio A.C.G.T on the renewal of Orient season 3.
| | |
| --- | --- |
| SEASON | RELEASE DATE |
| Orient Season 1 | 6th January 2022 |
| Orient Season 2 | 12th July 2022 |
| Orient Season 3 | Yet to be Announced |
Production studios consider various financial and commercial metrics before announcing a renewal.
Financially, the anime could not provide a significant boost to the manga, which only sold roughly around a million copies.
The first volume of the manga sold 22,870 copies two days after its release.[4] It sold 29,572 copies more after, for a total of 52,442 copies sold by August 26, 2018.
The second volume sold 25,799 copies within four days of release. 17,848 more copies were sold, for a total of 43,647 copies sold eleven days after its release.
While the third volume sold 28,188 copies in its first week of release.
As mentioned earlier, Orient season 2 was better than the first season as it bettered the plotlines and character development.
Fans were invested and intrigued by the second season, which is further evidenced by its IMDB user episode ratings.
| | |
| --- | --- |
| EPISODE | RATING |
| Orient Episode 1 | 7.8 |
| Orient Episode 2 | 7.8 |
| Orient Episode 3 | 8.1 |
| Orient Episode 4 | 7.5 |
| Orient Episode 5 | 7.5 |
| Orient Episode 6 | 7.9 |
| Orient Episode 7 | 7.6 |
| Orient Episode 8 | 7.1 |
| Orient Episode 9 | 7.7 |
| Orient Episode 10 | 7.7 |
| Orient Episode 11 | 7.5 |
| Orient Episode 12 | 7.6 |
Source: IMDB
Although the reviews and ratings are favorable, a crucial factor for renewal will be the availability of studio and source material.
A.C.G.T is by no means a studio with massive resources and consequently have only produced one anime since 2019, which incidentally is Orient.
Of course, the pandemic is bound to affect a small studio like A.C.G.T, which remained inactive for two years.
Before 2022, A.C.G.T was involved in multiple production cooperation projects with J.C. Staff; however, Orient is the first anime individually produced since Dies Irae in 2017.
Currently, the studio has not scheduled any new animes for 2023, which could possibly be a reason why Orient was renewed promptly for season two.
The good news is there is five volumes still available for producing Orient Season 3 which means creators should not face any problem regarding source material.
All in All, it is unlikely that Orient Season 3 will happen any time soon.At best, we can hope for updates on Orient Season 3 trailer and Orient Season 3 release date in 2024.
ORIENT MANGA CATCHUP
Orient manga is written and illustrated by Shinobu Ohtaka. It began serialization in Kodansha's Weekly Shōnen Magazine from 30th May 2018 to 6th January 2021.
It was then transferred to Kodansha's Bessatsu Shōnen Magazine on 9th February 2021. In May 2023, it was announced that the manga would start its "final battle" on June 9.
The manga has been collected into 18 volumes, with the latest issue released on 9th March 2023.
ORIENT SEASON 3 PLOT
In the finale of Orient Season 2, "A Vow," Musashi requested that Tatsuomi let her go free for one day.
The two then go around town, enjoying their time together and doing various activities. Kanetatsu wonders why Tatsuomi is allowed, and Tatsuomi explains that Michiru doesn't have much time left.
While eating, Michiru wonders how are everyone. Musashi explains that the Shimazu got a castle and can now operate as an independent band.
Kanetatsu and Naotora got rewards as well. Both Tatsuomi and Naotora invited Musashi to join their bands, but Musashi refused them as he was already in Kanemaki's Band. While walking around town, they meet Mamori Tanegashima, who is with Natsuki.
The various bushi start to leave. Kanetatsu apologizes to Tatsuomi, stating he cannot finish the enemy.
Tatsuomi states he is the same as Naotora, who said the same thing about Shiro. Kanetatsu states they are still eight, and Tatsuomi agrees, stating that even if one dies, they always find a replacement.
At the same time, the Amako Bushi see that Katsumi is missing and there is a square hole around where his bed was. Katsumi is then seen surrounded by the Obsidian Eight.
Orient Season 2 is covered till volume 13 of the manga, which means Orient Season 3 will begin by adapting volume 14, i.e., Houjo Arc.
Houjo arc will see Orient Season 3 characters such as Musashi, Kojiro, and Tsugumi take on Obsidian Eight, who are on the side of the Onis.
They are led by the Shishikado Hojo, the leader of Hojo Bushi.
ORIENT CAST, CHARACTERS, AND CREW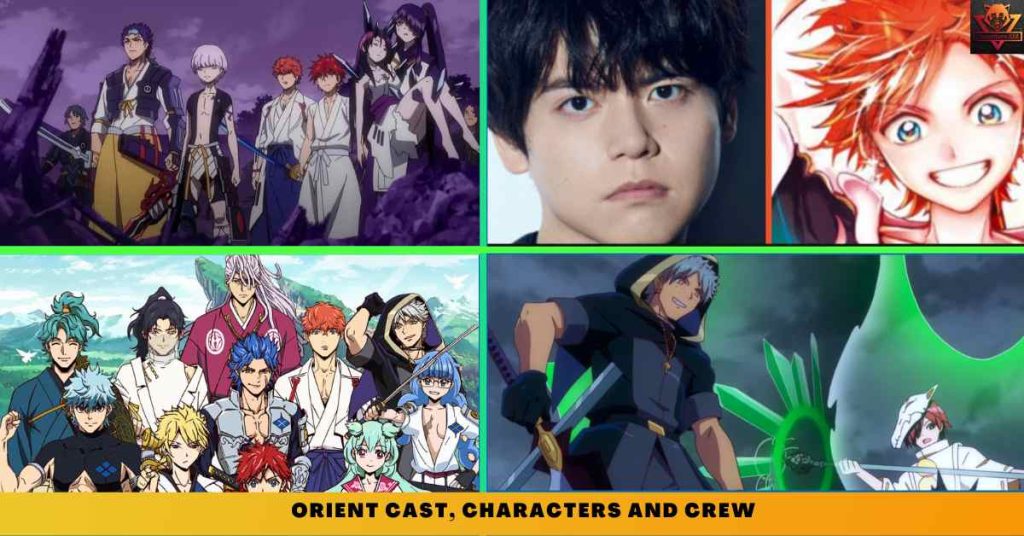 Orient anime is directed by Tetsuya Yanagisawa with a series composition by Mariko Kunisawa.
Characters are designed by Takahiro Kishida, and the music is composed by Hideyuki Fukasawa. Hirofumi serves as the Art Director, while Ryosuke Naya handles the sound.
Animation is produced by studio A.C.G.T with Fumio Matsumoto and Sayuri Sakimoto as Chief Animation Director.
You can find the list of Orient characters and voice cast below:
| | |
| --- | --- |
| CHARACTERS | VOICED BY |
| Kojirō Kanemaki | Sōma Saitō |
| Musashi | Yūma Uchida |
| Nanao Inusaka | Azumi Waki |
| Aoshi Sanada | Haruki Ishiya |
| Shirō Inukai | Hiro Shimono |
| Obsidian Goddess | Houko Kuwashima |
| Jisai Kanemaki | Katsuyuki Konishi |
| Michiru Saruwatari | Kiyono Yasuno |
| Mitsuru Osafune | Marina Inoue |
| Tsugumi Hattori | Rie Takahashi |
| Shunrai Yamamoto | Saori Ōnishi |
| Naotora Takeda | Satoshi Hino |
| Hideo Kosameda | Wataru Hatano |
| Tsubame Hattori | Chika Anzai |
| Katsumi Amako | Gakuto Kajiwara |
| Haruhisa Shimazu | Kengo Kawanishi |
CONCLUSION
Although Orient Season 3 will begin with a new arc, the prospect of it happening looks quite bleak.