Scarlett Johansson Movies Characters As Hogwarts Houses Members
Scarlett Johnson is not only a famous actress, but she is perhaps one of the most popular actors in Hollywood. There is a very long list of (hogwarts houses) incredible Scarlett Johansson movies. after doing some pretty major roles in films like Jojo Rabbit, Lost in translation, and Marriage story, she has proved her worth as an actor again and again. With her come back in Marvel's Black Widow, she has become the talk of the town.
Throughout her journey in the film industry, she has played many roles with different characteristics and traits. Let's see, if those characters were in Hogwarts, which Hogwarts house might they subside in.
10. Black Widow – Slytherin 
Natasha Romanoff is a deadly assassin and highly skilled agent of S.H.I.E.L.D. Natasha Romanoff, aka Black Widow, has proved that she is a great asset for S.H.I.E.L.D. and The Avengers. This Scarlett Johnson character is often seen suppressing her feelings and distracting herself with her missions. In Avengers: Endgame, she sacrificed herself to save her friends and the universe.
Natasha Romanoff's character traits, like her tough exterior, mysterious past, makes her a perfect Slytherin member. We have also seen that Slytherin members are extremely loyal to their friends; they are smart and cunning. Therefore, Scarlett Johansson's Black Widow is a perfect candidate for Slytherin.
9. Mindy- Ravenclaw
You all may know Princess Mindy from the SpongeBob universe as she is the daughter of King Neptune. Mindy made her debut in the SpongeBob SquarePants movie. Mindy is quite different from her father as she is sympathetic towards her objects. She also believes in injustice as she is even ready to go against her father for his behaviour. Given her proficiency over mermaid magic, it's quite obvious that she is very intelligent.
As we know, Ravenclaws are highly intelligent and possess a genuine code of values they faithfully withstand. Aside from her intelligence and ethics, she also has good planning skills, just like a true Ravenclaw.
8. Mary Boleyn – Hufflepuff
In The Other Boleyn Girl, Scarlett Johnson played Mary Boleyn. She is the sister of Anne Boleyn, the damned wife of King Henry VIII. In the movie, she was a one-time mistress to the king. Coming from a simple environment, Mary is shy, genuinely caring, loyal, and naïve, unlike her sister Anne who is selfish.
Despite the kings cold-hearted personality, her commitment to the king makes her a perfect candidate for the Hufflepuff house. Loyalty and compassion are the two important defining qualities of this house.
7. Nicole Barber- Gryffindor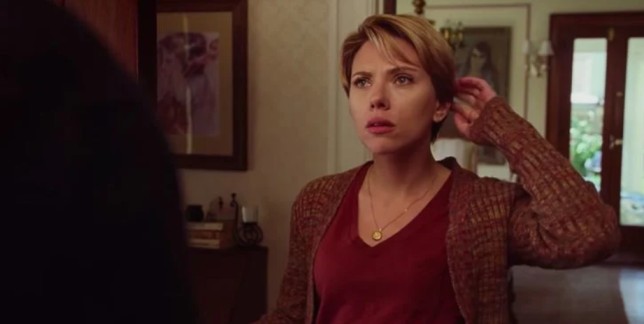 In Marriage story, Scarlett Johansson's Nicole Barber goes through some issues in her personal life when she and her husband Charlie decide to file for a divorce. The way Nicole finally acknowledges her own prominence and makes it clear to her husband that their relationship isn't working anymore is quite bold and straightforward.
Her boldness and straightforwardness make her a perfect Gryffindor. Nicole is confident, moralistic, knows what she wants, and has a sense of right and wrong, Just like a true Gryffindor.
6. Charlotte – Slytherin 
Even though Charlotte was a very intelligent and highly curious character is lost in translation, she was very sceptical about her life at first. Later on, she becomes friends with an older actor, opening up to reveal an impulsive side of her character. Her random episodes of spontaneity are proof of her impulsive nature.
Apart from her several traits, her apprehension and quarter-life crisis results in procrastination. Slytherins are also known to be ambiverts when it comes to social interactions, which means they might not be comfortable opening up to anyone but can form a strong bond when they find the right person.
5. Barbara Sugarman – Gryffindor
In Don Jon, Scarlett Johansson portrays Barbara, a woman who believes in the films' version of romance. Her obsession with romantic movies continues while she is dating the lead of the movie. Soon she realizes that Don Jon doesn't feel the same way as hers and is also struggling with porn addiction. After finding out the truth, she sorts out their loveless bond.
Barbara is extremely honest and straightforward with what she wants from her life; she deals with her problems and has an outgoing persona which allows her to voice her issues out loud and clear, Just like a true Gryffindor.
4. Olivia Wenscombe – Slytherin 
In The Prestige, Scarlett Johnson plays the role of Olivia Winscombe, who's the assistant of Robert Angier. to learn about the tricks of his associate, Alfred Borden, Robert asks Olivia to build connections and work with Alfred.
Combined with the fact that she plays an integral role in deciding the faith of two magicians, her resourcefulness and ambition make her a perfect fit for Slytherin. She seems to have a competitive nature as she is determined to prove herself and her worth.
3. Rosie Betzler – Gryffindor
In Jojo Rabbit, Scarlett plays Rosie Betzler, a mother of a boy who has turned towards Nazism. Rosie attempts to run an undercover counter-revolution against the bad guys making her character quite courageous, just like it's true Gryffindor.
Even after knowing that she has relatively fewer chances to win this war, she still nurtures positive dreams. She is also caring and will do anything to protect the ones she loves.
2. Lucy- Ravenclaw
After taking a drug unwillingly, Lucy, a drug smuggler in Taiwan, starts developing psychokinetic abilities. With her superhuman powers, the female lead relies on both her super strength and exceptional decision-making abilities. No matter how tricky or dangerous the situation is, leave it on her to find a solution.
Her intelligence, knowledge and strategizing are also the major traits found in a Ravenclaw. Lucy aims to find out a logical solution to any problem.
1. Samantha – Hufflepuff
In the movie Her, Scarlett Johansson gives voice to the artificially intelligent virtual assistant Samantha. A lonesome, introverted man develops romantic feelings for her. Despite the technological limitations, Samantha is genuinely loyal to her lover Theodore. She is so committed to her lover that to impress him, she proposes using a surrogate in her place to give herself a human form.
Her loyalty, helpfulness and good spirit make her a right fit for Hufflepuff as they are hard workers and always willing to adapt with others.