Thor Love & Thunder: Every detail about the new MCU villain- Gorr
The all-new trailer of Thor Love & Thunder is out. It promises more action, more entertainment, new superheroes and a new 'Villain'.
In the recently released Thor Love & Thunder trailer, Korg is narrating a story about Thor talking about his journey from Endgame to Thor 4. Secondly, we see Thor Odinson face to face with ex Jane Foster, and he is completely shocked.
But that shock doesn't come close to what Marvel fans got when they saw ex-Batman Christian Bale villain Gorr; he looked horrific and very much like what was depicted in the comic books.
The first teaser of Thor Love & Thunder was released a month ago.
The first teaser of Thor Love & Thunder showed that there would be a grand return for our own beloved Thor. Thor: Ragnarok painted Thor from some of the most ignored Avengers to a witty, hunky, capable leader full of love and zest for life.
Now that the fourth movie for Thor is about to release in cinemas, there is no doubt that it will be a package of action, fun, and entertainment.
In the first teaser, we saw Thor retiring 'Stormbreaker' and setting out across the universe to become 'worthy' again. While finding himself, he crosses paths with Gorr the God Butcher, some Greek gods, and his ex-girlfriend. How will it play out, and what will the introduction of Mighty Thor mean for Chris Hemsworth in Marvel will all be cleared when we watch the movie.
Who is this new MCU villain?- Gorr- The God Butcher
The looks of Christian Bale as Gorr the God Butcher are impressive, and he can be seen in inky blacks, swapped with an ashy grey which is the perfect match for his sinister yellow glare, which is horrifying and fitting to the role.
The trailer also showed Gorr destroying a whole planet with background narration, in which he is telling his life's purpose- assassinating all the Gods. He later is seen in a battle with Thor and Valkyrie.
After Doctor Strange in the Multiverse of Madness was a little horror as there were monsters, ghosts, witchcraft and zombie and Christian Bale villain Gorr is going to be on a horror note. The movie will be a worthy successor to Doctor Strange 2 and Thro: Ragnarok.
What do we know about Gorr as a villain from the comic book? 
The trailer of Thor Love & Thunder showed us the introduction of Gorr, The God Butcher, who sworn to assassinate all the gods. The backstory of Gorr, as per Marvel's website, tells the audience that he is a native of a nameless planet. He is physically challenged, particularly with a crippled leg and a great attitude.
When he was a kid, he lost his parents; ever since then, Gorr has been sceptical about the very existence of God; the existential crisis is what he was having. As if that was not enough to shake his beliefs, he later lost his wife Arra and his children. As he went on his quest to question God's existence, he was cast out of his tribe.
Later Gorr gains power, and he already has a motive; he embarks on his journey to slay Gods. He has an Ancient Symbiote of Power and All-Black the Necrosword. The first symbiote, All-Black, is a weapon that bonds itself to Gorr. This weapon gives him superhuman strengths, the most impressive of which is the ability to regenerate.
All the characters we will get to see in Thor Love & Thunder.
Chris Hemsworth as Thor Odinson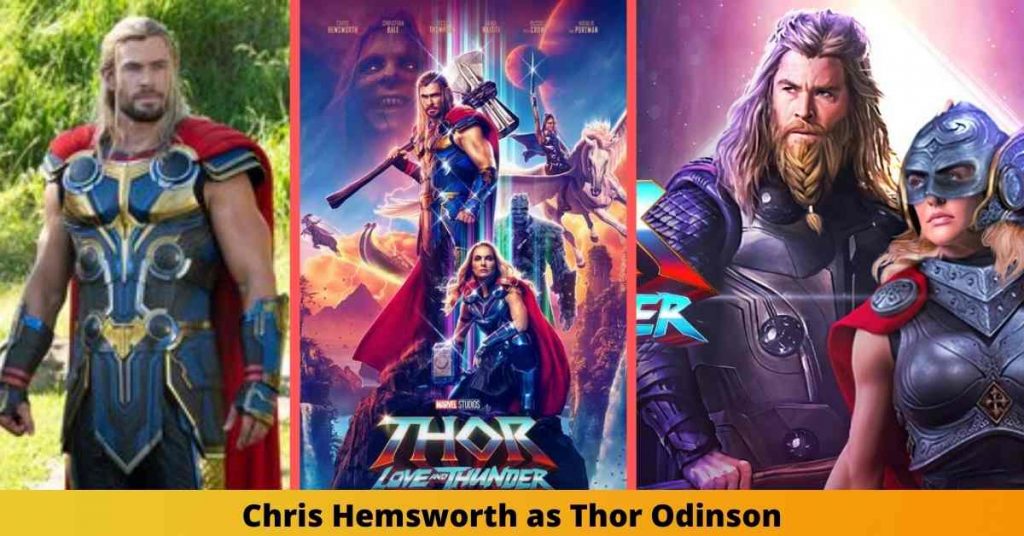 The last we got to see Chris Hemsworth as Thor was in the Avengers: Endgame; Thor has gone on a soul-finding journey since then. He earned his physique back and has even been more enlightened. The God of Thunder had to transform himself back into the Thor we all know and love. As the trailer suggests, we will see Chris Hemsworth as his witty and charming self in the upcoming movie.
Natalie Portman as Mighty Thor
Thor's ex-girlfriend is coming back to the series as the Mighty Thor! After Thor Odinson is not deemed worthy anymore, the power of Mjolnir is shifted to Jane Foster. As shown in the trailer, we will witness many of her fighting scenes.
Cristian Bale as Gorr the God Butcher
The hot topic for today is Christian Bale. The DC's very own Batman played this role for Christopher Nolan's Dark Knight trilogy. He is joining Marvel as Gorr, the God Butcher. The position is very intense, and so is his appearance in the trailer.
Chris Pratt as Star-Lord
After Star-Lord lost Gamora in the Avengers series, he swore to take revenge on Thanos. After he finally helped the Avengers reverse the blip, he went on to 'guarding' the galaxy with Thor. He is now making a return in on coming MCU movie Thor Love & Thunder.
Besides these four, more characters are being introduced, and we will see some previous characters again in Thor Love & Thunder.
Release date of Thor Love & Thunder
The fourth movie of the Thor franchise: Thor Love & Thunder, is set to release on 8 July 2022. Thor is the first MCU superhero or God to get the fourth individual movie.
After watching both the trailer and the teaser, one thing is sure. Marvel has come back with a bang, with two individual movies to the original cast of MCU heroes, and they have not compromised on anything. They have cast amazing actors, pulled out an entertaining script and without losing the charm of the comic book's origin story.
The movie has less than two months to the premier; with an exciting trailer, Thor Love & Thunder has made the audience all pumped up. Could this be Marvel's most significant release of summer? One thing is for sure since it is the last and fourth movie for the Thor series, it is going to be a dynamic movie.