To Your Eternity Season 3: Release Date Predictions + Spoilers Revealed
To Your Eternity Season 3, is it renewed?
Spring 2021 was a spectacular period for anime fans as many popular series, such as My Hero Academia, Welcome to Demon School! Iruma-kun and Fruit Basket made their comeback for new seasons.
Amidst the many returning renewals, some new anime series was released, with the likes of Don't Toy with Me, Miss Nagatoro, Tokyo Revengers, and Odd Taxi making their mark.
But the one series which stood out from the rest and piqued fans' interest was the anime adaption of Yoshitoki Ōima s' manga, Fumetsu no Anata e or To Your Eternity.
The plot follows an orb known as It, which is an immortal being sent to earth with no identity or emotions. The orb can transform and shape into any object caught by its reflection.
Initially, it changes into a rock which in winter grows into moss, and when an injured wolf lays on the moss-covered rock, the orb transforms into the nearly dying wolf.
After regaining consciousness, It comes across a boy wandering alone in an abandoned town whose residents have moved to find a paradise across the seas of the white tundra.
The boy mistakes It for his pet wolf Joann, but the orb takes his form after he dies. Now in a mortal form, It looks to explore the world and meet new people alongside finding the meaning of its immortal existence.
To Your Eternity has been a massive success, so fans, although the second season is currently on air, have already begun wondering whether To Your Eternity Season 3 is on the cards.
Are you a fan of the To Your Eternity series with the same question? If so, keep scrolling to find out more about To Your Eternity Season 3.
To Your Eternity is rated 8.3/10 and ranked #187 with 743k members on MyAnimeList.
What Is the To Your Eternity Season 3 Release Date?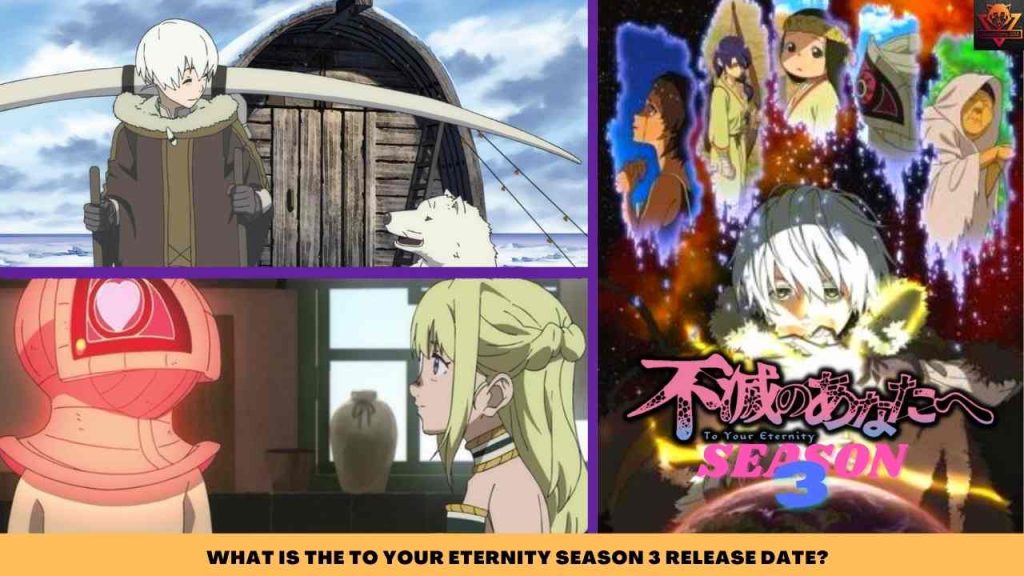 To Your Eternity Season ran from 12th April 2021 to 30th August 2021 for 20 episodes. The show was renewed for a second season that premiered on 23rd October 2022, and currently, 7 out of the listed 20 episodes have been aired.
As of writing, there is no update from neither the creator nor writer on the renewal for To Your Eternity Season 3.
| | |
| --- | --- |
| SEASON | RELEASE DATE |
| To Your Eternity Season 1 | 12th April 2021 |
| To Your Eternity Season 2 | 23rd October 2022 |
| To Your Eternity Season 3 | Yet to be Announced |
Studios often consider various performance and financial metrics before announcing a renewal.
In the case of To Your Eternity, there have been significant changes in the production studio between the first and second seasons.
Studio Brain's Base was at the helm of production for season one, while Studio Drive took over in season two.It's yet to be confirmed whether studio Drive will continue for the third season or a new studio will take charge.
To Your Eternity Season 2, despite some minor qualms in animation and plotlines, has maintained positive reviews, which is evident by the IMDB s' user rating for the first seven episodes.
| | |
| --- | --- |
| EPISODE | RATING |
| To Your Eternity Episode 1 | 7.7 |
| To Your Eternity Episode 2 | 8.1 |
| To Your Eternity Episode 3 | 7.9 |
| To Your Eternity Episode 4 | 7.8 |
| To Your Eternity Episode 5 | 8.1 |
| To Your Eternity Episode 6 | 8.2 |
| To Your Eternity Episode 7 | 8.8 |
Source: IMDB
Financially, both seasons could not provide a major boost to the To Your Eternity manga as it failed to make it to Oricon s' top 20 manga for October and November 2022.
Regardless of the boost in sales, To Your Eternity was one of the most anticipated anime for Fall 2022, and renewal should be nothing but a formality.
Interestingly, the second season was announced before the final episode of season one; hence there is a good probability To Your Eternity Season 3 could be renewed likewise.
Assuming a series renewal is announced, the consequently To Your Eternity Season 3 trailer and To Your Eternity Season 3 release date can be expected in Fall 2023.
TO YOUR ETERNITY MANGA CATCHUP
To Your Eternity manga is written and illustrated by Yoshitoki Ōima. It began serialization in Weekly Shonen Magazine on 9th November 2016. The manga has been collected into 18 volumes, with the latest issue released on 16th February 2022.
As of May 2022, the manga has sold 17 million copies for Volume 1 to 17 and won the Best Shonen Manga award at the 43rd annual Kodansha Manga Awards 2019.
To Your Eternity manga is rated 8.3/10 and ranked #219 with 91k members on MyAnimeList.
TO YOUR ETERNITY SEASON 3 PLOT
Judging by the current pacing of the anime, it's expected that the second season will end in Volume 12: Chapter 116 of the manga. Consequently, To Your Eternity Season 3 will begin by adapting Volume 13.
Fushi finds all his enemies defeated following his 600-year deep sleep as he revives his friends March, Gugu, Tonari, and Bon. Fushi is bemused by the changes in the new world taken over by technology, and houses turned into museums.
Hayase s' 18th reincarnation, Mizhua, is a perfect specimen who excels at everything and considers everyone else beneath her discord.
Despite the perfect life, Mizhua is bored and finds solace in killing herself, only to be saved by Fushi, and thus begins her desire to seize him.
Will Mizhua be able to obtain Fushi? What does her destiny hold after Fushi s introduction and awakening will be some of the mysteries that will be delved into To Your Eternity Season 3.
TO YOUR ETERNITY CAST, CHARACTER, AND CAST
To your Eternity anime had two different directors due to a change in studio wherein Masahiko Murata directed season one, followed by Kiyoka Sayama in season two.
Shinzo Fujita handles the series composition, while characters are designed by Koji Yabuno, and the music is composed by Ryo Kawasaki. Animation is developed by Studio Drive, and the series is produced by Aya Ishii.
You can find the list of To Your Eternity characters and voice cast below:
| | |
| --- | --- |
| CHARACTERS | VOICED BY |
| Fushi | Reiji Kawashima |
| Parona | Aya Uchida |
| Tonari | Eri Inagawa |
| The Beholder | Kenjiro Tsuda |
| Booze Man | Kentarō Tone |
| Oopa | Konomi Kohara |
| Rean | Manaka Iwami |
| Hayase | Mitsuki Saiga |
| Uroy | Nobuyuki Kobushi |
| March | Rie Hikisaka |
| Gugu | Ryoko Shiraishi |
| Penna | Sayuri Hara |
| Sandel | Yū Kobayashi |
| Mia | Yūko Natsuyoshi |
CONCLUSION
To Your Eternity Season 3 might not take an eternity to be renewed, but the hope within the fandom will be a prompt renewal before the second season's finale.