Chainsaw Man Season 2: Release Date Predictions + Spoiler Discussion 
Chainsaw Man Season 2 is already in high demand, but when will it release?
Fall 2022 will be remembered as an iconic period within the anime community as fans finally get to see the highly anticipated anime adaption of Tatsuki Fujimoto s' dark fantasy manga series, Chainsaw Man.
The hype for Chainsaw Man was so real that even before the series premiered, more than 180,000 people were waiting in the lobby to watch the first trailer, which as of writing, has 15 million views.
Unlike other shonen series, Chainsaw man had already built a massive fanbase due to the manga, which was an instant hit upon its release. The tone, setting, and characters were an immediate draw too many readers who couldn't wait for its anime adaption.
The plot is set in a world where humans can form binding contracts with devils to use their powers. Contrary, some people specialized in hunting and employing them called Devil Hunters.
Denji is a poverty-stricken guy who, after his father s' death, is trying to repay a considerable debt. He forms a contract with Pochita, a devil dog that grants him the power to transform his body parts into power chainsaws.
He makes a living by doing menial jobs and killing Devils for the Yakuza from his newfound powers. He is betrayed by Yakuza and killed by the zombie devil, only for Pochita to sacrifice his life to save his master.
Denji has now turned into a Devil-Human Hybrid and is reborn as the power Chainsaw Man who begins working for the Public Safety Devil Hunters after being approached by its leader Makima in exchange for proper food.
The first season albeit currently on air, has been a smashing hit, and fans are already wondering if and when chainsaw Man will return for a second season.
Are you a fan of Chainsaw Man and asking the same question? If so, keep scrolling to find out more about the latest news and updates about Chainsaw Man Season 2.
Chainsaw Man is rated 8.8/10 and ranked #26 with 862k members on MyAnimeList.
WHAT IS THE CHAINSAW MAN SEASON 2 RELEASE DATE?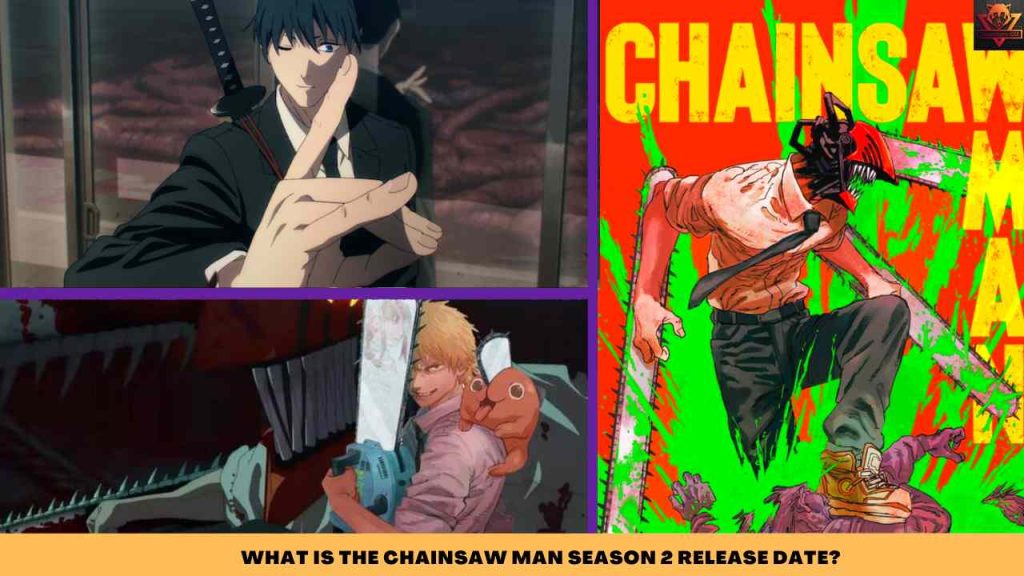 Chainsaw Man Season one premiered on 12th October 2022, and currently, eight out of the listed 12 episodes have been aired.
As of writing, there is no update or announcement from studio MAPPA on the renewal for Chainsaw Man Season 2.
| | |
| --- | --- |
| SEASON | RELEASE DATE |
| Chainsaw Man Season 1 | 12th October 2022 |
| Chainsaw Man Season 2 | Yet to be Announced |
It is understandable since the series is currently on air, but considering the success and popularity of the season, fans and, consequently, the studio know a second season is inevitable.
A possible update regarding Chainsaw Man Season 2 trailer and Chainsaw Man Season 2 release date can be expected at the Chainsaw Man stage event at Jump Festa 2023 on 18th December 18, 2022, from 3:35 to 4:15 PM JST (2:35 to 3:15 AM EST).
The event should also clarify whether the second season will be titled as Chainsaw Man season 2 or how MAPPA prefers to split cours and call it Chainsaw Man Season 1 Part 2.Split cour is always a possibility when it comes to MAPPA studios, as evident by previous shonen releases like Jujutsu Kaisen, Attack On Titans, and Spy x Family.
The Chainsaw Man Festival will be held at the Tokyo Garden Theater on May 20, 2023. Tickets for the event cost 6,800 JPY (~$50 USD), and they can be pre-ordered now from the Chainsaw Man Festival official website.
If we presume the second season will indeed be the second part of the split cour, then Chainsaw Man Season 2 release date can be expected in Fall 2023.
Another scenario that can come into play is if the Chainsaw Man movie is released prior to the second season, then consequently Chainsaw Man Season 2 release date will be pushed forward to Fall 2024.
CHAINSAW MAN MANGA CATCHUP
Chainsaw Man manga is written and illustrated by Tatsuki Fujimoto and was first published in Weekly Shone Jump Magazine from December 2018 to December 2022.
The manga has been collected into 12 Volumes, and 103 Chapters, with the latest volume released on 4th October 2022 and Volume 13 is scheduled to release on 4th January 2023.
As of November 2022, the manga had over 20 million copies in circulation, making it one of the best-selling manga series.
Chainsaw Man manga is rated 8.7/10 and ranked #41 with 486k members on MyAnimeList.
CHAINSAW MAN SEASON 2 PLOT
The Chainsaw Man anime has remained faithful to its source material by adapting 3.25 chapters per episode. Looking at the current pacing of the anime, we can see Chainsaw Man Season 1 Episode 12 ending in Volume 5: Chapter 39 from the manga.
Chainsaw Man season 2 will begin by adapting the 6th volume of the manga and cover the fifth arc of the Public Safety Saga, i.e., the Bomb Girl arc.
Chainsaw Man Season 2 characters and plot lines will be focused on the antagonist Bomb Girl, also known as Reze, who is sent by the Soviets to Japan on a special mission.
Denji is head over heels for Reze, and likewise, the latter is quick to get friendly and intimate with him. Denji is confused as he desires Makima, but a skinny dipping night tip the scale of affection to Reze.
Who will Denji choose, her first love Makima or the tantalizing Reze?
It's later revealed that Reze isn't what she appears to be and her friendly behavior with Denji is only a face in order to get close to him and steal the Chainsaw Man s' heart.
CHAINSAW MAN CAST, CHARACTER, AND CREW
Chainsaw Man anime is directed by Ryu Nakayama and scripted by Hiroshi Seko. Characters are designed by Kazutaka Sugiyama, and the music is composed by Kensuke Ushio.
You can find the list of Chainsaw Man characters and voice cast below:
| | |
| --- | --- |
| CHARACTER | VOICED BY |
| Denji | Kikunosuke Toya |
| Power | Fairouz Ai |
| Aki Hayakawa | Shogo Sakata |
| Makima | Tomori Kusunoki |
| Samurai Sword | Daiki Hamano |
| Kobeni Higashiyama | Karin Takahashi |
| Kishibe | Kenjiro Tsuda |
| Angel Devil | Maaya Uchida |
| Himeno | Mariya Ise |
| Shark Fiend | Natsuki Hanae |
| Spider Devil | Saori Goto |
| Pochita | Shiori Izawa |
| Hirokazu Arai | Taku Yashiro |
| Akane Sawatari | Yō Taichi |
| Violence Fiend | Yūya Uchida |
CONCLUSION
Chainsaw Man is another crowning stroke for MAPPA studios, and it shouldn't take long before we see a second installment.