Could Thor Love & Thunder be suggesting Thor Death?
The new trailer of Thor Love & Thunder was released a few days back, and it showed Thor becoming a better version of himself, but could these be his last days?
Marvel is on a roll; it has released several movies and series in the past year. The most recently released film- Doctor Strange in the Multiverse of Madness, was very well received by the audience; it got a lot of love and support through social media. Now Marvel is ready to release its next big movie- Thor Love and Thunder.
As the anticipations have suggested so far, Thor 4 will be a final farewell to the character of Thor in MCU. It is already the fourth movie and a very proud topic for Chris Hemsworth because he is the only Avenger to get four individual films.
The teaser is Thor Love & Thunder
The teaser of Thor Love & Thunder was released a month ago, while the teaser mainly focused on Thor, aka Chris Hemsworth, and his personal growth after the events of Avengers: Endgame. The teaser showed how the 'big' Thor transformed himself by working out, meditating, and having fun. There is no doubt the teaser was quite impressive.
The official trailer was released on 24 May 2022. The sharp insight that we witness in the soon-to-be-released Marvel movie revealed a few new plots and characters keeping the audience at the edge of their seats.
The trailer goes like this: Korg has the opening scene and narrates Thor's life story after the Endgame. In the last movie of Avengers, released in 2019, we saw the 'big' and a little obese Thor. But Thor stood up again and exercised hard enough to lose weight, but he also worked on being 'worthy' again.
Thor worked very hard to make himself better and when Mjollnir appears before him he gets the biggest surprise when he sees his ex-girlfriend Jane Foster, played by Natalie Portman, as the Mighty Thor. The trailer also releases information about another MCU villain- Gorr the God Butcher.
Everything about the trailer is exciting, but what is this mystery about Thor Death?
When Korg is narrating the story of Thor and his accomplishments, fans could not help but notice that Korg is talking about Thor in the past tense! Although Marvel did not emphasize what tense he was using, he was indeed speaking in the past tense.
The thing that tickles the brains is that- what time is Korg's narration of the story based on, or if it was intentional? Marvel has a reputation for doing the unexpected and keeping the audience attached. After Iron Man and Black widow die in Endgame, the original is replaced by newer models.
Thor's death will not be a surprise for the fans of Marvel, not because they have any less love or affection towards Thor compared to other Avengers. But because Thor will face Gorr, the God Butcher who is fuelled by his vengeance towards every god and has sworn to kill them, he has already slain some of them like gods of jealousy, war, death, etc. 
One speculation can be that Thor will sacrifice himself to save everyone else; this may be his way of being 'worthy' again.
What other ways are there for MCU to retire Thor than death?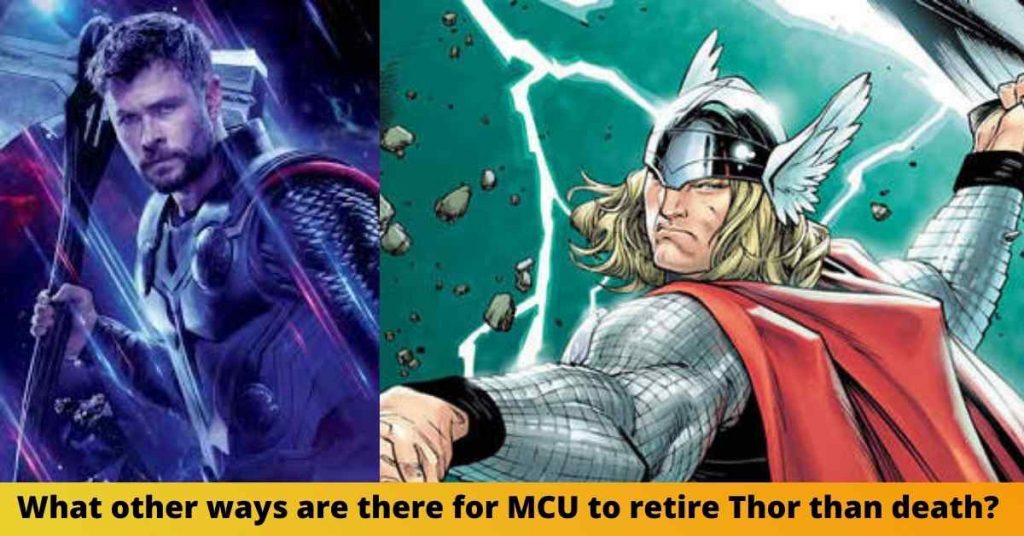 Looking at Marvel's previous records, they don't need to 'kill' Thor and continue the story. Marvel could be planning many more things like they did for Hawkeye last year.
One explanation is that Thor might get on board for giving up his powers completely to save his Asgardians and his teammates. To defeat or satisfy Gorr the God Butcher, Thor might give up his freedom and status as a god.
If Thor just gives up his powers or gives up on being a God, it will mean different things for Chris Hemsworth both in Marvel studios and outside it. His character might just get side-lined like Hulk for a long time, which means he doesn't have to die. But the other thing this will do is give Jane Foster, the Mighty Hulk, some space to establish herself as the new Thor.
Sharing screen and reputation with a character who has four individual movies and is loved across the globe might not be easy. Establishing her identity and proving herself worthy is the foremost thing that Natalie Portman needs right now.
It is an opportunity for Chris Hemsworth to explore his other potential and any new role he might come across.
When is Thor coming to the big screen? 
Taika Waititi directed Thor Love & Thunder, starring Chris Hemsworth, Natalie Portman, and Christian Bale, which is coming out on- 8 July 2022. Fans have already started to keep an eye out for the release of tickets to the movie; this shows their faith in them in Marvel and how much the fans love watching Chris Hemsworth on-screen.
Conclusion
Although one thing is quite clear after watching this trailer, Marvel is in no hurry to reunite the Avengers- the original six. Marvel has proven that they will introduce a lot of new superhumans and want to focus on the next phase rather than assembling the Avengers.
As for the leadership of all these newbies, Marvel studios have kept Doctor Strange, played by Benedict Cumberbatch, and Captain Marvel, played by Brie Larson.
It is a new chapter for Marvel, phase four. Phase four consists of all the movies and series that Marvel has released and will release in the span of two years, from 2021 to 2023. So far, so good.