HEAVEN OFFICIAL'S BLESSING SEASON 2: TRAILER OUT + RELEASE DATE
Heaven official's blessing season 2 is finally here; will Xie Lian be banished again, or the crown prince reclaim his throne?
Chinese anime, or Donghua, is coming up with some fascinating and creative stories and characters in recent times. While it may not be a direct competition with the more popular Japanese anime, one can't ignore how these donghuas portray China's rich culture and tradition.
Amidst the many donghuas, Heaven s' Official Blessing has created a small yet passionate fan base for its beautiful animation and intriguing storyline.
Heaven s' official Blessing is a Chinese fantasy anime based on the writings of Mo Xiang Tong Xi, and the plot follows the crowned prince of the Xian Le kingdom, Xie Lian, who has been banished and disgraced multiple times from the heavens.
Eight hundred years later, Xie Lian ascends to the throne a third time only to become a pitiful figure of fun and standing alone with no followers. In his first task traversing through the forest, he meets the Ghost King, Hua Cheng, who is feared by both demons and Gods. Xie Lian is left wondering why he would help a heavenly God and why does the Ghost King seek interest in him?
As the night passes, Xie Lian also comes across San Lang, a man who knows not only the Ghost King but also the history of the forgotten Crown prince. San Lang and Xie Lian begin traveling together as the duo starts uncovering many mysteries.
Heaven s' Official Blessing season one was a massive hit as the donghua became the first Chinese anime to be streamed on Funimation. After the first season's popularity, it's natural for fans to ask when is season 2 of heaven official's Blessing coming out?
Well, we have some excellent news regarding Heaven s' Official Blessing season 2, so keep reading to find out more.
Heaven Official's Blessing is rated 8.39 and ranked #170 with 97k members on MyAnimeList.
WHAT IS THE HEAVEN OFFICIAL'S BLESSING SEASON 2 RELEASE DATE?
The first season of Heaven s' Official Blessing ran from 31st October 2020 to 2nd January 2020 with 11 episodes. There was also a 12th special episode which aired on 14th February 2021.
On 20th November 2021, the official Twitter page of Funimation confirmed the series had been renewed for a second season for a 2022 release. A second season to the anime adaptation by Bilibili was announced by a Trailer with no publicly unveiled Heaven Official's Blessing season 2 release date. You can expect the second season to premiere just like season one on this fall slate around October 2022 with 11 episodes and a possibility of a special episode.
The show is also set for a live-action drama under production since late 2021. This drama will be directed by Chen Jialin and produced by iQiyi, Huace/Croton, & Syndication Film & TV.
The biggest reason behind the delayed premier is the pandemic, as many studios were affected, pushing back their release schedule. You can watch the trailer for Heaven Official's Blessing Season 2 trailer below:
HEAVEN OFFICIAL'S BLESSING NOVEL CATCHUP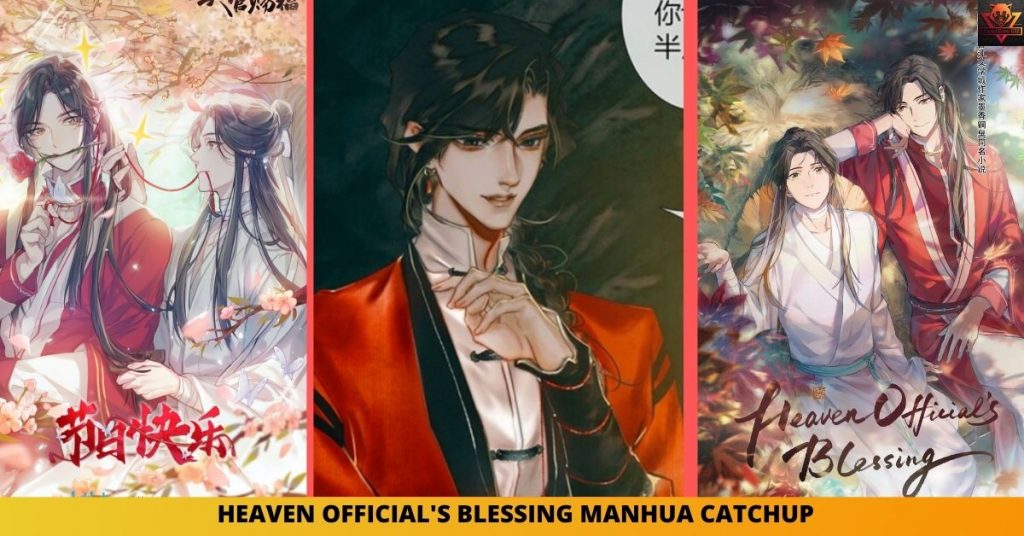 The show doesn't directly adapt the novel or manhua but follows a rough draft from the writings of Mo Xiang Tong Xiu. The novel consists of 244 chapters plus four extra post-canon stories split into eight additional chapters, and it was first published in 2017 on JJX.
On 4th August 2021, the official English translation and a physical copy were announced by Seven Seas Entertainment. The English version will be split into eight volumes, with the final release in March 2023.
Heaven official's blessing novel is rated 7.9/10 and ranked #847 with 1.6k members on MyAnimeList
Heaven official's blessing manhua is illustrated by the artist STARember. The first chapter was posted on 18th October 2019 and is currently ongoing and updated weekly on Bilibili. You can read the manhua on Bilibili with 77 chapters released as of 22nd July.
Heaven official's blessing manhua is rated 8.5/10 and ranked #97 with 4k members on MyAnimeList.
The big difference between the novel and the donghua is the series of events in which the story is told. The donghua doesn't follow the novel's chronology, making it difficult to pinpoint how much novel content has been adapted by the donghua.
There is no lack of source material as the donghua barely covered one-fourth of the novel. Heaven official's blessing season one did an excellent job of introducing the multiple characters, which can be confusing if you read the novel.
To conclude, the first season was essentially a prologue for things to come.
HEAVEN OFFICIAL'S BLESSING SEASON 2 PLOT
In Heaven official's blessing season final special episode, we see the relationship of Xie Lian and Hua Cheng take giant strides. Hua Cheng refers to Xie Lian as 'your highnesses' for the first time. The latter also wonders why Hua Cheng is interested in him as, after all, he is the Ghost King.
The episode ends with Xie Lian finding a ring attached to a necklace left by Hua Cheng as a montage of the Pei Xiu fight and ghost bride encounter rolls on. This should likely imply that the boy Xie Lian saved was indeed Hua Cheng, who has become strong and is indebted to him.
The first season ended with some unanswered questions and plot points, which will be covered in Heaven Official's Blessing season 2. Fans would like to know the status of the relationship of Xie Lian and Hua Cheng, are they officially couples?
Secondly, what is the ring attached to a necklace signify, and why did Hua Cheng leave it with Xie Lia? The second season will delve into their relationship deeper and, of course, possibly also reveal Hua Cheng s' real form.
Sang Lang is another character who became friendly with Xie Lian. Fans would be eager to know more about him and how he possesses the knowledge of the Ghost King.
The trailer for the new season reveals many new characters, such as Xuan Zhen and Nan Yang. They might not feature prominently, but these two have links to Xie Lian s' past.
We expect Hua Cheng s' hold the Ghost city to be also a setting in season 2. It could be where he shows or appears in his proper form.
Finally, we see in the trailer that something is brewing in the Heavenly court, which has worried the Gods; what can it be? Well, we just have to wait for Heaven Official s' Blessing season 2 to find the answers.
HEAVEN OFFICIAL'S BLESSING CHARACTERS, CAST, AND CREW
Heaven s' official Blessing is directed by Haoling Li and produced by Zhang Shengyan. The show is scripted by Clint Bickham and animated by Haoliners Animation League.
You can find the Heaven Official's blessing characters and voice actors below: –
| | |
| --- | --- |
| CHARACTER | VOICED BY |
| Xie Lian | Jiang Guangtao |
| Hua Cheng | Ma Zhengyang |
| Nan Feng | Wen Sen |
| Fu Yao | Hu Liangwei |
| Ling Wen | Huang Ying |
| Shi Wudu | Zhao Yi |
| Pei Ming | Tu Xiongfei |
| Pei Xiu | Ling Fei |
| Xuan Ji | Shan Xin |
| Ban Yue | Tao Dian |
CONCLUSION
The creators must be delighted to see an overwhelmingly positive response to the show, and we hope the second season of Heaven Official s' Blessing is a blessing for the fans.