In the Witcher Season 2, Why Yennefer Lost Power?
One of the biggest changes made in the Witcher Season 2 was that Yennefer lost power – but why?
The Witcher Series on Netflix is made from the source material of witcher novels and short stories written by Andrzej Sapkowski, a Polish Author, and also the witcher video games. The novels were written in the Polish language, but Netflix, in the year 2019, released its first translation in the English language.
The Witcher Season 1 introduces the main characters from different timelines. Geralt of Rivia (Henry Cavill), a Witcher, who hunts monsters for the sake of money; Yennefer of Vengerberg (Anya Chalotra), a powerful sorcerer who used magic to cure herself; and Princess Cirilla of Cintra, Ciri (Freya Allan), a child with Elder Blood running through her veins, has the potential to destroy the whole world.
The Witcher Series was loved by the world as it was similar to the dark fictional series on HBO, Game of Thrones. However, season 1 was criticized a lot because of its confusing timeline. The Witcher Season 2 was released recently in December 2021, which got a less confusing timeline with a lot of horrifying and deadly monsters.
The Witcher Season 2 focused more on Geralt and Ciri's journey and their bonding as father and daughter. Geralt, like a father, was protecting Ciri from all the worldly dangers and tried training her with the intention to control her powers. The plotline focused more on Geralt and Ciri because Yennefer in the Witcher Season 2 lost her powers.
Yennefer lost her powers and tried to live without powers, which became really difficult for her. Yennefer then tried to get her powers back, and for that, she made a lot of bad decisions. Yennefer betrayed Geralt for the sake of getting her powers back and tried to sacrifice Ciri to the Deathless Mother, Voleth Meir.
Witcher Season 2 – The Reason Behind Yennefer Lost Power
Geralt, Ciri, and Yennefer Witcher's Netflix Season 2 went through a lot of changes from the source material, the witcher books. Throughout the Witcher Season 2, Yennefer was shown powerless, struggling to live a meaningful life – but why did she lose her powers?
Yennefer of Vengerberg's life from the beginning has been a struggle for her, as she was born with deformities, the reason for which was revealed later that she was half-elf. Yennefer faced a lot as her stepfather didn't treat her well and sold her off to Tissaia De Vries for the price of less than a pig.
Tissaia taught her magic, and when she learned about everything, she asked a mage to help her transform her body. For a beautiful body, she sacrificed her chance of being a mother, but she did become the most beautiful and the most powerful mage on the Continent. The example of which was shown at the end of season 1, in the Battle of Sodden Hill.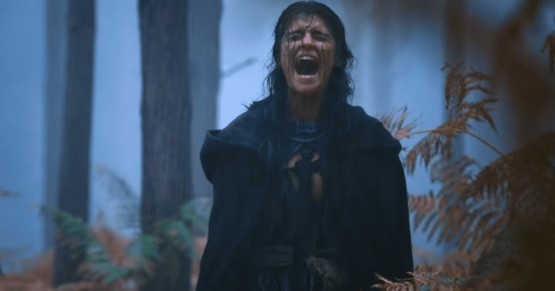 During the Battle of Sodden Hill, Yennefer, with Tissaia and some other mages, was trying to protect Northern Kingdoms from Nilfgaard, and there was the whole army of Nilfgaard present to defeat them. A few mages against the whole army was a really hard battle, but nonetheless, Yennefer, the most powerful mage, used fire magic to defeat the Nilfgaardian army.
At the beginning of Season 2, it was shown that Yennefer, because of using the forbidden fire magic, was without powers. The whole of Season 2 was focused on Yennefer getting her chaos back, which as a result, made her vulnerable to the powerful and dangerous creatures.
At the end of season 1, it was unclear whether Yennefer was dead for using the fire magic or not? But in Season 2, it was shown that Yennefer was not dead but was captured by Fringilla, a mage leading the Nilfgaardian Army during the Battle of Sodden Hill. Later, Fringilla and Yennefer were kidnapped by Francesca Findabair, a mage and the leader of the Elven clan.
Meeting Francesca led all three of them to the Deathless Mother, Voleth Meir, where she used a disguise of different people for each of them. In disguise, Voleth Meir offered Francesca, Fringilla, and Yennefer some deals on the basis of what they desired the most. As for Yennefer, she offered to return her magic if she delivered Ciri to her.
Yennefer lost her powers and was struggling to live without them, so she decided to deliver Ciri and get her powers back. But when Yennefer was about to honor the deal, she changed her mind and stopped Ciri from getting close to the door. For making up the betrayal, Yennefer then followed Ciri and Geralt back to Kaer Morhen, where Voleth Meir had possessed Ciri.
Yennefer sacrificed herself in order to save Ciri, but Ciri herself got strong her led Voleth Meir out of her body, and while doing so, Geralt, Yennefer, and Ciri had to go into another sphere, where they met another villain, the Wild Hunt. The Wild Hunt was calling Ciri to join their army and come after her, but Ciri used her powers, and all of them came back to their world, and Yennefer got her powers back.
The story of Yennefer on Netflix, in which Yennefer lost powers, is different from the story in Sapkowski's books. In the book, the powerful mage, Yennefer of Vengerberg, didn't lose her powers but was blinded temporarily. Hopefully, Yennefer Witcher 3, the next season, will cover more ground on the relationship between Yennefer and Ciri, where Yennefer will be acting as her mother and training her to control her powers.