Joe Pickett Season 2: Release Date Confirm in Winter 2023
Joe Pickett season 2 has some new faces!
Neo-Western men with horses, hats, and guns swearing along in the wilderness of Wyoming, trying to protect their families. At first glance, the premise may not seem much of a pull, but Joe Pickett isn't your regular show that can be judged by its premise.
Joe Pickett is an American Crime Drama TV show directed by John Erick Dowdle and Drew Dowdle. The show is adapted from the best selling book series of the same name authored by Charles James Box and the Dowdle brothers.
The plot follows the title character, conservation worker aka game warden Joe Pickett and his family surviving amidst the changing socio-political and economic environment in the rural town of Wyoming.
The dangers of being poached and robbed keep looming over the Pickett family as Joe tries to maintain a balance between sense and sanity. The game warden not only has to protect his family but also keep the land of Twelve sleep country safe from hunters, cowboys, and rogues.
Many viewers liked the first season of Joe Pickett, especially the unexpected humor despite the dark undertone of the premise. Although some book readers felt the character adaption wasn't accurate and felt underwhelming.
Either way, there is a sizeable demand for Joe Pickett season 2 as fans are eager to know what happens next in the Wyoming Wilderness. If you are one of them, keep scrolling to find all the latest details on Joe Pickett season 2.
WHAT IS THE RELEASE DATE OF JOE PICKETT SEASON 2?
The first season of Joe Pickett aired from 6th December 2021 till 27th December 2021 for ten episodes.
On 9th February 2022, Deadline reported Joe Pickett had been renewed for a second season after it became the most watched series on Paramount+.As of writing, there is no update from the creators or production for the Joe Pickett season 2 release date.
| | |
| --- | --- |
| SEASON | RELEASE DATE |
| Joe Pickett season 1 | 6th December 2021 |
| Joe Pickett season 2 | Yet to be Announced |
The showrunners have been keeping much of the second season details under the wraps; however, fans would have at least hoped for a Joe Pickett season 2 trailer, which sadly hasn't come to pass.
Joe Pickett was renewed after receiving a positive response which was also reflected in its rating. On IMDB, Joe Pickett is rated 7.6/10, and it's 75% fresh on Rotten Tomatoes.
The show has performed spectacularly on user episode ratings as the series s' penultimate and final episode were ranked the highest. Check below:
| | |
| --- | --- |
| EPISODE NO. | RATING |
| Joe Pickett Episode 1 | 7.3 |
| Joe Pickett Episode 2 | 8.2 |
| Joe Pickett Episode 3 | 8.5 |
| Joe Pickett Episode 4 | 8.9 |
| Joe Pickett Episode 5 | 8.8 |
| Joe Pickett Episode 6 | 8.7 |
| Joe Pickett Episode 7 | 8.7 |
| Joe Pickett Episode 8 | 8.8 |
| Joe Pickett Episode 9 | 9.2 |
| Joe Pickett Episode 10 | 9.4 |
Source: IMDB
Joe Pickett became the most watched original show on the streaming platform, with more than one million views in the first month.
Spectrum Original Head Katherine Pope spoke to Deadline about the success of the show and said:
What's so special about the fact that Joe Pickett connected with the audience is that it's just a great show," she said. "I feel that sometimes our business gets in its way… [asking] what do we do? How do we reinvent it? Sometimes you just make a great show. We wanted this to be a character drama that spools out over time.

Deadline
All in all, looking at the viewer's engagement and ratings, Joe Pickett s' renewal came as no surprise. While there is no official announcement from the showrunners, we can always speculate or hunch a guess on the second season s' return.
Suppose the shooting or production isn't delayed, and the second season follows the release schedule of the first season. In that case, we can expect Joe Pickett season 2 to premiere on December 2022 for ten episodes.
JOE PICKETT SEASON 2 PLOT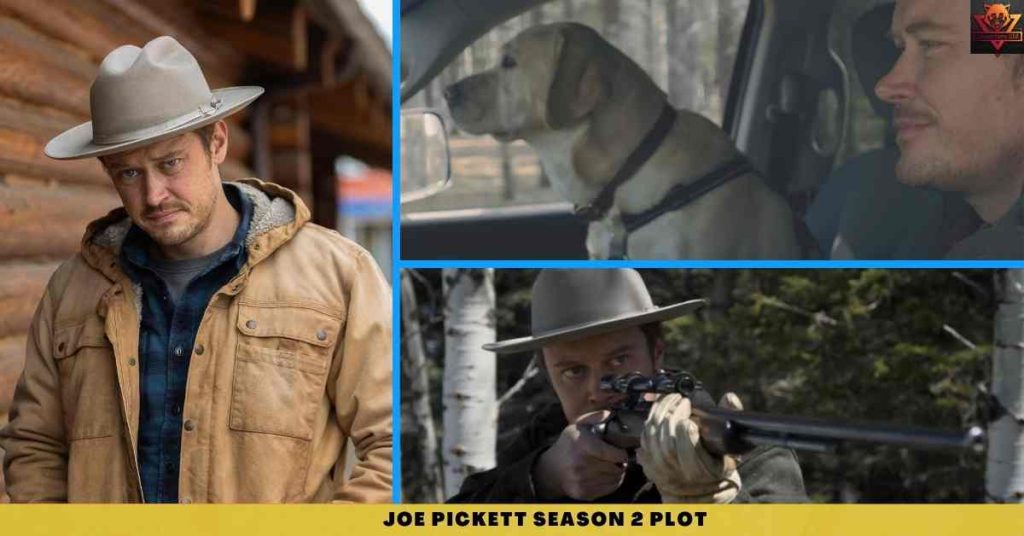 In the final episode of Joe Pickett season 1, "Open Season," we see Marybeth is shot, and Sheridan is nowhere to be seen. Joe informs Lucy and April to get ready to evacuate the house as missy struggles to tell where Sheridan went.
A picnic is arranged for Mary, where she comforts her daughter as Joe spots Sheridan. He tells him that Willie is alive and that she could be the litter's mother.
He compliments her on keeping the babies safe and suggests Sheridan take them to a safer place. Marybeth has an emotional moment with Joe, saying no child should go through what he did.
She thanks her as if not for him, she would have lost two more kids. The episode ends with a group song while Joe and Sheridan take the weasels to an Indian Reservation. They also name them Snuggle bear and Victor.
The second season will have two different narratives as part of the plot progression. The first will feature Joe and Marybeth, who find a dead hunter mockingly dressed like an elk. Joe concludes that a hunter is being hunted for sport in Saddlestring.
Secondly, a young Arapaho woman called Marrisa has gone missing, which leads to Marybeth s' detective inquiry. Joe will be aligned with a new sidekick called Thomson, who does not like a horse, but his methods to capture drunk elks are often termed "unconventional".
Joe Pickett season 2 will also see the return of April Keely, Joe s' adoptive sister, and deputy Mclanahan.
JOE PICKETT CAST, CHARACTERS, AND CREW
Joe Pickett Tv show is directed by John Erick Dowdle and Drew Dowdle. Paramount and Red Wagon Entertainment are the producers, and the music is composed by The Newton Brothers.
Apart from the old cast reprising their roles, a new actor will join the series for season two in the form of Keean Johnson from Alita: Battle Angel. Guest stars such as Vivienne Guynn, Chad Rook, and Aadila Dosani will also be moved into permanent roles.
You can find the list of Joe Pickett characters and cast below:
| | |
| --- | --- |
| CHARACTER | CAST |
| Joe Pickett | Michael Dorman |
| Marybeth Pickett | Julianna Guill |
| Missy | Sharon Lawrence |
| Wacey Hedeman | Paul Sparks |
| Nate Romanowski | Mustafa Speaks |
| Sheridan Pickett | Skywalker Hughes |
| Lucy Pickett | Kamryn Pilva |
| Vern Dunnegan | David Alan Grier |
| Jeannie Keeley | Leah Gibson |
| Ote Keeley | Benjamin Hollingsworth |
| Sadie Pickett | Cassie Dzienny |
| George Pickett | Kyle Mac |
| Violet Bouvier | Jaqueline Robbins |
| Vivian Bouvier | Joyce Robbins |
| Sheriff Barnum | Patrick Gallagher |
| Deputy McLanahan | Chad Rook |
| Cricket Ludlow | Aadila Dosani |
| Opal Scarlett | Judith Buchan |
| Arlen Scarlett | Brendan Fletcher |
CONCLUSION
Considering the show's success, it's unfortunate that the showrunners haven't announced a release for Joe Pickett season 2; hopefully, an update is around the corner.