KAKEGURUI SEASON 3: RENEWED OR CANCELLED
Kakegurui season 3 gambling for a renewal!
If you spend much of your life online pursuing the strange, weird shows that capture the imagination, then there's no better medium for it than anime.
Cryptic stories and interesting characters on a wide sweeping scale, this strangeness allows us to explore things we've never even considered before.
So, when one comes across a truly strange show booming with depth and purpose, Kakegurui might just be the strangest one of the lot.
Kakegurui is a gambling phycological thriller manga series by Homura Kawamoto and an anime adapted by MAPPA.
The story is set in the Hyakkaou private academy high school, where the teenagers of Japan's rich and powerful are enrolled. Since almost every single one of these students is guaranteed a powerful position in life, there's almost no reason or worth to be told on how students spend their time.
The tactical mind has been favored far more at the upper echelons of society worth is measured not by athletic ability but by gambling.
The student council runs the entirety of the school with no adult supervision whatsoever. Naturally, a school for leaders would lead themselves, but the student council was also in charge of the pet system.
Since almost no student in the school could run out of money under normal circumstances, bids are incredibly at high stakes.The bottom 100 students in debt are labeled as pets and stripped of almost all rights as they act as slaves to the rest of the 3000 students attending the school.
Non-pets are required by school rules to be incredibly cruel, constantly mocking and torturing them.The way you avoid this fate is by donating money to the student council, a massive chunk of your gambling profits goes straight to the council in exchange for living a comfortable life in the school.
This gives the student council an incredible amount of power, gathering billions of yen.
The plot follows Yumeko Jabami, a transfer student with a beautiful face and naïve look. Yumeko enjoys gambling for its thrill compared to others who play to win. Her entry changes the school's layout as she uses her gambling abilities to turn the Hyakkaou private academy upside down.
The end goal of gambling is money; even then, most people understand that they likely won't be leaving with as much money as they came in with them.
Gambling is a recreational game to most, where only a few games are even possible to make long-term profits.So for most gambling shows, their options for games and stakes are pretty limited.
You bet money and play one of five games as they rise to the top, but as we've seen with Kakegurui, they can pull off really anything that they want, how do they pull off such a feat? What makes this show so strange.
Fans of the show have been expecting a third season for more than three years now. Will Kakegurui season 3 ever happen? Keep scrolling to find out more.
Kakegurui is rated 7.2/10 and ranked #2687 with 1.3 million members on MyAnimeList.
WHAT IS THE KAKEGURUI SEASON 3 RELEASE DATE?
The first season of Kakegurui aired from 1st July 2017 to 23rd September 2017. Following this, a second season was renewed, from 8th January 2019 to 26th March 2019.
As of writing, there is no update from MAPPA or any other production studio on a renewal for Kakegurui season 3.
| | |
| --- | --- |
| SEASON | RELEASE DATE |
| Kakegurui Season 1 | 1st July 2017 |
| Kakegurui Season 2 | 8th January 2019 |
| Kakegurui Season 3 | Yet to be Announced |
Netflix holds the licensing right for Kakegurui, but ultimately a decision on renewal will rest with MAPPA, one of the biggest anime production studios.
They have some high-profile upcoming projects, such as Chainsaw Man, Attack on Titan: The Final Season Part 3, and Jujutsu Kaisen season 2. While the series isn't officially cancelled, amidst such releases, it looks unlikely that MAPPA will be renewing Kakegurui season 3 soon.
Furthermore, a spin-off series titled "Kakegurui Twins was released on 4th August 2022, which further pushes away the likelihood of Kakegurui season 3.
But if somehow MAPPA and Netflix decide to bring the series back before the end of this year, we can expect a Kakegurui season 3 trailer announcing the Kakegurui season 3 release date as mid-2023.
KAKEGURUI MANGA CATCHUP
Kakegurui manga is written by Homura Kawamoto and illustrated by Tooru Naomura. It began serialization in Gangan Joker magazine on 22nd March 2014.
As of September 2022, the manga has been collected into 15 volumes, with the latest issue released on 21st October 2021.
The manga has been relatively successful, with more than 4 million copies sold before February 2018. In less than a year, the number became 5 million, and By July 2021, the number had escalated to 6.8 million copies.
As of June 2022, more than 6.8 million copies of Kakegurui manga are in circulation.
The anime took few liberties in order of adaption but overall, roughly ten volumes were used up by the first and second seasons. Hence, creators should not face problems with five volumes left as source material.
Kakegurui manga is rated 7.7/10 and ranked #1368 with 54k members on MyAnimeList.
KAKEGURUI SEASON 3 PLOT
In the final episode of the Kakegurui season, "The Null Women," we get to see Re 's past asa servant in Monobami clan.
The clan didn't treat her right except of one lady who was also destroyed the Monobamis by gambling. Rei has longed sought to avenge the Monobami clan and plans to win the election and consequently become the clan head
Rei reveals her plan of winning the election after she has collected all the non-participants votes.On the other hand, Yumeko has 101 bid which creats havoc and bids futher 1 vote covering her loss.The episode ends with Rei and Jabami deciding a winner with a toin coss and 3 billion yen at stake.
Now for Kakegurui season 3, it's not as easy to predict a plot as the anime used the source material in an unorderly fashion. So much so Rei Batsubami isn't even a cannon character.
If the series returns for a third season, it will pick up from where season two left off. Kakegurui season 3 will begin by adapting the Election Arc from the manga, where a special election will be held to decide the president of the student council.
KAKEGURUI CAST, CHARACTER, AND CREW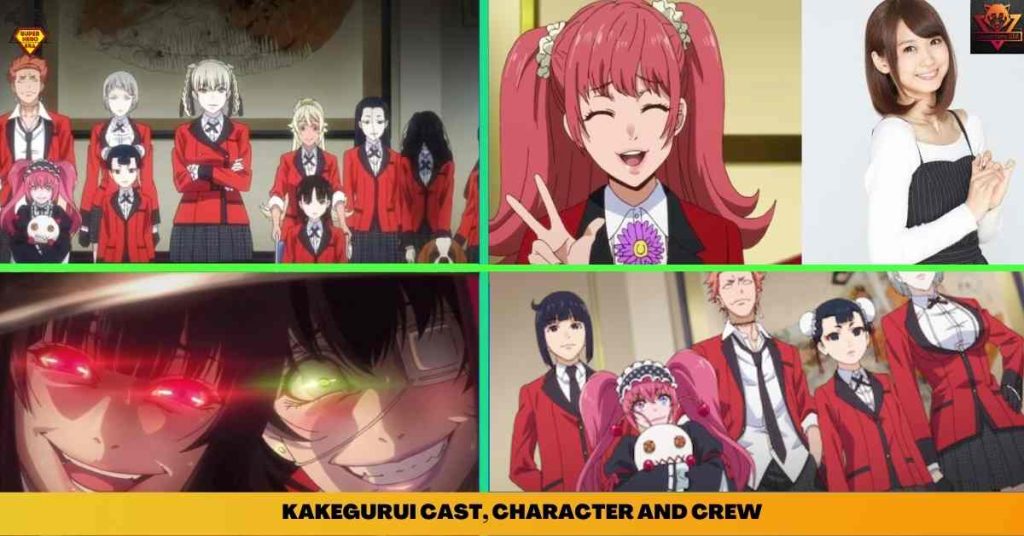 Kakegurui had two different directors for seasons one and two, i.e., Yuichiro Hayashi(season one) and Yuichiro Hayashi( season two). Yasuko Kobayashi scripted both seasons, and charters were designed by Manabu Akita.
You can find the list of Kakegurui characters and voice cast below:
| | |
| --- | --- |
| CHARACTER | CAST |
| Meari Saotome | Minami Tanaka |
| Yumeko Jabami | Saori Hayami |
| Ryōta Suzui | Tatsuya Tokutake |
| Sayaka Igarashi | Ayaka Fukuhara |
| Yuriko Nishinotōin | Karin Nanami |
| Midari Ikishima | Mariya Ise |
| Runa Yomozuki | Mayu Udono |
| Kirari Momobami | Miyuki Sawashiro |
| Kaede Manyūda | Tomokazu Sugita |
| Yumemi Yumemite | Yū Serizawa |
| Itsuki Sumeragi | Yūki Wakai |
CONCLUSION
Just like gambling, the fate of Kakegurui season 3 is double or nothing.