It's good for the MCU's future that Marvel Is Tearing Up Phase 5 & 6 Release Plans
The rescheduling of Phase 5 and 6 brings positive developments for the MCU.
Since it presents an opportunity to address numerous concerns and rectify the problems encountered during Phase 4.
Despite the extended waiting period, the delays in Phase 5 and 6 of the Marvel Cinematic Universe bring positive implications for the franchise. The MCU has experienced its fair share of postponements, particularly in Phase 4, due to the impact of the COVID-19 pandemic.
Given the extensive output of the franchise, the expanding interconnected multiverse, and various external factors influencing the film industry, it is natural for MCU release dates to undergo frequent adjustments.
Following a wave of Phase 4 releases, Marvel is taking a more measured approach with Phases 5 and 6. The company is spacing out future titles and implementing necessary delays to ensure higher quality.
Marvel has made the decision to delay several upcoming projects in response to the Writers Guild of America strike. Captain America: Brave New World, originally set for a May 2024 release, has been postponed to July 2024. Thunderbolts, initially scheduled for July 2024, will now premiere in December 2024.
Blade, previously slated for September 2024, will hit theaters in February 2025. Fantastic Four, originally planned for February 2025, has been pushed back to May 2025. Furthermore, Avengers: Kang Dynasty and Avengers: Secret Wars have been delayed by a full year and are now set for May 2026 and May 2027, respectively. These adjusted release dates have been carefully chosen to ensure the best possible outcomes for these projects.
The MCU Movies Would Be Affected If Marvel Filmed Without Writers
While most writing occurs during the development and pre-production stages, writers play a crucial role throughout the filming phase of movies and shows. Scripts are subject to constant changes, driven by new ideas from actors, directors, and producers and unforeseen obstacles that require adaptation.
Whenever revisions are necessary, writers ensure that the new material aligns with the final product without causing further complications. Additionally, on-set improvisation and ad-libbed lines contribute to script modifications, which are not feasible during a writer's strike, limiting Ryan Reynolds' improvisational abilities in Deadpool 3.
Changes to the script during filming only sometimes fit seamlessly, resulting in a significant amount of footage that doesn't make it to the final cut. Directors like Taika Waititi, known for their improvisational approach, can generate excellent material spontaneously, as demonstrated in Thor: Ragnarok, where the character of Thor was reinvented.
However, this improvisation can also result in many vague ideas that fail to develop fully, as seen in Thor: Love and Thunder. Nonetheless, the flexibility to play with the script proves immensely valuable, providing the cast and crew with numerous creative options that can be retained or discarded later.
Without this flexibility, the Marvel Cinematic Universe would not have included Robert Downey Jr.'s iconic line, "I am Iron Man."
Phase 4 Of The MCU Received Criticism For Its Release Schedule
The Multiverse Saga was initiated by Phase 4 of the Marvel Cinematic Universe (MCU), which featured an unprecedented output of seven movies and eight Disney+ shows within two years. This rapid expansion of the MCU's character roster was accomplished in record time but faced criticism for its breakneck pace. While Phase 4 introduced a diverse range of genres and styles, the hurried development of scripts and visual effects drew negative attention.
Audiences and critics found it overwhelming to navigate the vast content and struggled to discern a straightforward overarching narrative, as evident in Phases 1-3 during the Infinity Saga.
Phase 5, on the other hand, is deliberately slowing down the tempo. It aims to release only three movies and three Disney+ shows annually, providing ample breathing space for each title and building anticipation for subsequent releases.
With the additional delays extending the wait, the MCU now has the opportunity to revisit the days of the Infinity Saga, where Marvel movies carried the weight of grand events rather than feeling like skippable chapters within a larger story.
These delays, coupled with sufficient time to refine scripts and enhance visual effects, hold the potential to address and avoid the issues that plagued Phase 4.
Minor Delays in MCU Phases 5 and 6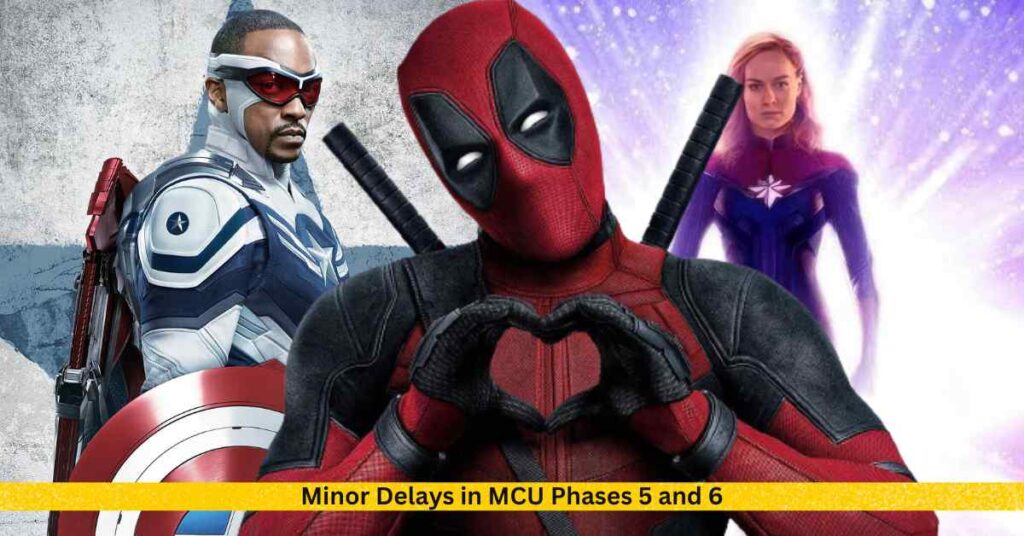 The delays in Phase 5 assist and are relatively inconspicuous in the larger context. When compared to the period of one and a half years without any MCU content between Spider-Man: Far From Home in 2019 and WandaVision in 2021, or even the one-year gap between Captain America: The First Avenger in 2011 and The Avengers in 2012, delays of two, four, or six months seem insignificant.
Furthermore, Disney+ shows like Secret Invasion, Loki, and Daredevil: Born Again will ensure the continuous progression of the MCU between movie releases. As more Phase 6 projects are announced, the waiting time between Fantastic Four, Avengers: The Kang Dynasty, and Avengers: Endgame will feel considerably shorter.
The Order Of Releasing The MCU's Phase 5 And 6 Movies Are Still The Same
The fact that the release order of Phase 5 remains unchanged primarily is indeed excellent news. In the past, Phase 4 experienced frequent delays that necessitated rewriting specific titles due to their interconnected narratives.
The constant shuffling of release dates compelled Marvel to adjust their ever-evolving scripts continuously. This is why the events of Spider-Man: No Way Home, which was initially intended to be a direct consequence of Doctor Strange in the Multiverse of Madness, ended up being triggered by an out-of-character decision from Doctor Strange to assist Peter Parker, leading to the multiversal chaos in Spider-Man's story.
The only film in Phase 5 that has deviated from its original release order is Deadpool 3, which moved from November 8, 2024, to May 3, 2024.
As Deadpool and Wolverine, portrayed by Ryan Reynolds and Hugh Jackman, respectively, come from different franchises, this alteration in release dates is unlikely to hurt the overarching story of the MCU. Moreover, the eagerly anticipated Phase 5 movie, Deadpool 3, will arrive earlier than expected.
Marvel's commitment to ensuring its timely release suggests that the improvisational restrictions on Ryan Reynolds' Deadpool do not hinder the film. Therefore, while the delays in Phase 5 and 6 of the MCU may be frustrating, they will likely be well worth the wait.