The Witcher Monsters in Season 2: Bruxa, Leshy & Many More Explained
The Witcher Season 2 covers various stories of Andrzej Sapkowski's Books, including monsters like bruxa, leshy, chernobog, etc., making it an exciting adventure.
The Witcher, a popular binge-worthy show on Netflix, recently released Season 2, focusing on Geralt of Rivia, Yennefer, and Ciri as main leads. The story revolves around an adventurous journey opted by various monsters. Stronger and powerful monsters shown in the witcher season 2, which will be explained in detail.
The Witcher Season 2, being released recently, starts from the end of Season 1, where Nilfgaraad army conquer Northern Kingdoms. The Witcher Geralt of Rivia and Ciri fulfill their destiny and meet in the woods. Geralt is trying to protect Ciri from the dangers of the world and her own powers. During the journey, Geralt and Ciri encounter various horrifying monsters explained below.
Witcher Monsters: Bruxa
Bruxa, named Vereena, is a type of vampire, who can shapeshift into anyone. A really powerful, agile, and blood-thirsty monster. The true versions of Bruxa, a bat and dark-haired young woman, are horrifying and it can communicate telepathically. Another ability of this creature is that it can blast her opponents with her scream.
In earlier dramas, powerful monsters shown being dumb, but here, the monsters who are pretty intelligent can't be harmed easily. As vampires are hurt by sunlight, here, a different case, this bruxa can only be injured or killed by silver weapons.
Nivellen
Not monster, looks like on, a human being named Nivellen. Strange, but true, a human got cursed because of an incident in the temple that got him monster's looks. Society doesn't accept him because of his mixed looks of a boar and a bear, because of which he had to go into a relatively empty village and live alone.
Nivellen was drunk on mushrooms when went into a temple, and raped a priestess, and he was cursed for it. He mentioned that he is in love with a monster, Verena, a blood-sucking powerful monster, discussed earlier. In the season 2, Nivellen trying to save Geralt from Vereena, in her final moments she confessed her love to him. And Nivellen's curse was lifted, making him human again.
Leshy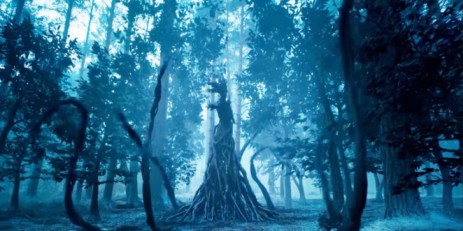 Leshy, also known as Leshen, was brought up passing by in Sapkowski's first book named "The Last Wish," and Geralt never meets with one of its kind in the books. However, it is modified and Geralt meets Leshy in the series.
Leshy is a forest monster who looks like a giant tree described as who 'lives to kill.' And it does attack viciously with never leaving any sign of its prey. It can only be killed by fire or superheated weapons. This monster is shown to be extinct in the series, as only a few existed in the whole world.
In Season 2, Geralt's fellow Witcher, Eskel, brutally hurt got turned into a Leshen, which they all believed would be even more dangerous. And it was loose in the wild, hunting anyone he could find.
Myriapod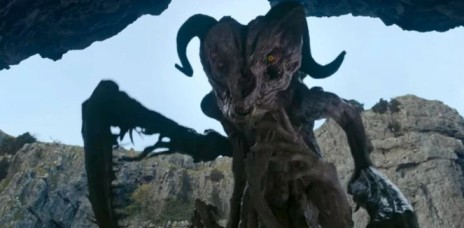 Myriadpoden, a giant centipede, is nothing like any of the monsters mentioned in books or series before. This monster is a combination of horrifying creatures. As it has many eyes, many human arms, two enormous antennas or horns, and have a goat-like skull.
The presence of these species is infinite, which makes it a significant danger. It can shockingly kill an angry Leshen; from which you can imagine how powerful it is. However, its end comes at the hands of a person destined to hunt its kind, the famous Geralt Witcher.
Zeugl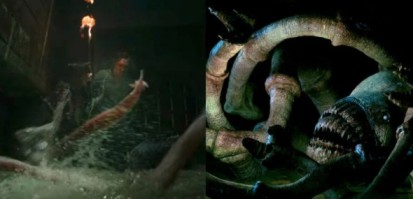 Another monster, who lives in a sewer and eats sewage. One Zeugl comes into the life of Yennefer and becomes an obstacle in her journey in escaping from Oxenfurt city. This monster, Zeugl, looks like a tentacled fish who grows in human filth and becomes enormously big. It is scared of fire and can kill it off with fire, and it's not impossible to escape him.
Chernobog
Chernobog, the murderer of Roach, Geralt's Horse, a Slavic God of misfortune, looks like a dragon. The Chernobog Runestone is an enormous demon with wings; he can fly and hunt its prey.
The Chernobog is a deadly villain that attacks from above, formed through magic. The appearance of Chernobog in the witcher season 2 is minimal; however, its significance in the witcher series is much more and will be seen in future horrors.
Basilisk
Basilisk is a type of draconid species descending from Zerrikania who are reared from the North during the 13th century. In the parts of Harry Potter and the Chamber of Secrets, Basilisk looks are similar (very less) to that of serpentine, and it is a deadly species.
The Basilisk can't be killed easily, and it kills through its toxic spit. The hoard of violent reptiles was sent to kill Witchers because of which the brother like Witcher of Geralt, Eskel, died in fighting the hoard of these reptiles.
The Wild Hunt
The legends of monsters in the Witcher Series spread terror in the hearts of all the other monsters. These legends look like seven ghost horses whose appearance will lead to a great loss.
It is unclear that the wild Hunt is just an imaginary dream or true omens, as they were witnessed flying across the sky or in the dreams. It was clarified that The Wild Hunt is real, as they are high-powered beings of another realm that were shown traveling through the universe of the Witcher and their own.
One of The Wild Hunt members was shown earlier; the deathless mother named Veloth Meir. Veloth tries to manipulate Yennefer, a powerful sorcerer, which means that Voleth is a powerful yet intelligent being. Moreover, Geralt and other Witcher are scared of her.