In/spectre Season 2: Release Date Confirmed in Winter 2023
In/Spectre Season 2 release date is officially confirmed!
In your average mystery story, the draw is to watch the detective slowly unravel the threads behind a crime until we, the readers, know the whodunit, why to do it, and how it did it. This is generally done through a series of logical steps and deductions made by the detective involved in the case.
However, Kyo Shirodaira s' mystery-supernatural light novel series, In/Spectre, breaks the mold and follows a unique direction.
In/Spectre s' premise follows an 11-year-old girl Kotoko Iwanaga who is abducted by Youkai and asked to become the "God of Wisdom." Her job is to mediate the conflicts between the human and spirit world, to which she agrees but at the cost of her right eye and left leg. 
She gains no special powers other than the ability to see Yokai and touch ghosts. Still, She is nevertheless responsible for solving their disputes and preventing unpleasant interactions between them and humans.
In the human realm, we meet our male protagonist Kuro Sakuragawa who has broken up with her girlfriend and meets Kotoko, which is love at first sight. Kotoko explains she is the "God of Wisdom," but Kuro doubts her at first when the two fight a Yokai in the library, and both of their identities are revealed.
Kuro isn't just some random university student; he is actually a monster who has incredible healing power after he ate two different Yokai flesh making him invincible.
Kuro is reluctantly dragged into Kotoko s' escapades and often acts as a meat shield in a literal sense.
The plot follows Kuro and Kotoko as they go about Japan solving problems involving the supernatural. They generally try to solve the conflicts by figuring out the reasoning behind a disturbance, its origins, and which is the best go-to method to resolve the issue.
In/Spectre was popular amongst the supernatural anime fandom, and the demand for a second season has been massive since its release in 2020. Do fast forward two years, and fans still expect In/Spectre season 2, so is the series finally renewed? Let's find out.
In/Spectre is rated 6.9/10 and ranked #4318 with 391k members on MyAnimeList.
WHAT IS THE IN/SPECTRE SEASON 2 RELEASE DATE?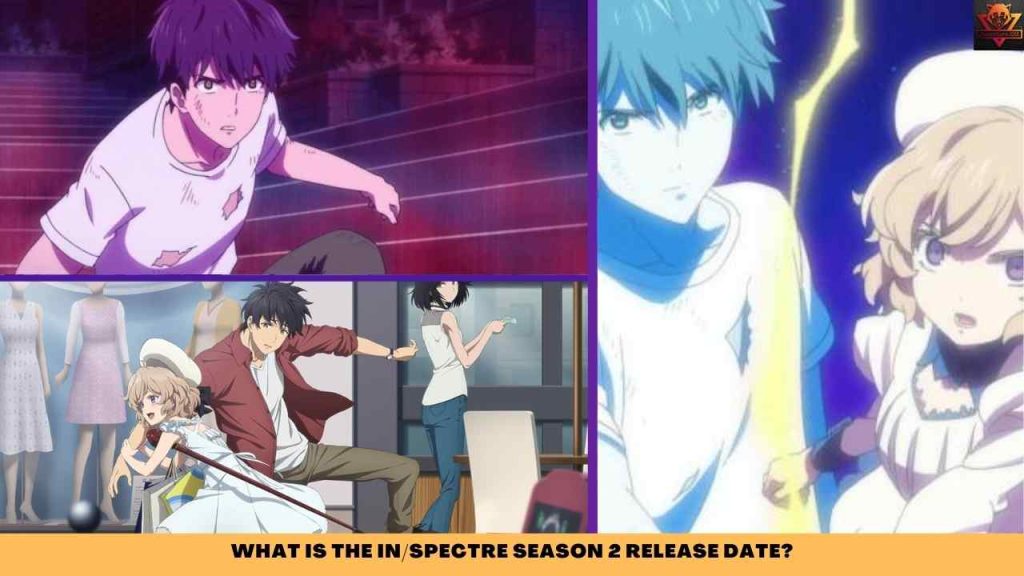 In/Spectre Season 1 aired from 11th January 2020 to 28th March 2020 for 12 episodes.
The series was renewed with a teaser for a second season in late November 2020, followed by a key visual in March 2022, which confirmed the In/Spectre Season 2 release date as October 2022.
The second season of In/Spectre premiered on January 8, 2023, and has already released eight episodes, with the 9th episode set to air on March 4, 2023 Of 12 episode and last episode will on March 25, 2023. Fans of the show are eagerly awaiting the remaining episodes, eager to see how Kotoko and Kuro's story will unfold. With its unique blend of supernatural elements and mystery, In/Spectre 2 is sure to captivate audiences until its thrilling conclusion.
However, on 2nd May 2022, the show s' official website revealed that In/Spectre Season 2 was delayed from October 2022 to January 2023 due to "various circumstances."
| | |
| --- | --- |
| SEASON | RELEASE DATE |
| In/Spectre Season 1 | 11th January 2020 |
| In/Spectre Season 2 | January 9, 2023 |
Although we have a release window for the second season, In/Spectre Season 2 trailer is yet to be revealed, which can confirm the official In/Spectre Season 2 release date.
On 6th September 2022, the show s' official Twitter account tweeted a new poster for In/Spectre season 2. The In/Spectre Season 2 "situation visual" depicts main characters Kotoko Iwanaga and Kuro Sakuragawa on a date, with Kotoko forcibly pulling the latter along while Kuro's cousin Rikka observes from a distance. Check out below: –
IN/SPECTRE LIGHT NOVEL AND MANGA CATCHUP
In/Spectre Light novel is written by Kyo Shirodaira and illustrated by Hiro Kyohara. It began serialization in Kodansha Novels in 2011, and the light novel has been collected into three volumes, with the latest issue released on 21st June 2019.
In/Spectre manga is written by Kyo Shirodaira and illustrated by Chasiba Katase. It began serialization in Shonen Magazine R in April 2015, and In/Spectre manga is collected into 17 volumes, with the latest issue released on 28th March 2020.
As of June 2022, In/Spectre manga is ranked #2 in Top Ten Manga Sales Ranking: June 2022 Week 1, and the manga has over two million copies.
In/Spectre manga is rated 7.7/10 and ranked #1241 with 19k members on MyAnimeList.
IN/SPECTRE SEASON 2 PLOT
In the final episode of In/Spectre season 1, "She Who Defends Order," Rikka Sakuragawa congratulates Kotoko on her win, but the latter worries that Rikka Sakuragawa might become a monster and create a new god due to her unlimited power and potential.
It also revealed that Rikka Sakuragawa wants to be human again and is creating a creature who can bide her wish.
Kuro and Saki have dinner, but Kotoko is absent due to her mental exhaustion. Kuro is worried about Rikka Sakuragawa and her monstrous potential but believes Kotoko will stop her despite the obvious fact she will try to kill Kotoko.
Kotoko wakes up and plans to continue her role as Goddess of Wisdom. Kotoko and Kuro decide to spend their time with her parents.
The first season covered the first six volumes of the manga and ended on the Steel Lady Nanse arc. In/Spectre Season 2 manga adaption will pick up from where season one left off and begin by covering the seventh volume .
Kuro and Kotoko will solve a mystery in Totomizu, where many fish are washed on the shore. There isn't much evidence to solve the case except a wooden doll, which the Yokai claimed as the culprit.
The quest to find Rikka Sakuragawa continues, but she is yet to be found. It's revealed she has moved into a cursed apartment wherein suicides begin to happen.
IN/SPECTRE CAST, CHARACTER, AND CREW
In/Spectre is directed by Keiji Gotoh and written by Noboru Takahi. Characters are designed by Takatoshi Honda, and the music is composed by Akihiro Manabe. Animation is developed by Brain s' Base and licensed by Crunchyroll.
You can find the list of In/Spectre Season 2 characters and voice cast below:
| | |
| --- | --- |
| CHARACTER | VOICED BY |
| Kotoko Iwanaga | Akari Kitō |
| Kurō Sakuragawa | Mamoru Miyano |
| Detective Terada | Kenji Hamada |
| Rikka SakuragawaSakuragawa | Mayumi Sako |
| Saki Yumihara | Misato Fukuen |
| Karin Nanase | Sumire Uesaka |
| Ayakashi | Genta Nakamura |
| Bakeneko | Haruka Ōminami |
CONCLUSION
In/Spectre Season 2 will double the fun of yokai and our favorite supernatural pair of Kuro- Kotoko.