Stranger Things Season 5: Max doesn't want to know what will happen in the series finale
In an interview, Saddie Sink talks about how she does not want to know what will happen in Stranger Things Season 5, the final season, to her character, Max.
Sadie Sink, who plays Max on the Netflix original- Stranger Things, said in an interview that she does not want to know what lies ahead for her character in Stranger Things Season 5.
In an interview recently with Variety, Sadie Sink was asked- if she knew where Max's story headed and how it would end in the final season, Stranger Things season 5.
Sink said in the interview that, like Max- her character, she in real life has "zero ideas" about what will happen in the Stranger Things season 5. She revealed she does not want to know about Max and the show's climax in advance.
Sadie Sink said she "likes not knowing" because this will mean she will be genuinely surprised when the final script arrives. Read what Sink noted the in the interview,
"No, but maybe I should use that line! I do not know; I kind of like not knowing where her storyline is going and being surprised when I read it because Max herself does not know what will happen to her. I guess why I should? I genuinely have zero ideas where they are going with anything. So I will be excited to read those scripts!"
When the current season of Stranger Things' Volume one consisting of seven episodes, was released on Netflix in binge format, it made new records of viewership. It made the record for Netflix's most-watched English series 'ever.'
The series first started in 2016, and Stranger Things Season 4 was delayed as the COVID-19 pandemic delayed the shoot and editing of the series. It shows Millie Bobby Brown playing a supernatural child named Eleven. Other principal cast members include- Finn Wolfhard, Sadie Sink, Noah Schnapp, Gaten Matarazzo, and Caleb McLaughlin.
Season 4's volume one is already out on Netflix, and volume two is all to release. July 1, 2022.
In Stranger Things Season 4, Max is at the center of Vecna's attention from the very start of the season. She is going through symptoms of Vecna's curse like- terrifying nightmares, seeing objects, and of course, sensing terrible things around her. Vecna is this season's villain from Upside Down, who could be the main antagonist afterall.
In a scene, Max is seen 'possessed' by Vecna, and the boys are plugging in her favorite song, "Running Up that Hill," to guide her out of Upside Down. This scene put Kate Bush's song on the map after four decades as it is being played by the fans again.
The current season has undoubtedly seen a shift and impressive character development for Max. She witnessed her stepbrother being murdered in the finale of Stranger Things Season 3, and she lost track of her life after the incident and started living as an outcast.
This shift in Max's character has worried the show's fans and Sadie Sink, as it does not exactly look like the future will be in favor of Max. Now that Sadie Sink has revealed she is unknown to facts about Stranger Things Season 5 and would like to keep it that way, it is even more uncertain.
For multiple reasons, we cannot blame Sink for liking to stay away from knowing or predicting the ending for Max. She might want to be surprised by what the future holds for Max, as it will allow her to enjoy playing the character even more.
The principal leads of the show are all in trouble, and the end of seasons 4 and 5 might end up being fatal for many of them, fans are concerned. While volume two of season 4, consisting of two episodes, remains to be seen, the climax might leave us all in shock. The final episode will be 2 hours and 19 mins long.
This finale will show how Stranger Things Season 5 will turn out to be and what lies ahead for Max might get more precise with the end of this season.
Conclusion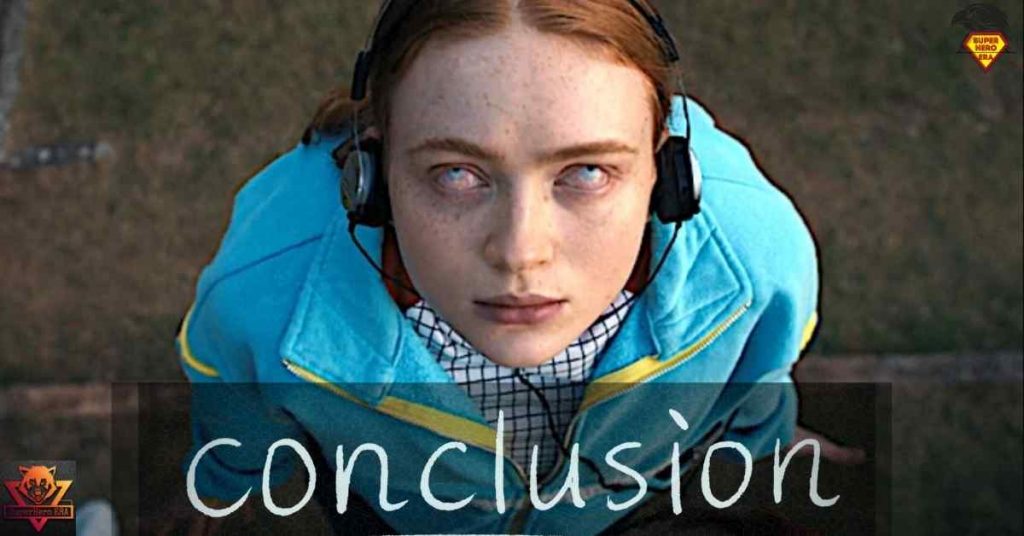 Stranger Things season 5 will be the final season for the series. It will bring the story of Hawkins and the supernatural beings that originated there to an end.
There was an announcement that recently came afloat, and season 5 might witness a time jump after the pandemic has hindered their initial timeline of filming seasons 4 and 5 continuously.
The Duffer Brothers, who have been in control of the show since its first release, have already revealed that Season 5 will be the last season for Stranger Things. With this, it can be said with certainty that whatever will happen to the main cast in the show has been decided already, and it will not be a last-minute plan.