BATTLE GAME IN 5 SECONDS SEASON 2: RELEASE DATE + PLOT REVEALED [UPDATE JULY 2022]
Battle Game in 5 seconds season 2 had been teased in season one; is it officially renewed?
Getting a survival anime mixed with gaming elements and mental martial arts is extremely rare these days.
We could argue that the isekai trope has dominated the anime industry in recent years, but once in a while, there's an anime about survival games that pique the interest.
In a time when Squid Games became an instant hit on TV, it was about time that anime creators looked on to catch the death game-style content hype.
Battle game in 5 seconds is a survival-action anime based on the writings of Saizō Harawata. The plot follows high schooler Akira Shiroyanagi whose only obsession in life is playing video games and konpeito candy.
While crossing the road, Akira gets attacked on the street by a buff mummy that gets out of a car and starts chasing him.Luckily, he's smart and an ace at playing games (including strategy games) and manages to defeat him, after which he is abducted by catlike girl Mion.
Akira is brought into a room full of people who had also been abducted to participate in a set of games with progressively deadly stages that put their lives on the line.
To survive in these games, each player is given an ability that remains secret from everyone else. Akira s' gaming bug takes over as he decides to outsmart everyone and eventually find out the reason behind the sadistic trap.
The battle game in 5 seconds season one had a lukewarm reception, despite which fans are excited about a second season. The final scene of season one teased us with a possible second season but how true is it; let's find out.
Battle game in 5 Seconds anime is rated 6.7/10 and Ranked #4990 with 153k members on MyAnimeList
WHAT IS THE BATTLE GAME IN 5 SECONDS SEASON 2 RELEASE DATE?
The first season of the Battle game in 5 seconds ran from 13th July 2021 to 28th September 2021 for 12 episodes.
As of writing, there is no information provided by the creators or studio on the Battle game in 5 seconds season 2 release date.
Fans should not panic about the show's renewal status as the final episode's finale ended with a screen flashing the words "Welcome to 4th Program," which essentially confirms that the creators will drop a second season.
SynergySP animation studio is currently working on two new projects, which will end in Fall 2022, after which we can expect Battle game in 5 seconds season 2 release date to be early 2023 – mid-2023 with a 12-episode run.
BATTLE GAME IN 5 SECONDS MANGA CATCHUP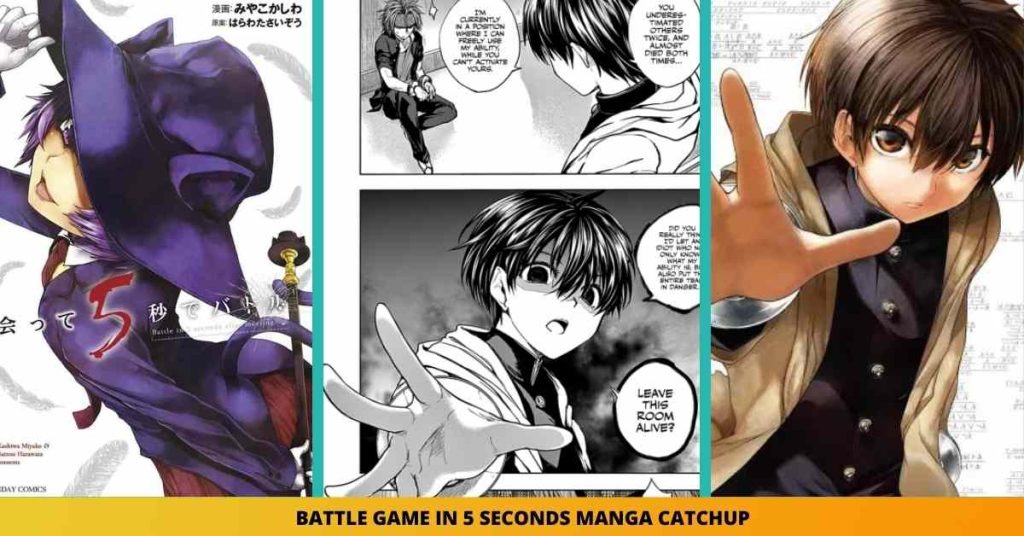 The battle game in the 5 Seconds manga series is written by Saizō Harawata and illustrated by Kashiwa Miyako. It has been serialized in Shogakukan's MangaONE app and Ura Sunday website since August 2015.
The manga has been collected into 19 volumes with 185 chapters as of 29th July 2022, and the first volume came out on 26th February 2016.
The first season adapted seven manga volumes that were released before chapter 63. Hence, 12 volumes are still available for the creators as source material, which again confirms the renewal status as well.
As of November 2020, the manga had 2 million copies in circulation and was also nominated for the 67th Shogakukan Manga Award in the shōnen category in 2021.
Battle game in 5 Seconds manga is rated 7.3/10 and Ranked #4304 with 12,662 members on MyAnimeList
BATTLE GAME IN 5 SECONDS SEASON 2 PLOT+EXPECTATIONS
Battle game in 5 seconds season 2 will pick up where the first season ended, i.e., the end of the third program and the start of the fourth in Tokyo.
The second season will bring a sterner test for Akira and the green team. The first significant threat will be team blue, whose leader Omoto wants 200 points for his life.
She also invites Akira to work together and bring down the host of the deadly game, Mion. The fourth program s' game will be called 12 Monkeys of the Round Table, wherein participants would be required to track down Mion based on coordinates.
Six teams with eleven participants and watcher would play the game, and only the Six players will be allowed to move on to the next round.
The second season will introduce new characters, such as Leonhardt, the fourth watcher. He can instantly take his opponent's life using his unknown ability.
Boy X is one of the players participating in the battle game. He can turn something of value into a bomb. He is also known as "One Coin Bomber."
The stakes are higher, villains will increase, and as a result, team members' loyalty would be tested; who comes out on top? We will have to wait for the second season to find out.
Fans will be hoping for Battle game in 5 seconds season 2 to delve into some unexplained mysteries from season one.The biggest mystery that needs uncovering would be which secret program and organization are behind this deadly game and what's their motive.
Omoto bears a massive resentment towards Mion as she intends to kill her, but why and also, what is her secret ability? Speaking of secret ability, can we expect Akira s' ability to get disclosed to more players in the second season? As of now, only Yuri and Ringa know about it.
The green team leader Yūto Shirasagi was injured in the first season; fans can expect him the play a prominent role in bringing down the evil red team.
Whether the show is popular or not, Battle game in 5 seconds does need a second season to go over the unanswered questions and new plot lines.
The first season had many moments teasing the romance of Akira and Yuri, which would be taken into the real world. Can the pair survive the deadly game and develop a relationship remains to be seen?
BATTLE GAME IN 5 SECONDS CAST, CHARACTER, AND CREW
Battle game in 5 seconds is directed by Meigo Naito and Nobuyoshi Arai. The show is scripted by Touko Machida and a series composed by Ryo Hayakawa.
SynergySP and Vega Entertainment (with CG animation by Studio A-Cat) have adapted the show.
You can find the Battle game in 5 seconds characters and voice cast below:
| | |
| --- | --- |
| CHARACTER | VOICED BY |
| Akira Shiroyanagi | Ayumu Murase |
| Mion | Mayumi Shintani |
| Yûri Amagake | Aimi |
| Yan | Akari Kitō |
| Madoka Kirisaki | Kazuya Nakai |
| Ringo Tatara | Miyuri Shimabukuro |
| Rin Kashii | Toa Yukinari |
| Oji Hoshino | Yūichi Iguchi |
| Shin Kumagiri | Yūichi Nakamura |
CONCLUSION
If you liked the first season and want more of the same with increased ante, Battle game in 5 seconds season 2 should be a must-watch.